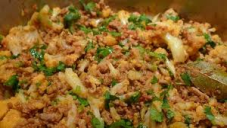 Serves 2
Ingredients for 400grams of minced lamb/mutton:
Olive oil
1 cinnamon stick
5 black cardamons
5 cloves
2 bay leaves
2 big red onions – minced
2 Tbsp of garlic paste
2 Tbsp of ginger paste
1 tsp of turmeric paste
3 cups of water
1 medium sized potato – cut into tiny cubes
Half a small cabbage – sliced thinly
5 finger lenght green chillies – minced
3 Tbsp of meat curry powder
1 Tbsp of pure chili powder
2 Tbsp of coriander leaves – chopped
Salt to taste
Method:
Heat oil and stir-fry cinnamon, cardamons, cloves and bay leaves for 2mins. Add the onions and stir fry for 15mins on low fire.
Add ginger, garlic and turmeric paste, green chillies, coriander leaves and stir fry for 1min.
Add all other ingredients and cover and cook for 30mins. Stirring occasionally and adding sufficient amounts of water until lamb is cooked and the gravy thickened.
Tip, best if done in a pressure cooker, cooking time is reduced to half.
Ta Da!
By:
Rosemarie John