Almonds: Natural Goodness to a Healthy Life.
Packed with protein, fibre, Vit E, calcium, antioxidants and potassium, almonds are not merely tasty but also make you look good. Almonds are a great snack that fill you up, but don't let you down. With an irrestible crunch and light flavor, almonds are the perfect on-the-go snack to enjoy at any time of the day.
Royal Chicken in Almond Sauce
A complete meal, delicious and packed with a spicy punch!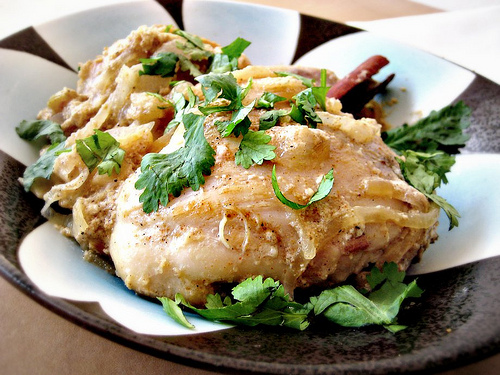 Ingredients :
1.5 skinless, boneless chicken breast
oil for frying
500g thinly sliced onion
125 gm flaked almonds, toasted
15gm coriander seeds
20 cardamom pods
3 small red chillies
500ml yogurt
salt
250gm basmati rice, cooked
50gm butter
20gm flaked almonds and fresh coriander to garnish
Servings: 4
Method:
Fry the chicken in batches – just cook until white. Then set aside.
Cook onions for 8 mins until soft but not browned.
Add almonds, coriander, cardamom and chillies. Cook for 3-5 mins until cardamom pods puff up. Blend it together with 225 ml of water.
Return to pan with chicken, yogurt and salt, bring to boil.
Cover and simmer for 45 mins.
Turn off heat and allow to rest for 30 mins.
Mix rice with butter and coriander stem. Top with flaked almonds.
Serve chicken with rice.
Honey-Orange Glazed Almonds
Perfect for that sweet tooth without the guilt!

Ingredients :
1 tbsp butter
180ml honey
1/2 tsp salt
450gm natural almonds
1 tbsp fresh grated orange zest
Servings: 10
Method:
Line a large oven tray with lightly greased baking paper and set aside.
Melt butter in a non stick pan over medium heat and add honey and salt. Bring to boil. Stir in almonds and cook, stirring constantly, for 10 -12 mins or until the honey caramelizes.
stir in orange zest and quickly spread the nuts in a single layer on to the prepared baking sheet.
cool and separate the nuts from each other.
store when cool in an air tight container.