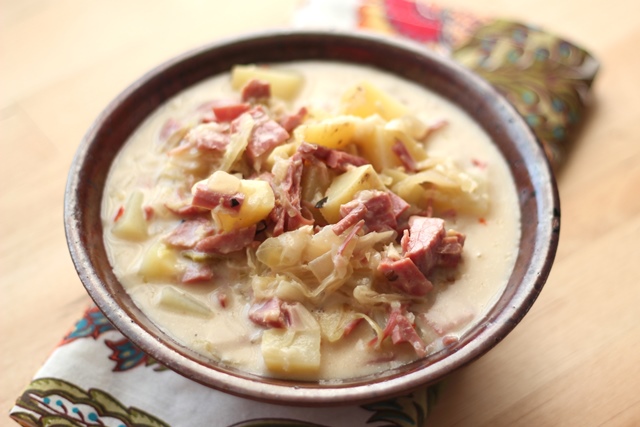 Ingredients :
1/2 cup onion, chopped
1/4 cup celery, chopped
3 Tbsp butter
1/4 cup flour
3 cup water
4 tsp instant beef bouillon or 4 beef bouillon cubes
1/2 pound corned beef, shredded
1 cup sauerkraut, well drained
3 cups half and half
3 cups shredded Swiss cheese
6 – 8 slices rye or pumpernickel bread, toasted and cut into triangle quarter
Directions :
In a large saucepan, cook onion and celery in butter until tender; stir in flour until smooth.
Gradually stir in water and bouillon and bring to a boil. Reduce heat; simmer uncovered for 5 mins.
Add corned beef, sauerkraut, cream and 1 cup of the cheese. Cook for 30 mins. or until slightly thickened, stirring frequently. Ladle into 8 ovenproof bowls.
Top each with a slice of bread and put 1/4 cup of the cheese on top of the bread.
Place in oven under broiler until the cheese melts and browns ever so lightly.