From shopping experiences to educational activities, the Big Durian, Jakarta has it all. But no visit to Jakarta can be complete without a visit to Museum Nasional—one of the most complete and richest museums in Southeast Asia.
Museum Nasional (The National Museum of Indonesia) is an archaeological, historical, ethnological, and geographical museum located at Jalan Merdeka Barat (near Monas), Central Jakarta. This museum is known by two names, Elephant Building (Gedung Gajah) after the elephant statue in its forecourt or The House of Statues (Gedung Arca). The elephant statue is special, as it was donated by King Chulalongkorn of Thailand in 1871.
The existence of the National Museum began with the establishment of Bataviaasch Genootschap van Kunsten en Watenschappen (Royal Batavian Society of Arts and Sciences), founded by the Dutch Government in 24 April 1778. The aim of this private body was to promote research in the field of arts and sciences, especially in history, archaeology, ethnography and physics, and publish the various findings.
Currently the museum has a collection of 61,600 prehistoric and anthropological artifacts, and 5,000 archaeological artifacts from all over Indonesia and Asia.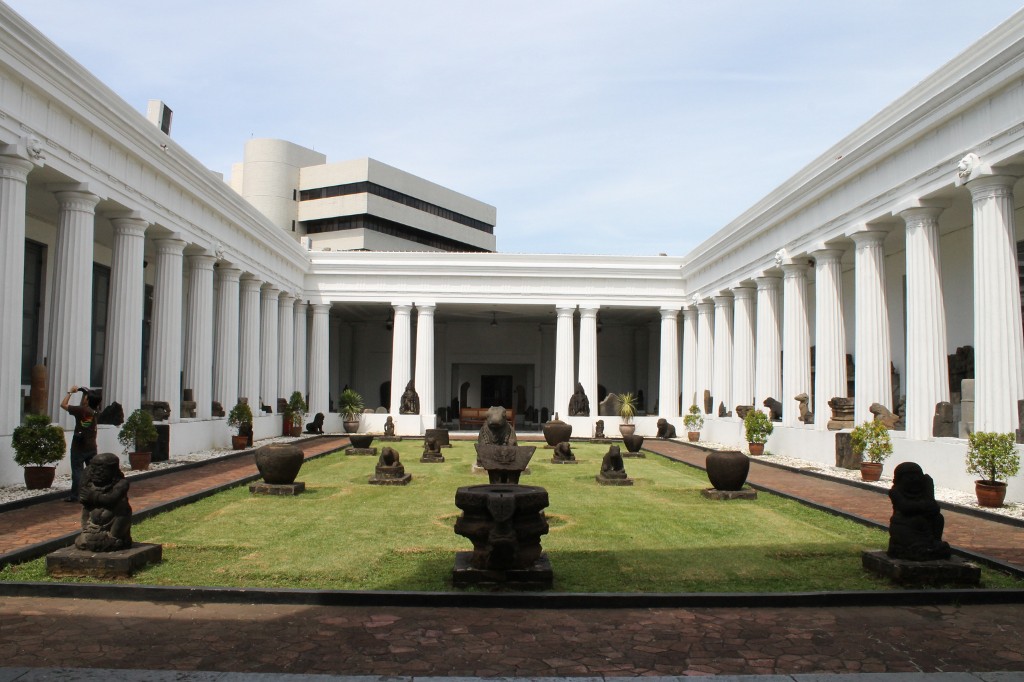 The museum is set in an open courtyard of a 1862 building, stacked with ancient statues. One of the most iconic statue is the colossal 4.5m stone image of a Bhairawa king from Rambahan in Sumatra who is shown to be trampling on human skulls.
Museum Nasional is housed in two wings: Gedung Gajah (Old Wing) and Gedung Arca (New Wing). In the Old Wing, you can see various collections of ancient Indonesian artifacts. Four of the floors are filled with neoclassical colonial era artifacts and the origins of mankind in Indonesia.
On the first floor of the building, visitors would be able to see the stone sculpture collection from the Indonesian classical era or also known as the 'Hinduism and Buddhism era'. Most of the displays are stone sculptures that depict Buddha, Hindu deities and several Majapahit relics.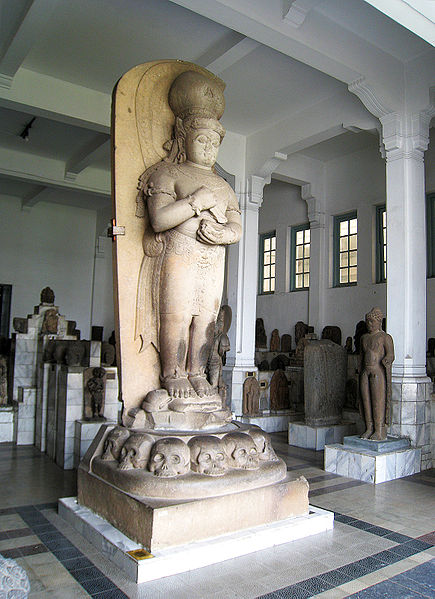 The second floor of the museum consists of treasures, gold and precious artifacts. Taking pictures are prohibited in the treasure rooms. The statue of Prajnaparamita,  the goddess of transcendental wisdom, is said to be the most beautiful sculpture made in ancient Java. Other than the statue, the most prized findings of the past includes the Wonoboyo hoard which includes a golden bowl with a scene of Ramayana, water dipper, umbrella finial, spoon and ladle.
The museum's prehistory collections contains artifacts of the stone ages found in Indonesia. One of its featured displays include a model of the Flores 'hobbit'.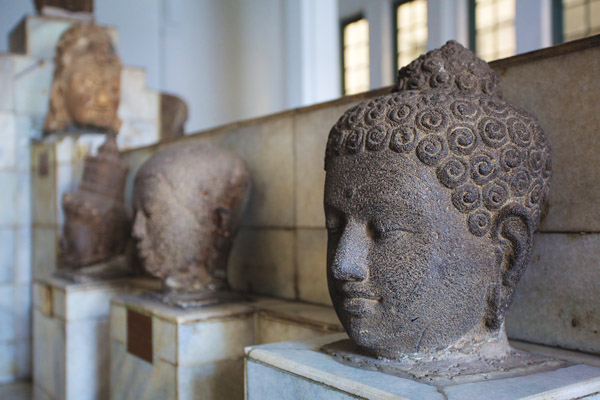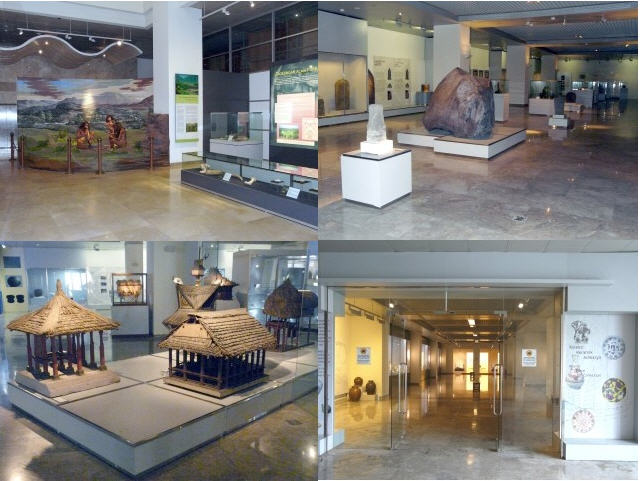 Other than these collections, the museum also features an ethnography collection that includes an architectural collection depicting structures from all around Indonesia. The textile and batik collection includes beautiful fabrics that includes koffo, a traditional woven cloth with golden threads that originate from Sulawesi. The textile collection has fabrics from all over Indonesia woven through the years. For those interested, you will be able to see a typical Papua standing canoe which was used for headhunting in the past. Visitors could also see Dayak puppets and wooden statues originating from Nias.
The ethnology room just next to the treasure room contains various remaining royal objects such as jewelleries, ceremonial containers and weapons. The National museum also has a 'Keris' collection, which are ancient asymmetrical daggers that signify status for Javanese men and a collection of silver 'Pekinangan' or 'betel-nut set' shown on the same floor.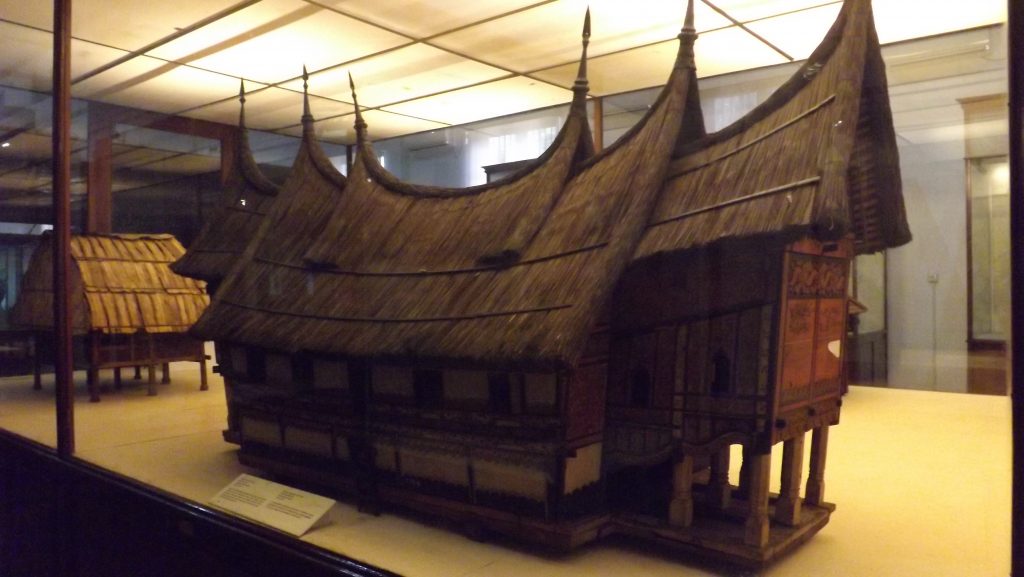 Gedung Arca (New Wing) consists of a basement and seven floors, four of which host permanent exhibitions, while other levels are function as the Museum's office. The old building and the new wing is connected via the old ethnography room through a glass walled bridge gallery, which is located over the outdoor amphitheater.
Museum Nasional is a great place to learn about the rich cultural heritage of Indonesia. Visiting this museum will make you feel like traveling throughout Indonesia. You get so much information about history of Indonesia, the culture, the artifacts—all in neat, beautiful displays at Museum Nasional. It is just like a huge encyclopedia about Indonesia, where you can visit and see, not merely read about it.
The museum opens from Tuesday to Friday (8 am to 4 pm), and Saturday to Sunday (8am to 5pm). The ticket fee is Rp5.000 for adults and Rp2.000 for children. For foreigners, there are English tours every Tuesday at 10.30am, every Thursday at 10.30am and 13.30am, French tours every third Wednesday each month at 9.30am, Korean tours every first Tuesday and third Saturday each month at 9.30am, and Japanese tours every first Tuesday and Saturday each month at 9.30am.
Getting There
In order to get there, visitors can take a Transjakarta bus and stop at Monas terminal. It is only 200 meters away in walking distance to reach the museum.
Museum Nasional Jakarta
Jalan Medan Merdeka Barat No 12, Central Jakarta
Phone 021-3868172