With rich historical ties to ancient India, the birth of Buddhism has journeyed from the religious pantheons of India right here to Ratchaprasong. Aside from the fine shopping, dining, and entertainment, this famed district also boasts a wealth of culture, religious, and spiritual attractions for Thai Buddhists and foreign visitors alike.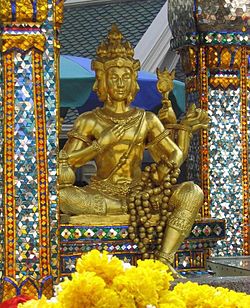 1. Erawan Shrine
Also known in Thailand as the Brahman shrine or "Phra Phrom", this holy place is said to bear good fortune. Its usual to see people commissioning traditional dances to thank the gods for answering their prayers.
Strategically located in front of the Grand Hyatt Erawan Hotel, this enchantingly famous and highly revered shrine was erected in 1956. Visitors, both Buddhist and non-Buddhists alike, cannot help but appreciate the beauty and significance this omnipotent deity brings to the district.
It is written that Lord Brahma is able to oversee and protect over the mortal and immortal worlds with his four faces that symbolize all four directions facing North, East, South, and West. This shrine attracts thousands of people each year as it is believed that Lord Brahma has the ability to answer prayers and fulfill wishes for his faithful visitors.
 Making Offerings
To make offerings to the Lord Brahma Shrine :
Purchase an offering set which includes:
16 Incense sticks
4 Candle sticks
4 Jasmine & Marigold garlands
4 Gold leaf pieces
Make offerings of 3 incense sticks, 1 candle, 1 garland, and 1 gold leaf piece to all four sides of the Lord Brahma Shrine starting with the main entrance facade in a clockwise direction.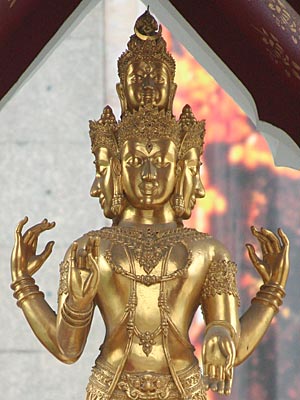 2. Trimurti Shrine
Searching for true love? The Trimurti shrine is known to have cured many lonely hearts.
The Trimurti Shrine encompasses the 3 pillars of the Hindu gods, Brahma, Vishnu, and Shiva, symbolizing creation, preservation and destruction, adorns the front of Zen department store.
With the immense power the Brahma Shrine possesses, it catapulted an imbalance of power for other merchants in the Ratchaprasong district. The worthy Lord Trimurti, associated with love for the joining of the 3 holiest of gods, could help deflect and offset the fiercely threatening power from across the intersection.
Making Offerings
To make offerings to the Trimurti Shrine :
Prepare offerings of red flowers, candles, and incense to the shrine. It is rumored that on Tuesdays and Thursdays at approximately 9:30pm, Lord Trimurti descends from the heavens to listen to the devoted prayers of visitors.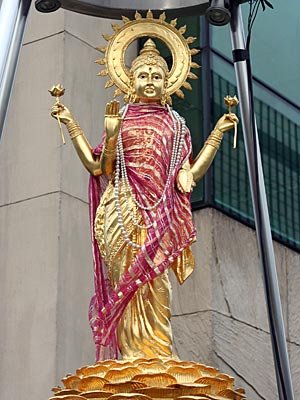 3. Goddess Lakshmi Statue
Coined as the Goddess of Wealth, the Goddess Lakshmi Statue is located on the 4th floor at Gaysorn. Believed to be the loving wife of Lord Narayana, another name for Vishnu, her statue symbolizes richness in all areas of life.
Making Offerings
To make offerings to Goddess Lakshmi :
Offer coins and other icons of wealth
Lotus blossoms
Sugarcane or fresh sugarcane juice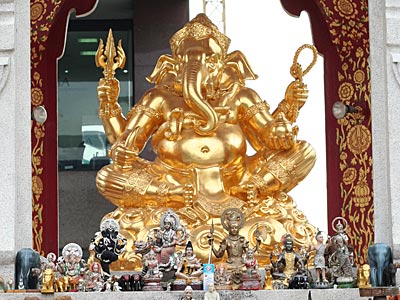 4. Ganesh Shrine
A statue of the elephant god Ganesh sits in front of Isetan shopping center. Once the son of Pra-Siwah, the king of all gods, Ganesh took the human form with a human head. After a dispute with his father, he was beheaded. In great desperation, his heart-broken mother begged for his resurrection. With great guilt for his actions, Pra-Siwah cut the head of an elephant and brought Ganesh back to life.
Known for his fondness of the fine arts and as an inspiration for creativity, this well revered god promotes success and protection from harm to faithful visitors.
Making Offerings
To make offerings to Ganesh :
Fresh Marigold garlands
Bananas
Sugarcane or fresh sugarcane juice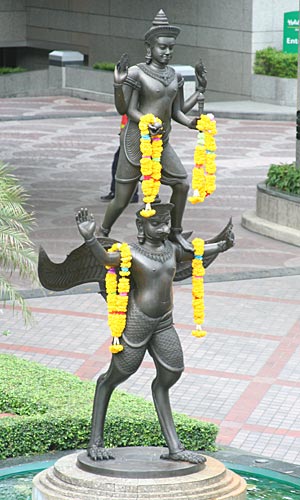 5. Narayana Statue
Known to all as the God of Mercy, Lord Narayana is mounted on his celestial vehicle Garuda in front of the InterContinental Hotel. He was placed there to help protect over business enterprises and the well-being of all. His almighty display of power deflects evil spirits that may threaten the area.He is especially popular with men in suits and local entrepreneurs.
Making Offerings
To make offerings to Lord Narayana :
Lord Narayana particularly takes a liking to all yellow items…
Fresh Marigold garlands
Thai desserts (tong-yip, tong-yord etc.)
Thai textiles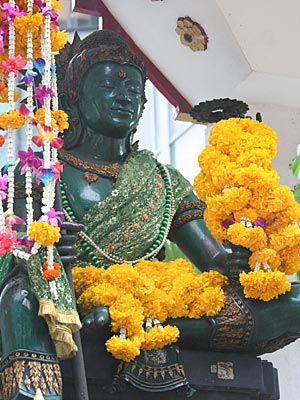 6. Indra Shrine
This beautiful dark-jade colored god of rain with a thousand eyes stands majestically in front of the Amarin Plaza. Legendary tales often mention the great adventures that he and his counterpart,Lord Brahma, encounter. Lord Indra, also known as the almighty protector of theBuddhist religion and the caretaker of all goodness in the universe, is fond of sacredelephants as Lord Erawan, god of Elephants, was his celestial vehicle.
Making Offerings
To make offerings to Lord Indra :
Small elephant figurines
Fresh Marigold garlands