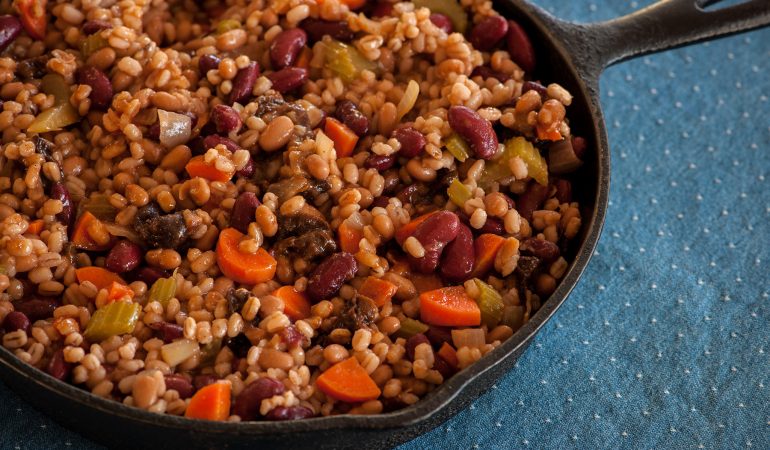 This version of baked beans adds the goodness of barley, and the surprising subtle sweetness of prunes for a high-fiber, low-fat favorite.
Ingredients:
1 tsp (5mL) canola oil
3 cloves garlic, minced
2 stalks celery, chopped
2 carrots, peeled and chopped
1 large yellow onion, diced
1 cup (250 ml) pearl of pot barley
1 cup (250 ml) dried navy or great northern beans
1/2 cup (125 ml) dried romano or kidney beans
4 cups (1 L) less-sodium vegetable or chicken broth
2 cans (14 oz/398 ml each) less-sodium tomato sauce
1/2 cup (125 ml) packed brown sugar
1/2 cup (125 ml) chopped pitted prunes
1 tbsp (15 ml) Dijon mustard
2 tsp (10 ml) ground cumin
1/2 tsp (2 ml) cayenne pepper
2 cups (500 ml) boiling water
Additional boiling water, if required
Instructions
In a large skillet over medium heat, heat oil; add garlic, celery, carrots and onion. Saute until onions are softened and fragrant. Pour this mixture into a 16 cup (4 L) slow cooker. Stir in barley, beans, broth, tomato sauce, brown sugar, prunes, mustard, cumin, cayenne and boiling water.
Cover slow cooker and cook on low for 6 hours. Check halfway through cooking time. If mixture is not completely covered with liquid, add boiling water to cover and stir briefly. After 6 hours, beans should be softened and flavorful. Additional cooking time may be necessary.