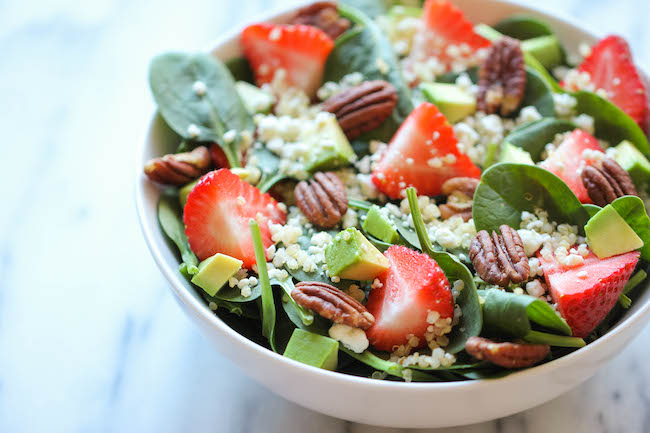 Here's a guilt-free dish with fresh spinach, avocado, bright-red strawberries, and quinoa for a boost of essential amino acids.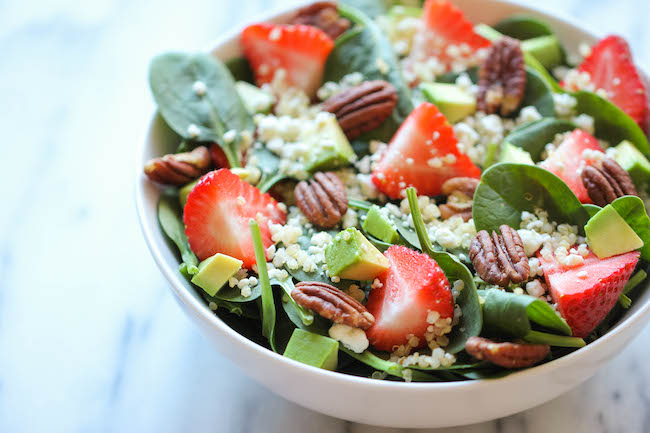 Ingredients:
6 cups baby spinach
2 cup strawberries, halved
1 avocado, halved, seeded, peeled and diced
½ cup cooked quinoa
¼ cup pecan halves
¼ cup crumbled goat cheese
For the balsamic vinaigrette:
¼ cup olive oil
¼ cup balsamic vinegar
2 cloves garlic, pressed
2 teaspoons granulated sugar, to taste
Preparations:
To make vinaigrette: whisk together olive oil, balsamic vinegar, garlic and sugar in a small bowl; set aside
Place spinach in a large bowl; top with strawberries, avocado, quinoa, pecans and goat cheese. Pour dressing on top of the salad and gently toss to combine. Serve immediately.
Check out other delicious quinoa recipes here.