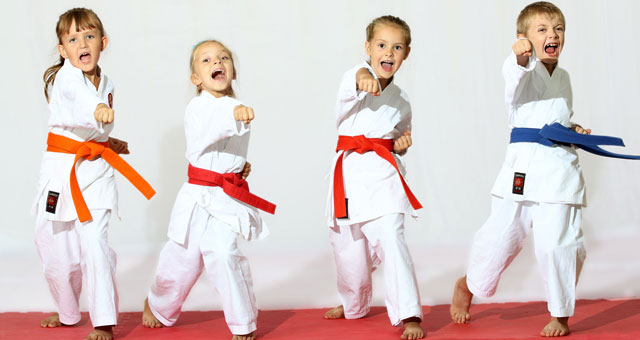 Taekwondo, the way of the foot and hand, is synonomous with Korean martial arts even though this art has experienced the influence of numerous conquerors over the past 2000 years. Similarities to the martial arts of Japan (eg. karate and jujutsu) and China (Kung Fu) are evident in Taekwondo although it is the dynamic kicks which sets this martial art apart from many of the others. The term, Taekwondo, has only been used in post WWII era and is a byproduct of renewed Korean nationalism. It's run of popularity in the west began in the 1950's thanks to Grandmaster Jhoon Rhee, who established the first Taekwondo school in the United States.
With its recent inception into Olympic competition, Taekwondo has taken on a very definative sport feel to it and that has indeed furthered its popularity, inspite of some objections from traditionalists. The dynamic kicks of Taekwondo are especially popular among children. The high kicks carry a unique element of athleticism which attract the young and energetic and, quite frankly, this is evident in TV and the movies. These kicks, when combined with jumps and spins, make the art even more attractive to kids and to parents who are looking for an outlet for a child to burn some of that abundant energy. It is also clear that these same "flashy" elements provide a child (or adult) with an excellent source of cardiovascular exercise and coordination training. As we have indicated, Taekwondo is dominated by (but not exclusive to) kicking. In fact, when watching a Taekwondo competition, you will find it virtually void of all hand technique and kicking techniques dominating the action. Hand-strikes are allowed although kicks are generally scored higher in the tournaments.
It is often the case that Taekwondo schools practice the art of board breaking. For starters, board breaking is practiced among some martial arts clubs to teach students proper focus of power and it is also a tool to build confidence. For young children, however, breaking should be initially confined to pieces of styrofoam, for example. Before jumping to any conclusions about a club teaching board-breaking, speak to the instructor about his/her safety precautions. To re-iterate, if done safely and in progression, board-breaking practice can be a lot of fun for your child and build some additional confidence.
Those students entering the Taekwondo circles will quickly find out that there are two "big kids on the block" in terms of organizations: The International Taekwondo Federation (ITF) and the World Taekwondo Federation (WTF). Although there is a rivalry on the organizational level, excellent Taekwondo instruction is found on both sides of the fence. As is usually the case, it is the instructor at the head of the class, and not the faceless figure-heads, which make an excellent kids program.
As with most other traditional arts, Taekwondo schools incorporate the Korean terminology throughout the instruction as well as principles of non-aggression and character-building. You will find schools maintaining a traditional eastern flavor and others which use a western approach which de-emphasizes foreign terms and philosophy.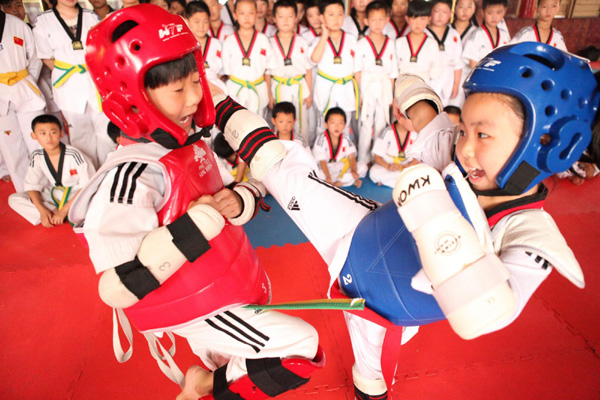 Similar to Karate, Taekwondo training incorporates the practice of forms, which is the equivalent of kata in karate. These forms are a pre-set series of Taekwondo movements. Forms in Taekwondo emphasizes the application of power, balance, fluidity, and proper breathing. Typically, as a student advances in rank, katas become more complex and longer in duration.
Sparring is the bread and butter of Taekwondo and has been showcased competitively to the world at the Olympic Games. Practitioners wear head, chest, hand, foot, mouth, and groin protection which allows for complete execution of technique. Taekwondo schools will usually have chest and head gear at the students' disposal. Size-specific items such as hand and foot protection are usually bought by the student as is the groin and mouth protection for obvious hygienic reasons. Check with the prospective school to find out what your equipment obligations will be.
Taekwondo Schools in Indonesia
Jakarta Taekwondo Center
Contact Name: Livi – JAKTaekwondo
Telephone(SMS): 0818 9494 24
PIN BB: 526771F1
Email: r.livi@yahoo.com
Training Venue :
– Cilandak , Jakarta Selatan
– Kelapa Gading, Jakarta Utara ( For kids only)
– GOR Taufik Hidayat Arena (THA). Ciracas -Cibubur , Jakarta Timur
Taekwon-Do ITF
Pecenongan,samping Ikan Bakar Labuan Lantai Tiga,
Jadwal: Senin & Kamis Pukul 19.00-21.00WIB
Kontak: IVAN 08128080889
TAEKWONDO BARATA CLUB INDONESIA
Contact Name: Sabeum Nim, JUNIWAN
Telephone(SMS): 0812-8184-5170, 0856-9493-0577, 21-9109-7080
Contact Name: Sabeum, IMAM
Telephone(SMS): 0896-3936-7160
Training Days: Sunday 07.30 -09.30 WIB
Venue: PUSDIKLAT KEBAKARAN CIRACAS,
JL.RAYA CIRACAS NO.113
JAKARTA TIMUR
AREKA CENTER JAKARTA
Taekwondo Academy
Ruko Jati Makmur Residence No. A12,
Jl. Raya Jatimakmur, Pondok Gede, Bekasi 17413,Jawa Barat,
tel: 0857-1413-7798 / PIN BB: 29895E35