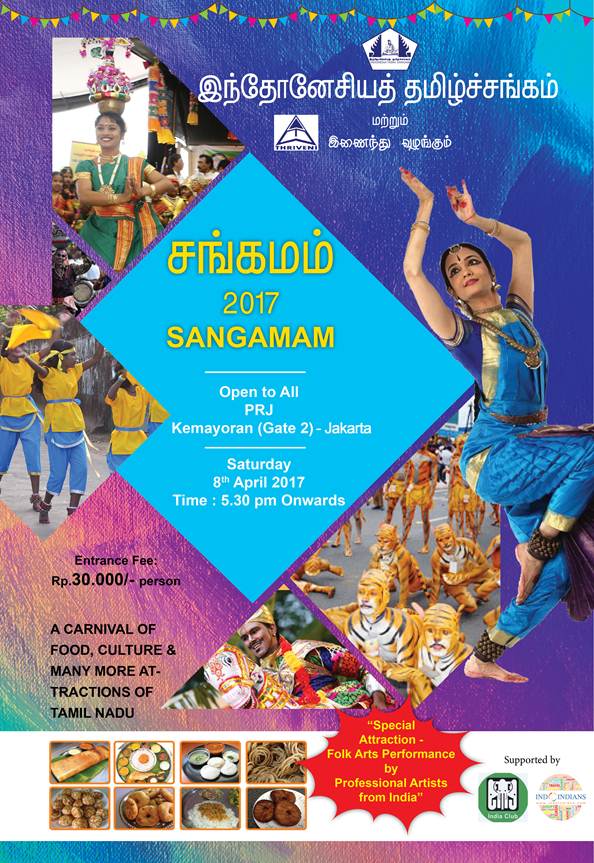 TAMIL SANGAMAM – a Spectacular Tamil Carnival is back on Saturday 8th April, 2017 at PRJ, Kemayoran, Jakarta
We Invite you to attend this Fun-filled event with Family & Friends
A Carnival of Food, Culture, Traditional Games & many more attractions of Tamilnadu and South India
For the very first time we are arranging live performances of Folk Arts such as Karagattam, Oyilaattam, Poikkal Kuthirai, Thappattam etc, to be performed by professional Artists from India
This is an initiative of Indonesia Tamil Sangam to educate our next generation and the world about our Heritage.
We also invite you to participate in the Cultural Events (Music, Dance, Skit, Fashion Show etc), Food Stalls, and Traditional Games.
Interested members to contact the below mentioned persons.
Please mark this date and do not miss this event.
Home made Traditional and authentic Tamil food stalls!
Spectacular Tamil folk arts !
Tamil Traditional games such as Uri adithal & Pambaram Suzhatruthal !
This event is open to all – members, non members, other states and nationals.
DON'T MISS IT!
We welcome participation from Sangam Members for Food Stalls, Cultural Programs and Competitions
Since we have Professional Artists performing several Folk Arts, the time available for performance by local talents is very limited (around 2 hours instead of 4 hrs and above we have had in the previous years). Hence Priority will be given for those members who register first.
Interested Members for participation in Food & Merchandise Stalls, Cultural Programs are requested to contact below mentioned persons :
For Stalls :
For Cultural Programs :
இந்தோனேசியத் தமிழ்ச்சங்கம்
INDONESIA TAMIL SANGAM