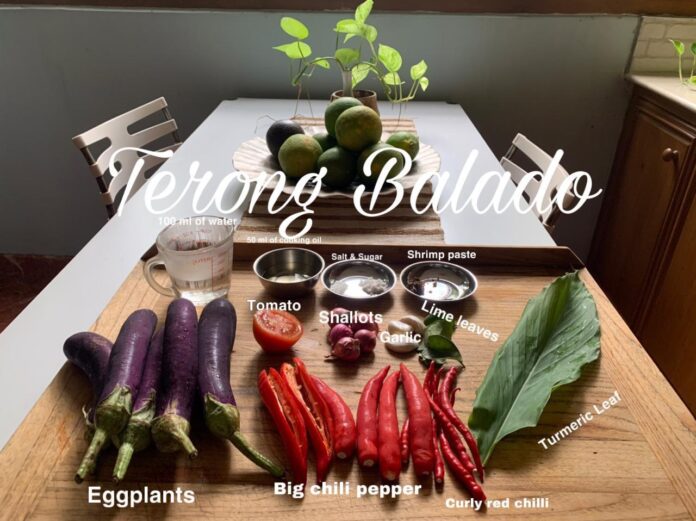 Sambal, which is a chili paste or sauce, is delicious enough as a condiment. Add it to regular ingredients and you will find that it makes it into a delicious food known as balado. One particularly unique pairing is sambal with terong, or also known as eggplants.
Terong Balado is a Padang-style dish, not only favored by residents of the West Sumatra region, but also loved throughout the archipelago, even abroad. It's one of the dishes that is easy and cheap but still has a distinctive taste with its spicy seasoning that can make everyone who tries it addicted.
For those of you who are super busy and don't have much time to prepare dishes for your family at home, this terong balado recipe is one of the best choices, because the ingredients and seasonings are easy to get, and the method of making it is very practical and fast.
Ingredients:
5 pcs shallots
3 pcs garlic
½ tomato
5 pcs red chili (big)
5 pcs red chilli (keriting)
2 pcs daun jeruk
1 pcs daun kunyit
1 tsp or more salt
½ tsp sugar
50 ml Oil for frying the ingredients
100 ml Water
5 pcs Terong ungu (eggplant)
Optional:
Method:
Blend all ingredients except leaves, terong, water and oil.
Steam terong for about 15 minutes
Cut terong to half and put aside
Stir fry mixed ingredients until fragrant. Add water.
Put the steam eggplant and cook until its soft
Put all the leaves.
Taste it and serve!
shared generously by Gaby Pribadi.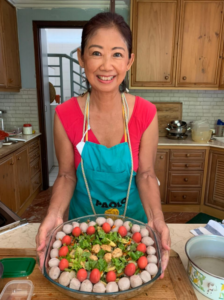 Gaby is 70yrs of age – a mom of two happy married sons and a joyful grandma with 4 grandchildren; 3 handsome boys and 1 pretty girl!
Since 2012 she has retired from my position as the Head of my Interior Contractor Company after 26 years!
Her life has been blessed and wonderful! She feels grateful for every moment, as she believes that everything happens for a reason and life has shapes you into becoming a wiser and better person!
Due to this pandemic, staying at home has been a splendid time! She keeps herself busy with with a activities like reading, cooking, painting, orchid nursery .. and in the
morning yoga and meditation… sometimes Gaby joins the morning walk in her compound with some wonderful neighbors!
Peace & Smile