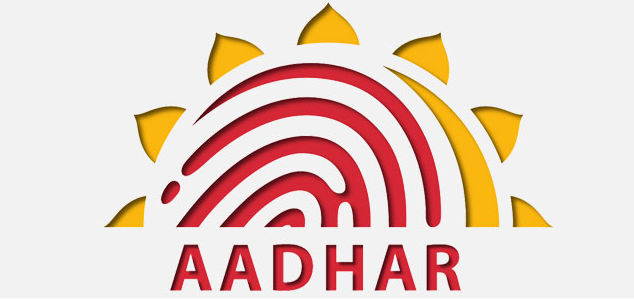 A huge drive to issue an Aadhaar card or the Unique Identification Number (UID) is the 12-digit identity number based on biometric data to each resident of India by the Government of India. Aadhaar card is meant for establishing unique identity of residents of India. It will eventually serve as a proof of identity and address, across India. It has nothing to do with a person's citizenship.  changing passports From insurance policies to mobile SIM, the UIDAI (Unique Identification Authority of India) or Aadhar card with 12-digit unique ID for every resident of India is now mandatory for carrying out a number of tasks.
Approximate 30 million people of Indian origin live outside India and constitute the Indian diaspora. This includes NRI's, OCI card holders and PIOs. Despite the distance and change in nationality, the Indian diaspora is very connected to India.
Here are the top 3 frequently asked questions:
Is it mandatory to enroll for Aadhaar to file tax returns or apply for PAN in India? If yes, then what is the process for NRIs?
Section 139AA of the Income-tax Act, 1961 as introduced by the Finance Act, 2017 provides for mandatory quoting of Aadhaar / Enrolment ID of Aadhaar application form, for filing of return of income and for making an application for allotment of Permanent Account Number with effect from 1st July, 2017.
It is clarified that such mandatory quoting of Aadhaar or Enrolment ID shall apply only to a person who is eligible to obtain Aadhaar number.
Do NRIs or non-resident Indians also need to link their Aadhaar card with bank account, SIM card and PAN card?
NRIs and OCIs (Overseas Citizens of India) need not link their Aadhaar card with bank account, SIM or PAN, the UIDAI has said. NRIs, although they are citizens of India, are not eligible for Aadhaar card if they have not stayed for 182 days or more in the last 12 months, preceding the date of application.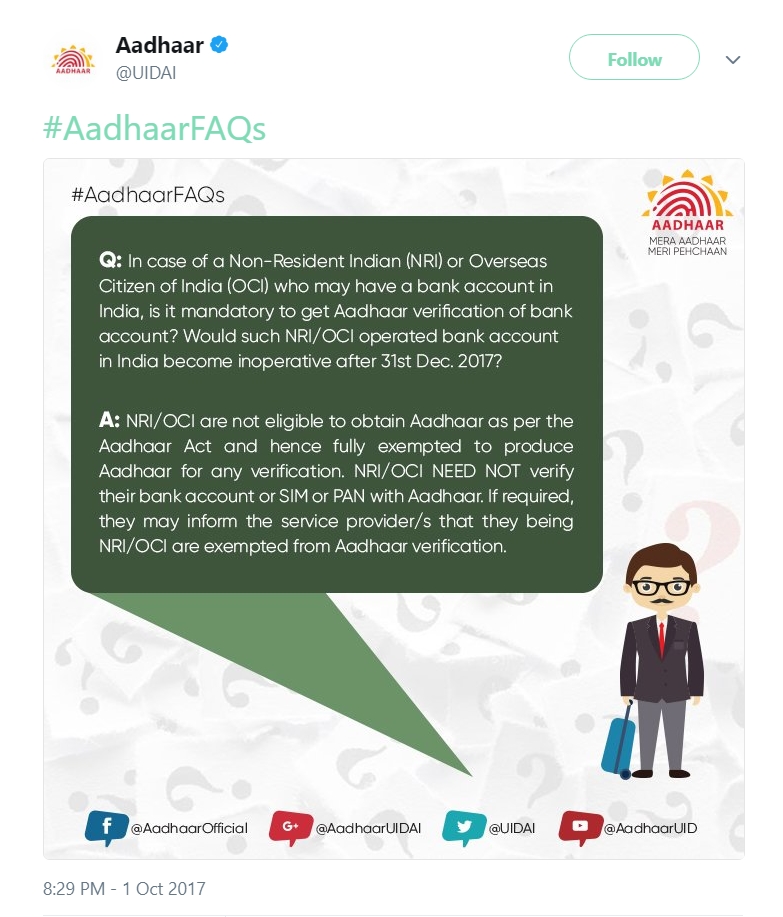 source >> https://twitter.com/UIDAI/status/914693777087856641/photo/1
"NRI/OCI (Overseas Citizen of India) are not eligible to obtain Aadhaar as per the Aadhaar Act and hence are fully exempted to produce Aadhaar for any verification… NRI/OCI need not verify their bank account or SIM or PAN with Aadhaar. If required, they may inform the service provider(s) that they being NRI/OCI are exempted from Aadhaar verification," the UIDAI said on Twitter.
Where all is Aadhaar mandatory?
Over the last few months, Aadhaar has become one of the most important documents to have and though it was initially argued that the mandatory provisions were for welfare schemes, it has been extended to more essential services.
If you are an OCI car holder and have properties in India, where you wish to stay some time, then the Aadhar Card is a must. Else you cannot get any facilities like electricity connection, cooking gas , property tax deposit mobile connection etc.
So where all is Aadhaar mandatory now? Here is a list >>