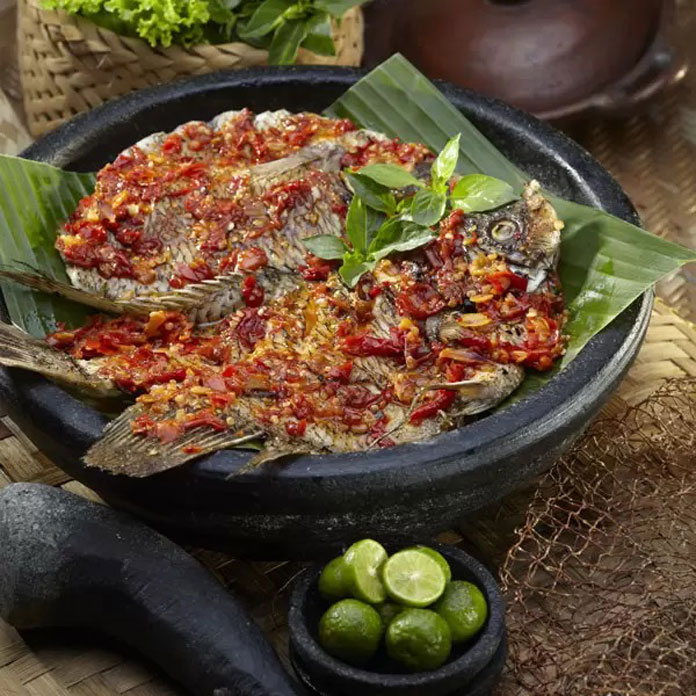 Indonesia is a country that is filled with numerous different cultures. One of the popular food is Sundanese, which is already easy to find everywhere.
Sundanese cuisine is from West Java, Indonesia. It is characterized by its freshness; the famous lalab (salad) eaten with sambal and also karedok demonstrate the Sundanese fondness for fresh raw vegetables. Unlike the rich and spicy taste, infused with coconut milk and curry of Minangkabau or Padang cuisine, the Sundanese cuisine displays the simple and clear taste; ranged from savory salty, fresh sourness, mild sweetness, to hot and spicy.
Sambal terasi is the most important and the most common condiment in Sundanese cuisine, and eaten together with lalab or fried tofu and tempeh. Sayur Asem vegetable tamarind soup is probably the most popular vegetable soup dish in Sundanese cuisine.
Here are the top Sundanese restaurants in Jakarta:
Gubug Makan Mang Engking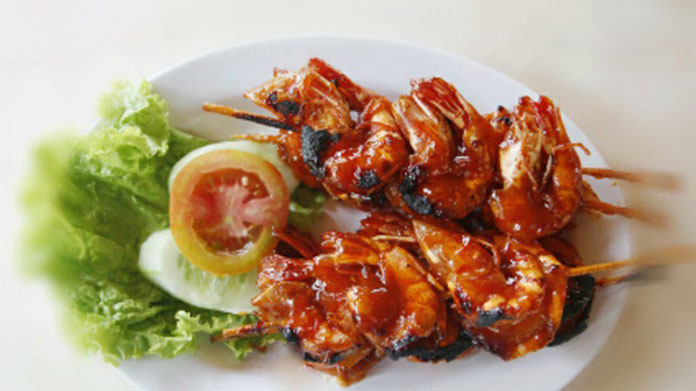 Looking for a place to eat in Depok? Head over to Mang Engking's restaurant. The view of Mang Engking restaurant is very Sundanese with its huts, seatings, beautiful green view and a fish pond that refreshes your eyes. Ordering here will not be complete without ordering their delicious Udang Bakar Madu. It can be eaten with a lot of people, the shrimp is soft and the sweetness of the honey is on point.
Address:
Universitas Indonesia, Jl. Danau Salam, Jagakarsa, Jakarta
Phone: +62-8161117751 / +62-85814113926
Telaga Arwana Cibubur, Jl. Jambore Raya No. 8, Pondok Rangon, Cibubur, Jakarta
Phone: +62-2184311877/+62-85216660303
Taman Impian Jaya Ancol, Jl. Lodan Timur No. 7, Ancol, Jakarta
Phone: +62-2126694600
Website: https://www.mangengking.com/
Ikan bakar cianjur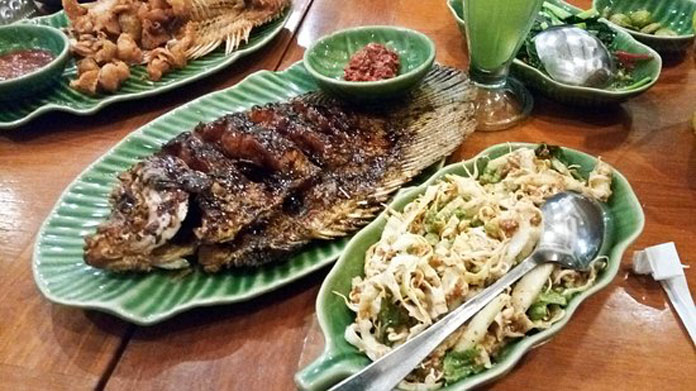 Ikan Bakar Cianjur is famous for having a menu filled with delicious food. All of the fish you can ask for is fresh and can be customized according to choice from fried, grilled, sweet and sour and many more! Their Gurame Pesmol is one of the most delicious dishes they have on their menu. The seasoning is just right and the fish does not smell. People can also order it with their Nasi Liwet which is just as delicious, even though it is only eaten with anchovies and some sambal.
Address:
Jl. Batu Tulis Raya No. 39
Phone: +62-213507788
Jl. Cipete Raya No. 35
Phone: +62-2175900222
Website: https://www.ibcgroup.co.id/
Talaga sampireun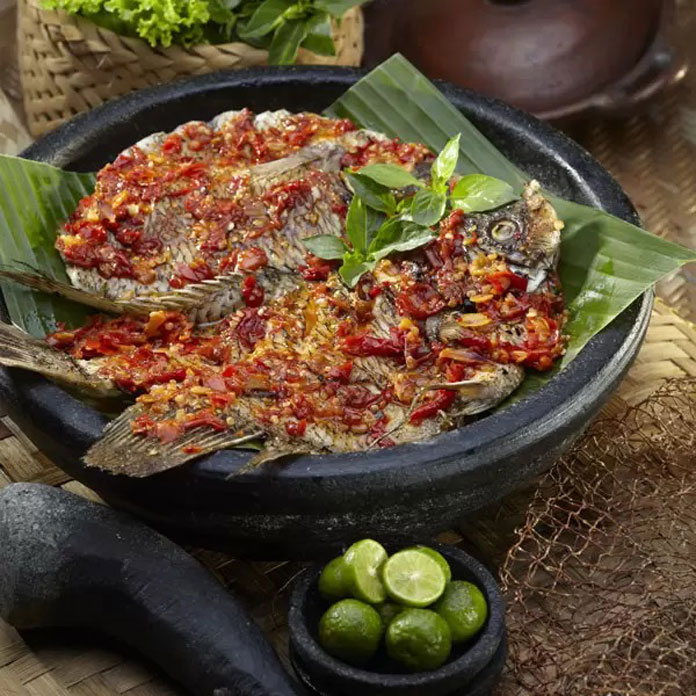 If you are looking for a Sundanese eating place with unique seating? Talaga Sampireun is the place to go! This Sundanese eating place is very comfortable, for it doesn't even feel like you are eating in Jakarta. The big fish pond and calm trees make the atmosphere seem more authentic. You can even give food to the fish while sitting in one of the huts. For the food, nothing can beat its Gurame Bakar Cobek or Grilled Carp with Sambal as the flavoring is on point.
Address:
Jl. Lingkar Luar Barat, Puri Indah, Jakarta
Phone: +62-21 80602045 ext:203
Taman Impian Jaya Ancol, Jl. Lapangan Golf 7, Ancol, Jakarta
Phone: +62-2180602045 ext:199
Sandjaja Seafood & ayam bakar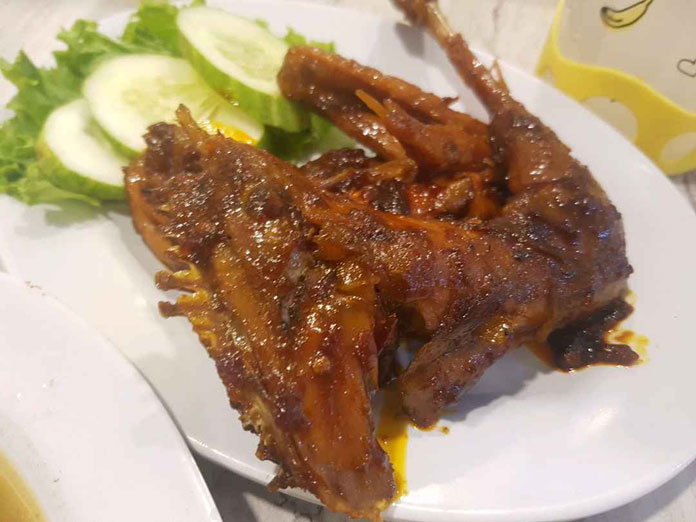 The kelapa gading area is famous for its array of restaurants. One of the restaurants is the Sandjaja restaurant, in which their special menu is seafood. In this restaurant, the fresh seafood is caught and given special sauce to make it taste even more delicious. But seafood is not the only food it is known for as their Ayam bakar is simply unforgetable. The meat absorbs the spices nicely, you can taste it to the bones. Don't forget to pair it with their sambal bajak goreng. Of course, it goes without saying that it tastes delicious.
Address:
Jl. Boulevard Raya, Blok J4 No. 9, Kelapa Gading, Jakarta
Phone: +62-214529056/ +62-214524241
Jl. Dr. Susilo Raya No. 18A, Grogol, Jakarta
Phone: +62-215631675/+62-215683085
Muara kuring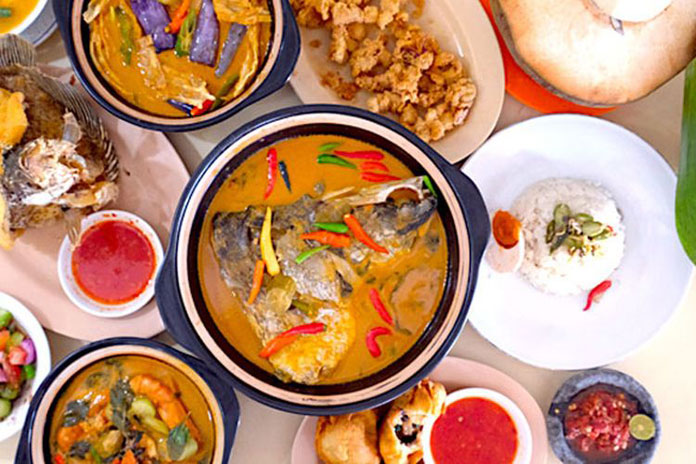 If you want to go to a reputable restaurant, you should look at Muara Kuring's history. This joint was built from 1980 and still maintain its reputation just as well today. People usually enjoy seafood (mostly shrimps) and its famous Ayam Bakar. For those of you looking for an appetizer, you can can try lumpia udang special, udang bola goreng to their tahu kipas. Meanwhile to end your culinary journey, you can enjoy their es sangkuriang.
Address: Jl. Muara Karang Raya No. 117 – 119, Muara Karang, Jakarta
Phone: +62-216680213/+62-216678427
Waroeng Sunda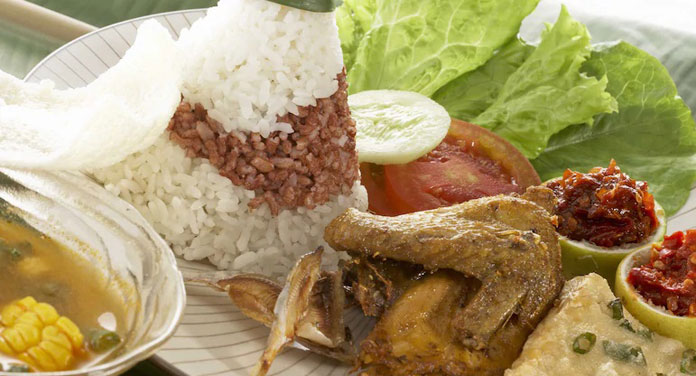 Although some restaurants strive to offer the best view and even looks fancy at times, that is not the case with Waroeng Sunda. What they lack in décor they make up with delicious food, tasteful dishes and affordable menus. Sundanese food that has become its signature in its restaurant is the seafood, mainly their gurame from gurame goreng to soups. Other than that, there is also gurame pesmol, sambal, Nasi Punclut Empal, and Nasi Punclut Ayam.
Address: Jl. Panjang No. 57, Green Ville, Jakarta
Phone: +62-2156985777/+62-2156985888
Sambel Hejo Sambel Dadak
Another choice for eating Sundanese food is at Sambel Hejo Sambel Dadak. This restaurant is particularly famous for its sambal, which is considered to be extremely spicy as Sambel Ijo is one of the hottest sambals you can get in Indonesia. Although it does not have the regular decor of huts in greenery areas, the eating areas with paintings and chandeliers makes the restaurant look more like a home. It's side dishes are also considered to be delicious, for you can choose their specialty dishes from ayam goreng, gurame cobek, and many more versions of seafood.
Address:
Jl. Tebet Timur Dalam II No. 34, Tebet Timur, Tebet, Kota Jakarta Selatan, Daerah Khusus Ibukota Jakarta
Phone: +62-218292675
Jl. Cempaka Putih Raya, No 8A, Kota Jakarta Pusat, Daerah Khusus Ibukota Jakarta
Phone: +62-214229066 Whatsapp: +62-87888018000
Jl. Cipinang Baru Utara No.35, Cipinang, Pulo Gadung, Kota Jakarta Timur, Daerah Khusus Ibukota Jakarta
Website: http://sambelhejosambeldadak.com/
In order to understand a culture, eating the food is paramount. You will be able to understand what are the basic lifestyle and their taste in cuisine. Eating Sundanese food means that you will be able to know and understand deeply about Sundanese culture.
In which of these restaurants have you eaten? Share your experience in the comments section below!