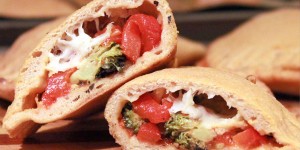 Serves 1
If you always thought pizza wasn't a nutritious food, think again. This one has a delicious combination of vitamin-packed peppers, low-fat cheese, and whole-wheat bread. It's great for a quick snack, lunch, or supper.
Ingredients :
1 7-to 7-1/2-inch round piece whole-wheat pita or pocket bread
3 tablespoons prepared pizza sauce
1/4 green or red bell pepper
1/4 small onion
1/8 teaspoon dried Italian herb seasoning
1/2 ounce part-skim mozzarella cheese (2 tablespoons grated)
1/2 teaspoon grated Parmesan cheese
Equipment :
Cutting board
Small, sharp knife
Chef's knife
Grater and bowl (optional)
Kitchen scissors
Cookie sheet or baking sheet
Oven mitts
Wire cooling rack
Measuring spoons
Small spatula or spoon
Pizza cutter (optional)
Instructions :
Peel and chop onion (see Cook's Note). Measure out 2 teaspoons and set aside. (Save the rest to use in another recipe.)
Rinse bell pepper and place on cutting board. Remove seeds and white pith from inside the pepper. With small, sharp knife, chop bell pepper. Measure out 1 tablespoon and set aside. (Save the rest to use in another recipe.)
Grate cheese if it is not pre-shredded (see Cook's Note).
Preheat oven to 400 degrees F.
Using kitchen scissors cut out a circle from top layer of the pita bread, leaving 1 inch of top all around to form an edge or border. Same cut-out circle.
Place bottom of pita on cookie sheet or baking sheet. Using oven mitts, put on middle rack in hot oven. Bake 5 minutes.
With oven mitts, carefully remove from oven and place pan on wire cooling rack. Cool slightly.
Place cooled pita on cutting board. Using small spatula or spoon, spread pizza sauce evenly on top and also under the edge of the pita bread. Sprinkle bell pepper, onion, Italian seasoning, and mozzarella cheese evenly on top of sauce. Top with reserved circle of pita bead to form a "hat."
Return completed pizza to cookie sheet or baking sheet. Bake in hot oven for 8 to 9 minutes.
With oven mitts, carefully remove pan from oven to cooling rack.
Sprinkle with Parmesan cheese and let stand a few minutes.
Place pizza on cutting board. Cut in half with kitchen scissors, small knife, or pizza cutter. Serve hot.
Cook's Note :
To grate your own cheese, follow these directions:
Place the grater in a bowl.
Hold the grater firmly in one hand and place a large piece of cheese in other hand.
Rub the cheese against the small holes of the grater. (The cheese will come out in shreds.)
Be careful not to rub your knuckles against the grater.
Ask a grown-up to help you the first few times.