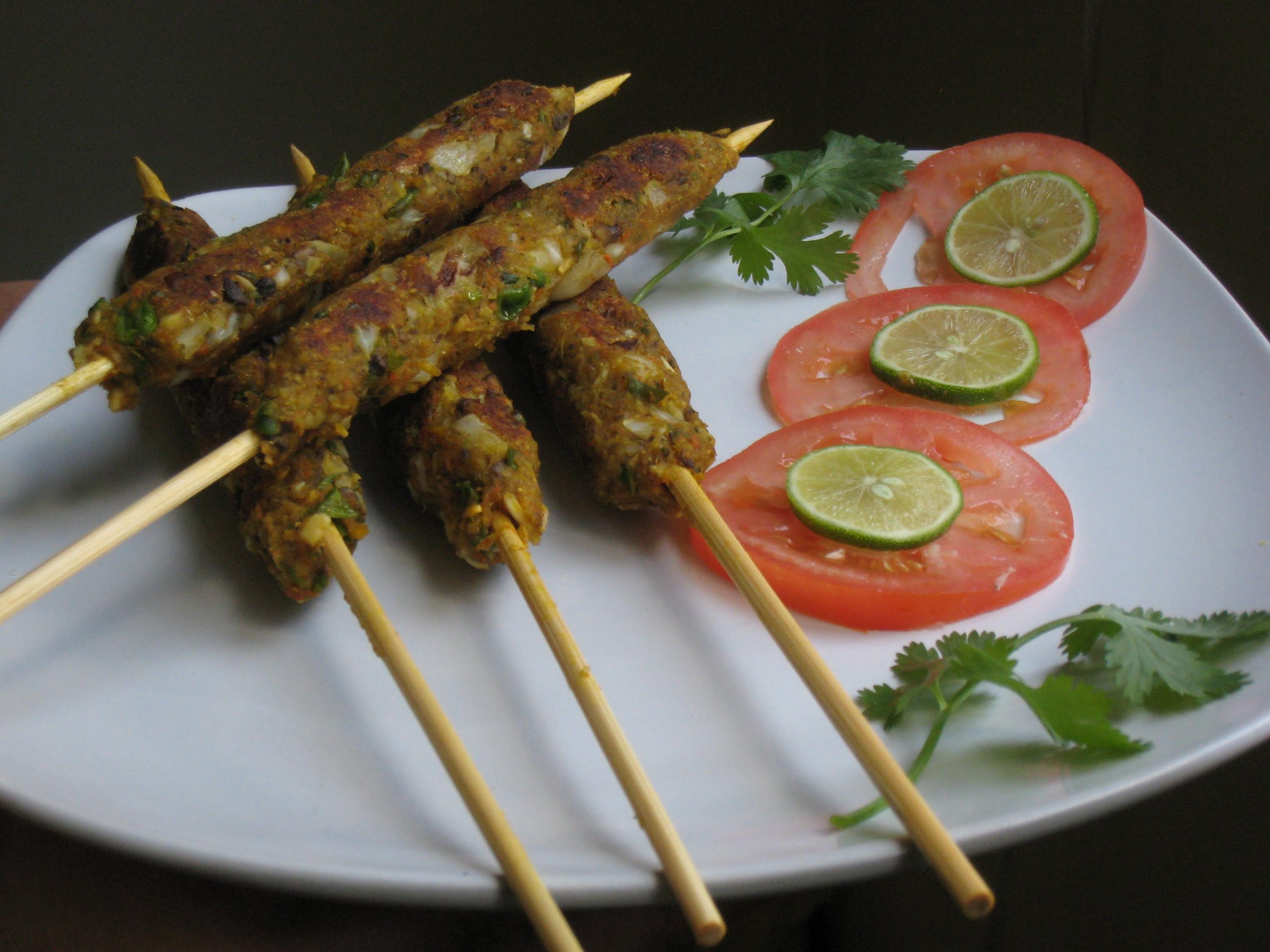 Enjoy this vegetarian recipe of Gulnaar Sheekh Kabab By Shabana Akbany. The name "gulnar' in fact refers to its "melt in your mouth" texture which it surely is. A vegetarian kebab that will leave all non-vegetarians asking for more. Guaranteed.
Ingredients:
1 cup saboot masoor daal (black lentils)
1″ piece ginger
8 – flakes garlic
1 green chilly chopped
1 tsp whole jeera (cumin seeds)
1 tsp garam masala powder
1 tsp red chilly powder
1/4 tsp amchoor (dried mango powder)
1/2 cup mashed paneer (cottage cheese)
3 tbsp corn flour
1 tsp salt or to taste
1 -2 tsp lemon juice
4 – 6 tbsp oil
2 tbsp each of finely chopped capsicum, onion and tomato without the pulp.
Garnishing:
2 onions cut into rings
juice of 1 lemon
a few poodina (mint) leaves
(Serves 6)
Method :
Soak the masoor dal for about 2 hours and strain.
Grind daal, ginger, garlic, green chilly and jeera to a thick smooth paste using the minimum amount of water and keep aside for 15 minutes.
Heat 3 tbsp of oil in a thick bottomed wok. Add daal, capsicum, onion and tomato. Stir fry for 4 – 5 minutes on low flame till daal is dry and daal sticks to the bottom of the wok. Remove from fire.
Mix corn flour, paneer, salt, garam masala, red chilly powder and amchoor powder with the daal.
Add lemon juice, mix well and keep aside.
Heat 3 tbsp oil in a non stick tawa for shallow frying.
Grease bamboo skewers, spread a ball of daal along the length of the skewer, making a 2 or 3 " long kabab of the daal paste.
Gently pull out the kebab off the bamboo skewers and shallow fry the seekh in medium hot oil to a brown color.
Serve on a bed of onion rings, sprinkled with lemon juice and poodina leaves..
by Shabana Akbany