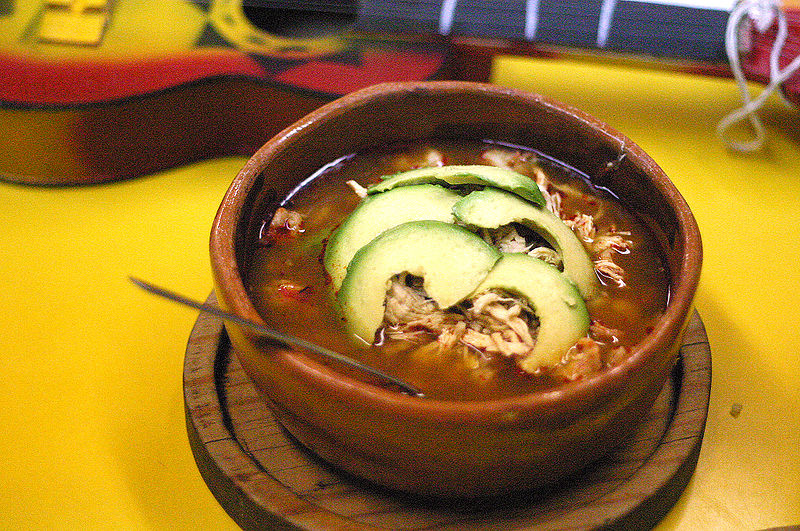 Pozole is a traditional soup or stew frequently served as a celebratory dish throughout Mexico and by Mexican communities outside Mexico.. It is usually made with hominy, meat (typically pork), and can be seasoned and garnished with chili peppers, onion, garlic, radishes, avocado, salsa and/or limes.
Here is our vegetarian version of this wonderful soup.
Ingredients :
1/2-1 cup onion, chopped
2-5 cloves garlic, chopped
1 1/2 cups mushrooms cut into halves or quarters
2 sliced carrots
1 cup green beans
2 cups chopped squash
2 cups canned tomatoes or 4 to 7 fresh tomatoes
1/2 cup water
1 can (29 ounces) hominy*
pinch salt
2 teaspoons each (more or less) cumin and oregano
black pepper to taste
Fresh cilantro to taste (3-6 Tablespoons, shredded)
Directions :
Brown the onions and garlic in a little oil.
Add the vegetables to the browning onions and garlic.
Add the tomatoes and cook until vegetables start to soften (about 10-15 minutes).
Add the seasonings. Add the hominy. Cook until all vegetables and the hominy are soft (another 10-15 minutes).
*Hominy is a food which consists of dried maize kernels that have been treated with an alkali in a process called nixtamalization. The soaked maize is washed, and then ground into masa. When fresh masa is dried and powdered, it becomes masa seca or masa harina.