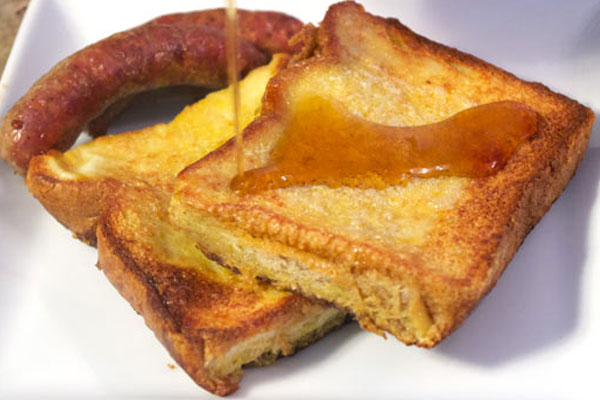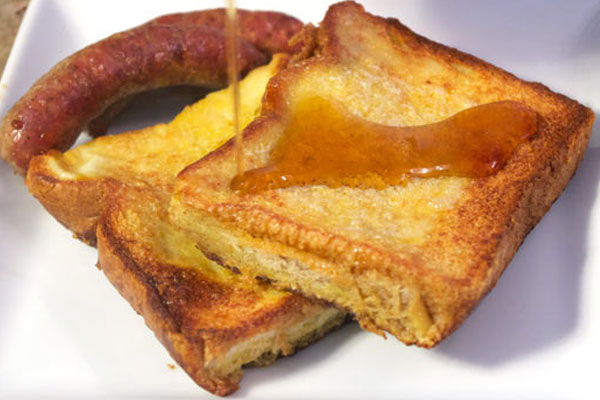 Serves 6; 1 slice per serving
This French toast is a bit different from the usual kind. The bread is first dipped into a sweetened cinnamon-flavored batter, then set in refrigerator overnight to absorb the delicious flavors. The next morning, it's baked rather than fried. What a delicious way to start the weekend or a slumber party morning.
Ingredients :
1/4 cup (1/2 stick) margarine/ butter
1/2 cup firmly packed dark brown sugar.
3/4 teaspoon ground cinnamon.
1 egg.
1/4 cup skimmed milk
6 1-inch-thick slices French bread.
1 to 2 tablespoons powdered or confectioners' sugar.
Equipment :
13-by-9 inch baking pan or baking dish
Measuring cups
Small bowl
Fork
Measuring spoons
Glass pie plate
Aluminum foil
Oven mitts
Wire cooling rack
Instructions :
Place margarine/butter in baking pan or heat-proof baking dish. Place pan on burner. Turn heat to low. Heat margarine/butter until melted.
Place brown sugar in small bowl. With fork, stir in cinnamon. Sprinkle mixture evenly over melted margarine/butter in baking pan or dish.
Combine egg and milk in glass pie plate. Mix with fork until blended.
With fingers or fork, dip bread slices into egg mixture to coat both sides. Lay slices over sugar-cinnamon mixture in baking pan or dish. Pour any remaining egg mixture over the bread slices.
Cover pan with foil and refrigerate overnight.
Remove pan from refrigerator 1 hour before baking. Let stand on the kitchen counter to reach room temperature.
Preheat oven to 170 degrees Celcius.
Carefully place pan of French toast in hot oven. Bake 25 minutes.
Using oven mitts, remove pan from oven to wire cooling rack. With oven mitts, carefully remove foil from pan.
Return pan to hot oven. Bake for 15 minutes longer.
Using oven mitts, remove pan to cooling rack. Sprinkle French toast with powdered sugar. Serve warm.
Cook's Note :
Here's a terrific breakfast treat, but to make it you'll need to think ahead. You need to start this recipe the day before you serve it, since it must be refrigerated overnight. Use crusty loaves of French bread cut into slices. Regular white bread slices won't work — they're too soft and will get soggy.
When measuring brown sugar, follow these simple steps: Spoon the brown sugar out of its box into the correct size dry measuring cup.
With your hand on the back of a wooden spoon, push the brown sugar into the measuring cup to "pack" it. Continue spooning in the sugar and packing it down until the cup is full and level on the top.
When directed in the recipe to add the brown sugar, turn the cup upside down into the bowl. The sugar should come out easily and hold its "cup" shape.