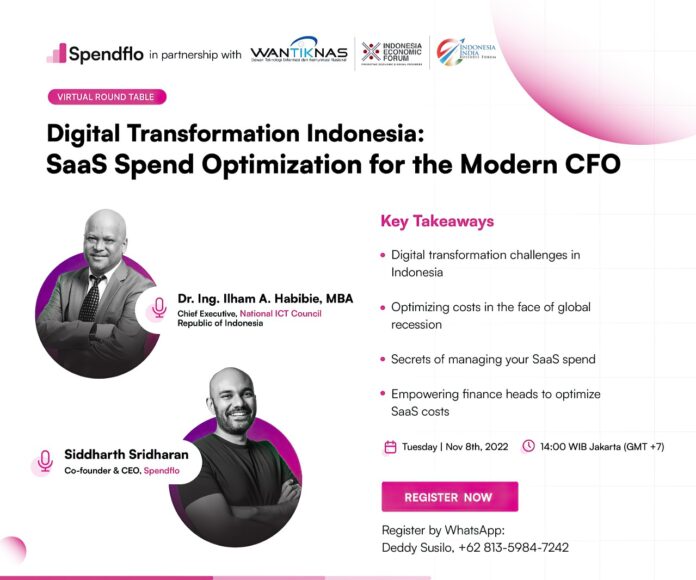 Join a Virtual Roundtable on
Tuesday, Nov 8, 2022 | 14:00 WIB Jakarta (GMT +7)
Registration link >>
CFOs should know and understand the importance of managing costs related to digital transformation activities. It is the CFO who can ensure that the selected activities and services will offer cost savings and services optimization that will lead to competitive pricing, financial sustainability and will contribute to the overall viability of the business.
Join the Virtual Webinar – SaaS Spend Optimization For The Modern CFO and be with 15 top CFO's who will share their experiences, insights and ideas with other thought leaders from the sector.
Topics of discussion
Digital transformation challenges in Indonesia
Optimizing costs in the face of global recession
Secrets to managing your SaaS spend
Empowering finance heads to optimize SaaS costs.
About Dr. Ing. Ilham A. Habibie
Ilham Akbar Habibie currently leads Indonesia's National ICT Council (WANTIKNAS) and the Agency for Research and Technology of the Indonesian Chamber of Commerce and Industry (KADIN).
Ilham also sits on the advisory board of the Indonesia Economic Forum, while he was recently appointed as a commissioner at Ayoconnect, an Indonesian API platform that aims to democratize the country's open finance.
About Spendflo
Spendflo's SaaS buying and optimization platform helps you reduce your SaaS spend by ~ 30%. With Spendflo get visibility into your SaaS stack, vendors, and automate your SaaS procurement.
This event is supported by Indonesia Economic Forum, Indonesia India Business Forum and Indoindians