If you love West Sumatera dishes, Sambal Hijau must be familiar to you. This kind of Sambal is a 'mandatory' condiment for almost all West Sumatera or Minang dishes, so no wonder if you can find this Sambal easily in many Padang Restaurants across Indonesia.
Unlike other kinds of Sambal which use full cabe rawit or cayenne peppers, Sambal Hijau uses green chilies as main ingredients. It is not as hot as Sambal Pencit, so if you have low tolerance towards spicy food but want to try Sambal, this Sambal is a good starter.
Let's try this easy Sambal Hijau recipe!
Ingredients: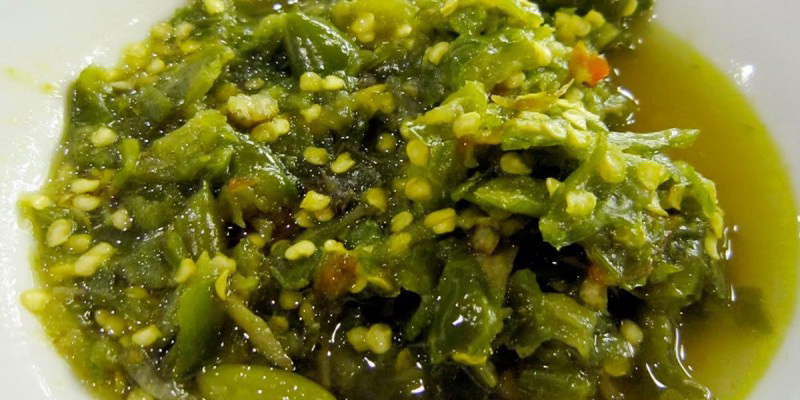 250grams of green chilies
50 grams of green cayenne peppers (if you want it to be less spicy, you may opt to not use this ingredient and vise versa)
 4 cloves of shallots
3 tablespoons of cooking oil (for sautéing)
2 cloves of garlic
2 green tomatoes
½ teaspoon of lime juice
Sugar
Salt
Instructions:
Cut all the chilies into small cuts for easier process
Steam all the chilies, shallots, garlic, and tomatoes for about 5 minutes. Remove from the heat, set aside
Crush all the ingredients using stone mortar. Don't crush it too soft, but make sure all the ingredients are mixed well
Heat cooking oil in a saucepan or wok. Sauté the chili paste until fragrant
Add sugar, salt, and lime juice, stir well. Continue sautéing until the chili paste is perfectly cooked
Remove from the heat and Sambal Hijau is ready to be served
It's easy, isn't it? Let's try this today!