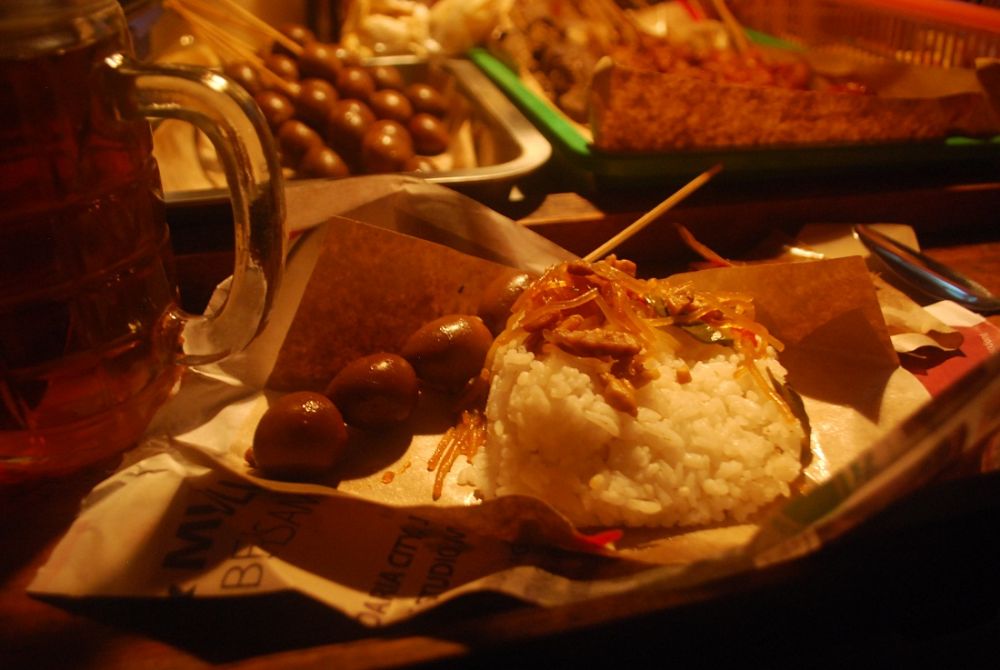 Local street food is something everyone must try to fully experience of the culture in the designated place. In Javanese areas, angkringan is the local food that you must try. Food that is sold here are generally very affordable, yet contains a touch of local culture. Interestingly, this traditional food cart has been around since the 1950s.
What is Angkringan?
It is local street food originated from central Java. The word 'angkringan' comes from the movement of lifting the feet in order to sit on the long bench, or 'angkat kaki'. Previously sold only in Yogyakarta, Solo and Klaten, it has now spread to various parts of Indonesia.
Angkringan is known to be affordable, delicious and is part of Javanese culture and history. Those who try this will therefore get a taste of one of Indonesia's traditional culture, which is vastly different from the rest. The dishes are served buffet-style in which visitors can pick the food of their choice on their own.
Food served at angkringan are served in small portions with savory, sweet and spicy flavors. Some of the food generally eaten there are nasi kucing (rice wrapped in banana leaf) with various side dishes from quail egg satay, tahu bacem, tempe bacem, snail satay or even satay made of innards. Coffee and sweet tea are popular choices of drinks to pair it with.
Today, the options served at angkringan are loved by the locals from street vendors, government officials and royals. Angkringan has now served as a symbol of friendship in Javanese society where people of varied statuses would gather and socialize while eating there.
Angkringan KR / Pak Jabrik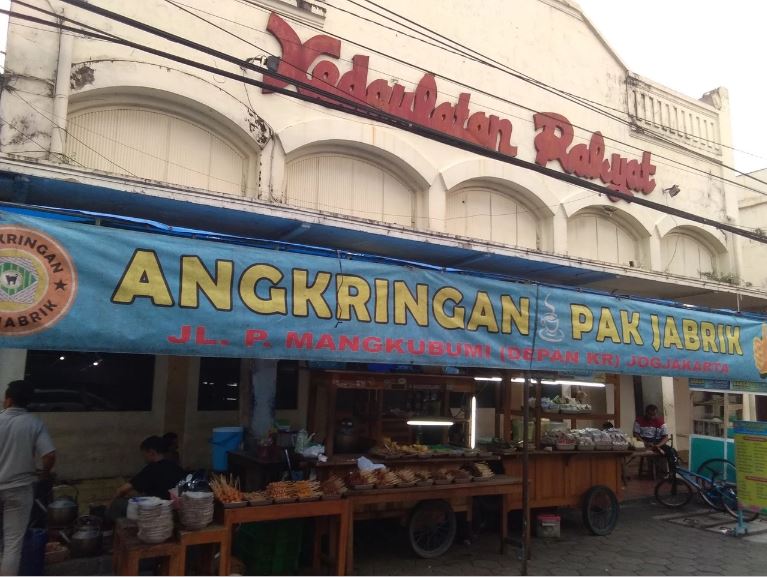 The angkringan in front of the Kedaulatan Rakyat headquarters have been famous for quite some time. There are numerous affordable menus that you can try here, but make sure to try their specialities which are nasi kucing and satays. Other than that, you can also enjoy the location as it is one of the places deemed ideal for relaxing and talking to old friends. A common yet iconic sight is visitors enjoying their time at 'Kedaulatan Rakyat' headquarters while ordering a glass of coffee or sweet tea.
Address: Depan Kantor Redaksi Kedaulatan Rakyat,  Jl. P. Mangkubumi No. 40 – 46. Yogyakarta
Opening Hours: 12.00 – 02.00 WIB
2. Angkringan Pendopo Dalem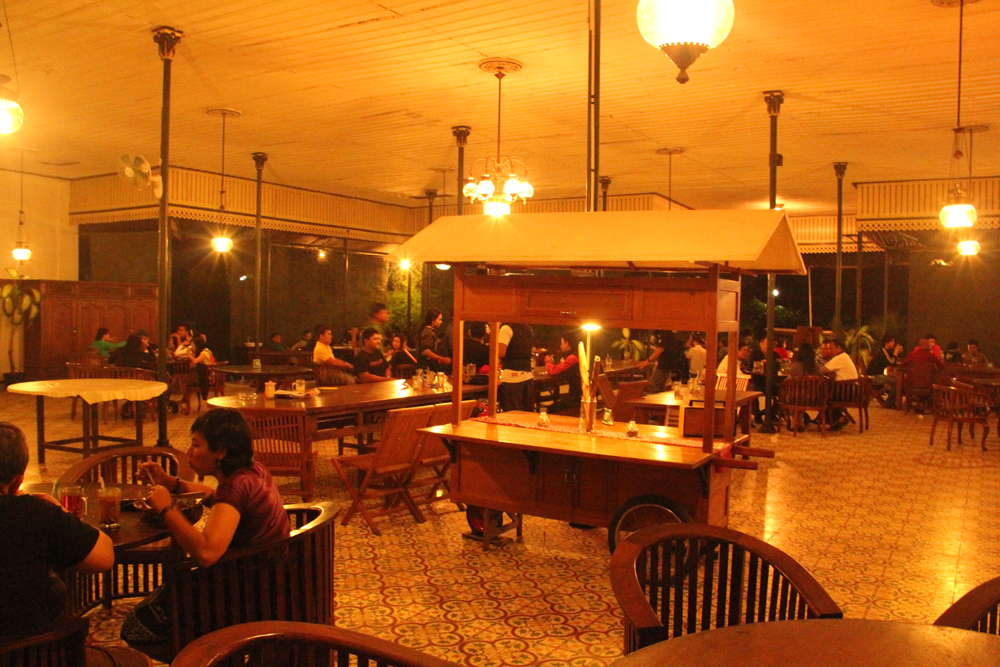 For experience of traditional royal Javanese culture, you can visit the 'angkringan pendopo ndalem'. Location and large variety of dishes are what made this angkringan one of the most unique and popular ones in Yogyakarta. Set in the compound of the Royal Palace Keraton Yogyakarta, the scenery is one that sets it apart from other places. You will be able to see the traditional food carts, although food is served buffet-style in an open space.
Angkringan Pendopo Ndalem or Angkringan ndalem is also one of the places to be if you are looking for a variety of angkingan food from heavy dinners to light snacks. Rare market street food to try are clorot, kipo, semar mendem, lupis, jadah manten, and many more. Complete the meal with a bevy of warm traditional drinks from bajigur, wedang bleduk, wedang gajah and leser.
Address: Jalan Sompilan Ngasem No. 12, Patehan, Kraton, Kota Yogyakarta, Daerah Istimewa Yogyakarta 55133, Indonesia
Phone: +62-274385777
Opening Hours: 18.00 – 23.30 WIB
3. Angkringan Lek Man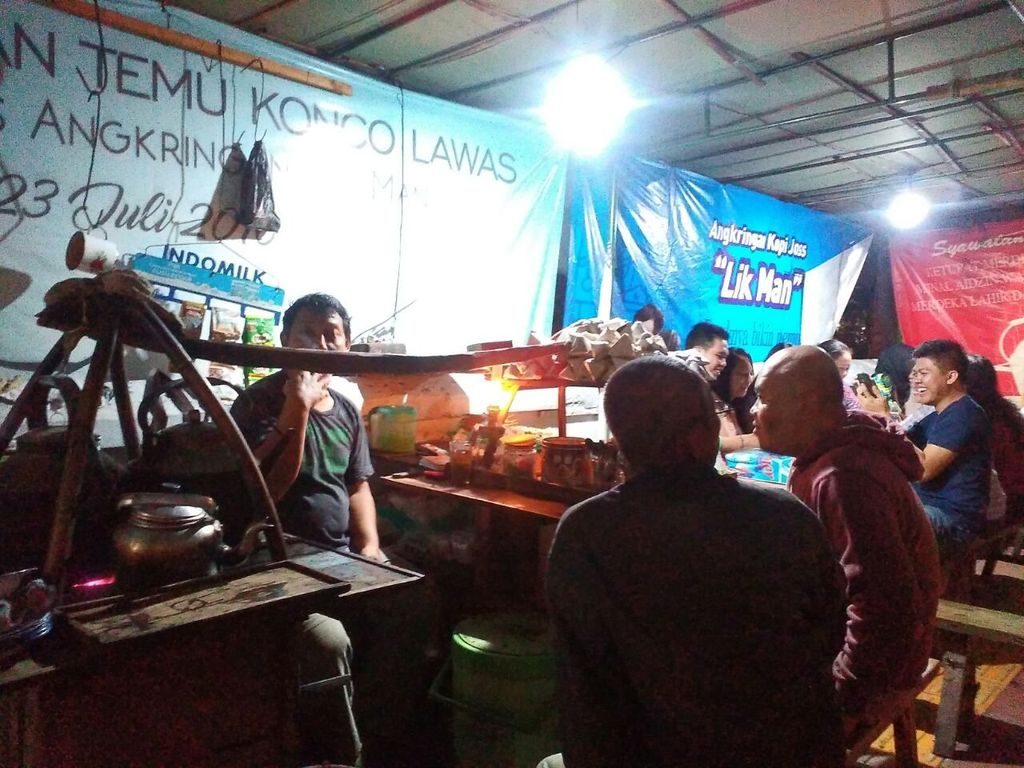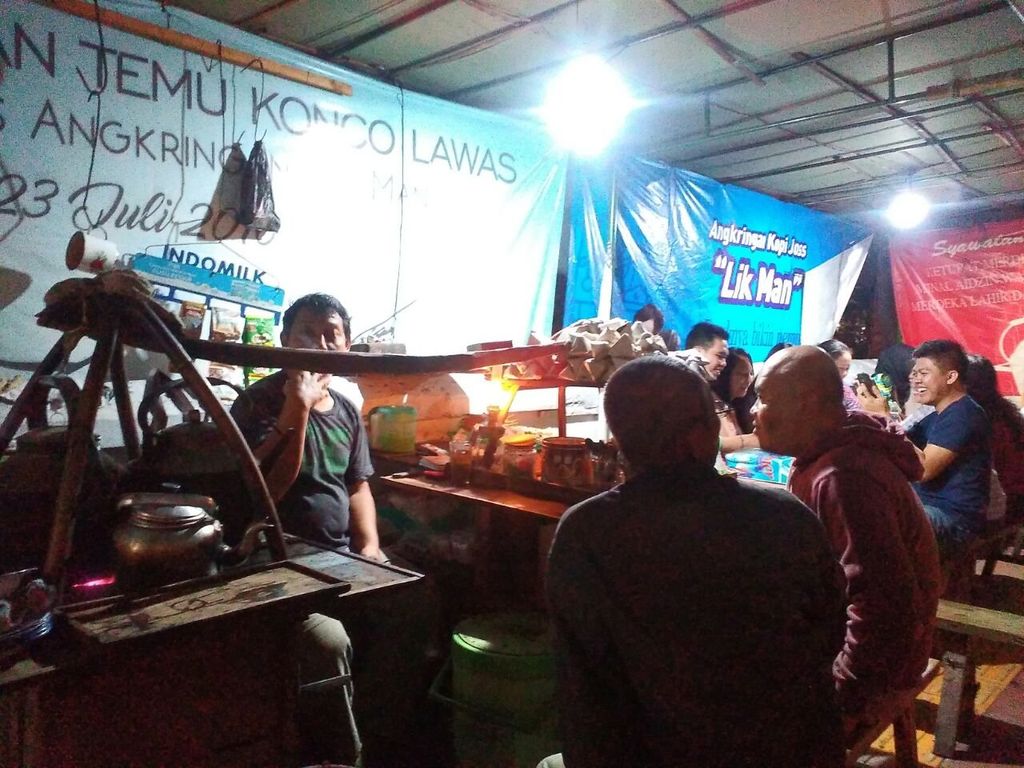 Another well-known angkringan location in Yogyakarta is Angkringan Lek Man. If you've never visit this place, we can assure you that it will be filled to the brim with crowds. This place serves unusual local dishes that could not be found anywhere else. Namely, the coffee with burning coal burned inside it. Minimalistic dishes such as nasi kucing, quail egg satay, fried tempe, fried tofu and various types of bacem are amongst some of the dishes served here.
Address: Jalan Wongsodirjan, Gedong Tengen, Sosromenduran, Yogyakarta, Kota Yogyakarta
Opening Hours: 14.00 – 03.00 WIB
4. Angkringan Wijilan or Angkringan Kang Harjo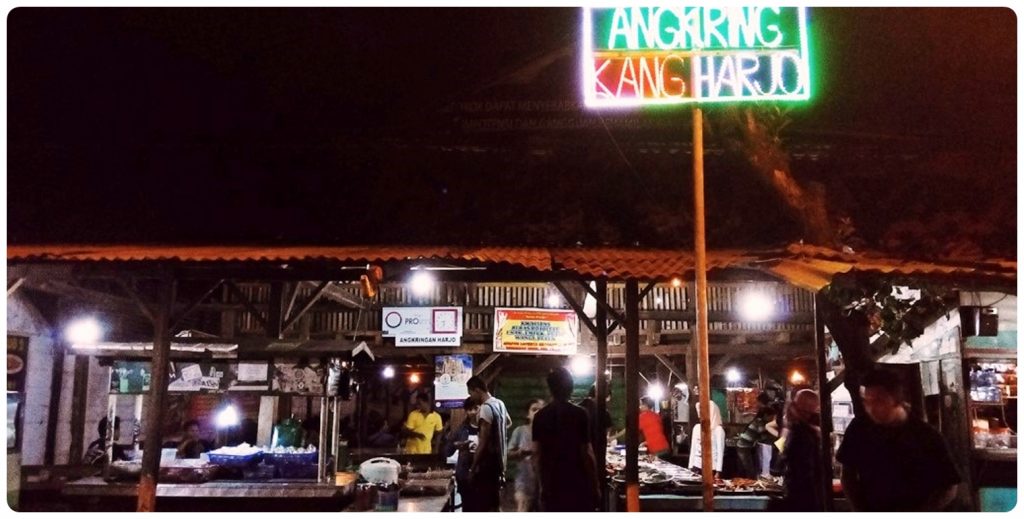 Angkringan Wijilan is known for serving many traditional side dishes in one convenient space for visitors to enjoy. While eating, you would also be able to enjoy the atmosphere of the restaurant with dimmed lighting synonymous with angkringan and open spaces that could hold up to 200 people. Food varies from rice, 50 types of side dishes and at least 24 different types of vegetable dishes. But the snacks that visitors should try are teh poci gula batu, jahe gepuk gula batu, wedang uwuh, and susu tape ketan as they are the signature dishes of this angkringan.
Address: Jalan Wijilan, Panembahan, Kraton, Panembahan, Kraton, Kota Yogyakarta
Opening hours: Setiap hari, mulai 17.00 hingga 02.00 WIB
5. House of Raminten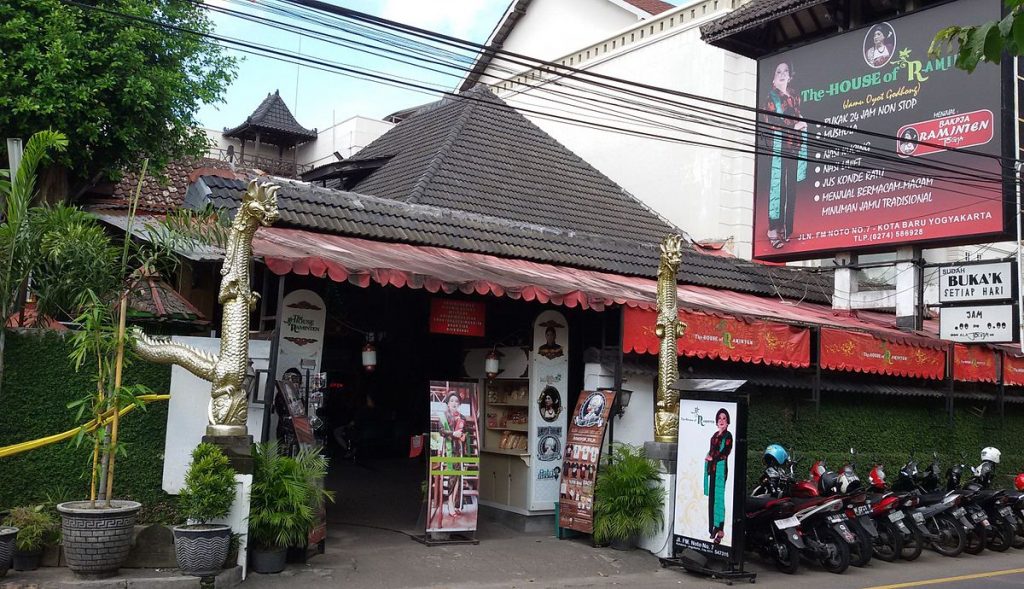 House of Raminten is the perfect combination of a more traditional angkringan that is set on a modern platform. Therefore, visitors will be able to enjoy the more traditional and modern touches in the atmosphere without leaving out what angkringan is most known for. The Javanese interior of 'House of Raminten' adds the allure of this café.
You will be able to try typical angkringan dishes from from nasi kucing and gorengan. Apart from that, visitors will be able to try their speciality dishes such as jamu godogan, milk beverages and various herbal drinks to warm up the body. Uniquely, this angkringan-slash-cafe offers cabaret performances every Saturday night for an unforgettable experience in Yogyakarta.
Address: Jl. Faridan M Noto, No.7, Kotabaru, Gondokusuman, Yogyakarta
Opening Hours: Everyday for 24/7
6. Angkringan Nganggo Suwe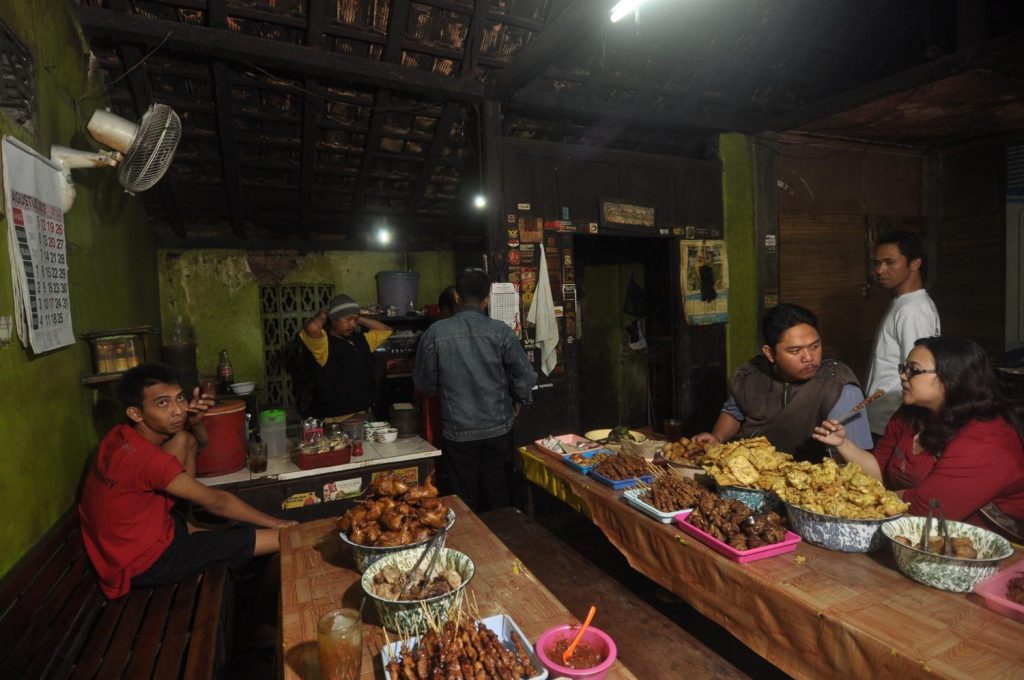 One of the most long standing angkringan in Yogyakarta is the Nganggo Suwe Angkringan that has appeared since the 90s. Even to this day, tens of people would wait in line to eat a meal at this angkringan, as it only accommodates 8-10 people. So be prepared! Those who come here for the first time will most likely have to wait in line to try eating here. We would recommend their nasi bakar and specialty ginger and gula jawa beverage if you ever decide to drop by.
Address: Jalan Pramuka No. 106, Giwangan, Yogyakarta, Indonesia
Opening Hours: 18.00 – 05.00