The Winter Festival is held every year during the last week of December. The festival celebrates the warmth and cheerfulness of the people of this quaint hill station, who welcome the tourists from the depth of their hearts.
The hospitality of the people, their colourful culture and exotic location make this festival a never-to-be-forgotten experience. The festival begins with a ceremonial procession, which starts from the RTDC Hotel Shikhar. The procession gathers at the Nakki Lake Chowk followed by folk performances of Rajasthan, Gujarat, Punjab and Haryana's folk artistes. The grand finale of the festival is made brighter by a display of dazzling fireworks on three days.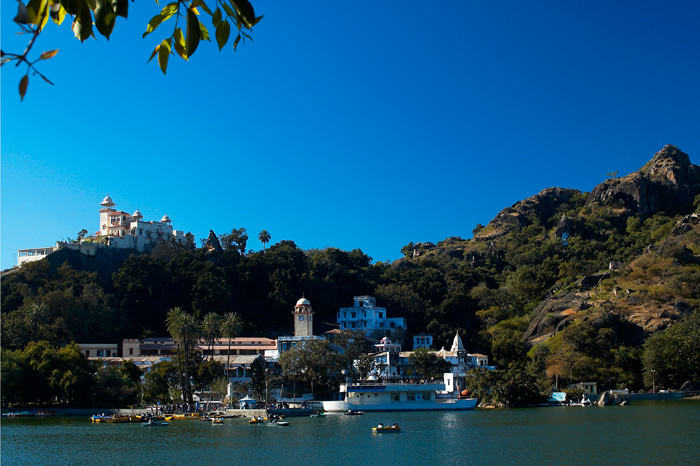 Nakki Lake in Mount Abu.
MOUNT ABU: A UNIQUE DESTINATION FOR ADVENTURE AND ECO TOURISM.
During the period of the Maharajas, it was used as a place of leisure by the royalties and semi-royalties. The place presents an interesting contrast of British style bungalows and holiday lodges of the royals (Thikhana) with various tribal communities residing amidst the thick lush forest on the hills surrounding the region. The flora and fauna enjoys the adulation of the tourist to the fullest. The highest point of the Aravali is the 'Guru Shikhar' with a vast sanctuary that shelters a number of species like langur, wild boars, Sambar, leopards and many more along with a number of flowering plants and trees, which enhance the beauty of the whole scenery. A rich collection of monuments of different religious sects like the famous shrines of Jainism are also found here.
The tribal community of this area still maintains its pristine ways of living despite progress of the modern times. The Delwara temple is famous for its architectural splendour. The intricate carving on the marble stone is simply mesmerizing. A cluster of Hindu temples also marks the land with their historical past. The Brahmkumari 'Ashram' is another world famous religious community center.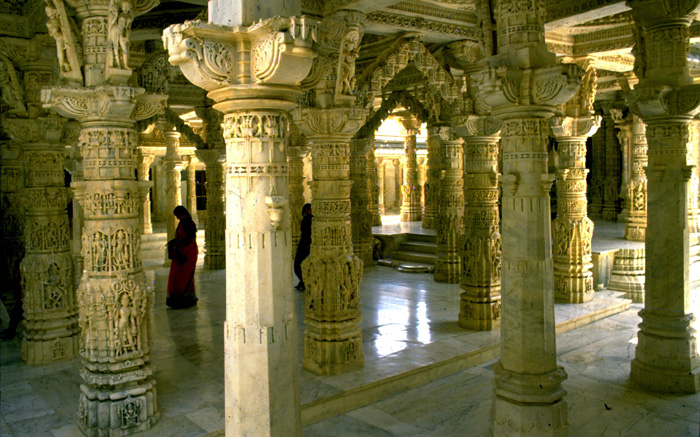 Delwara Jain Temple in Mount Abu
GENERAL INFORMATION
Population: 30,000
Area: 25 Sq. Km.
Altitude: 1220 Meters.
Temperature: Summer 33.3 °C to 23.3 °C; Winters 23.3 °C to -2 °C
Rainfall: 153 to 177 mm.
Languages: Hindi, English, Gujarati, Rajasthani.
ACCESS TO MOUNT ABU
Air:  The nearest airport is Udaipur.
Train: Mount Abu is located on the broad gauge line between Delhi and Mumbai via Ahmedabad. Direct trains run to various destinations including Ajmer, Jodhpur, Jaipur and Ahmedabad.
Road: Some buses go all the way to Mount Abu while others terminate at Abu road. Convenient bus services are from Ahmedabad, Ajmer, Baroda, Jaipur, Jodhpur, Mumbai, Udaipur.
Transportation
Buses from bus stand go to the various sights, Jeeps, auto etc. are available. Buses ply to various nearby locations for sightseeing.