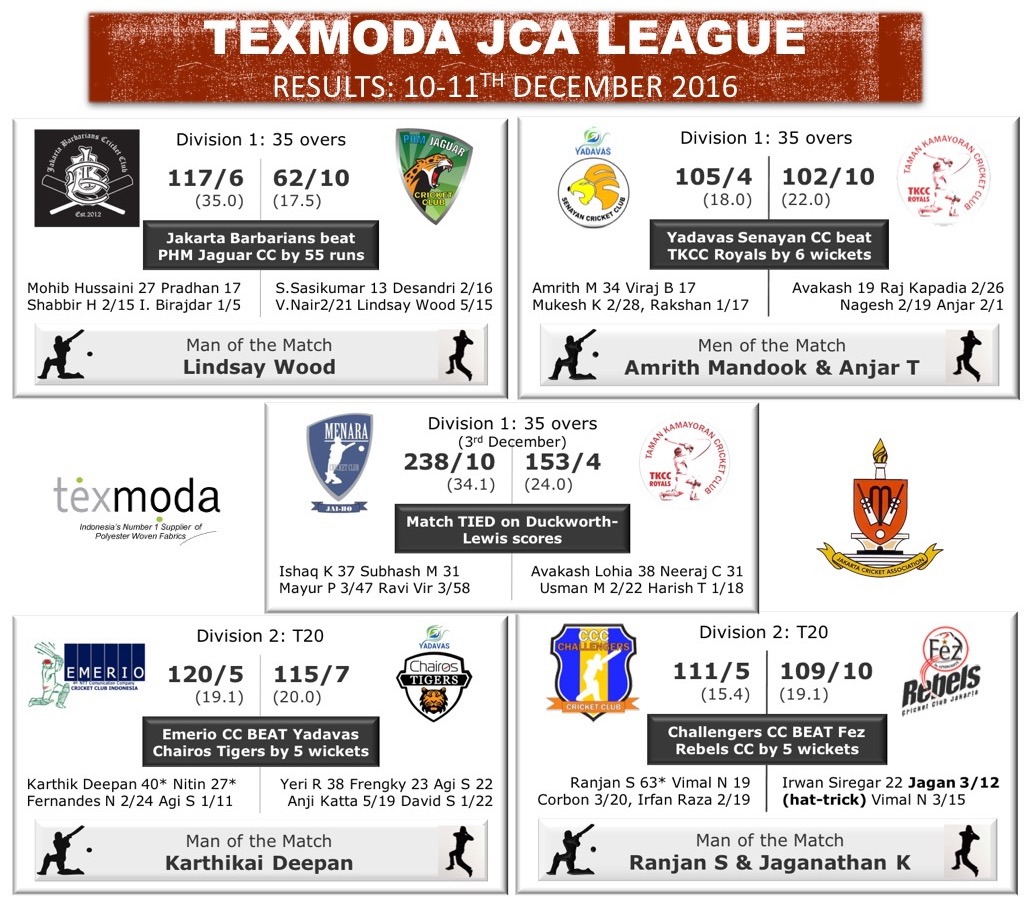 This weekend, the last before a break, saw bowlers dominate the proceedings as there were two 5 wicket hauls & the season's 3rd hat-trick.
Yadavas Senayan CC recovered well from their loss last weekend to very comfortably beat a strong TKCC Royals team by 6 wickets in their 35 overs game this Sunday. After being put in to bat, TKCC Royals just couldn't string together partnerships. Raj Kapadia (2/26) broke the back of their batting by getting rid of both Maneesh & Rakshan in the same over. Avakash Lohia (19) tried to hold up one end with a patient innings, but Anjar Tadarus (2/1), Laxmi Nagesh Gowda (2/19) & Manpreet Singh (2/31) just didn't let up the pressure & TKCC Royals folded up for just 102 runs. In reply, despite the early loss of Manpreet & a couple of other wickets to Mukesh Khetan (2/28), Amrithanand Mandook (34) curbed his natural aggressive instincts to take his team home with 6 wickets & 17 overs to spare.
In the other 35 over game of the weekend, Jakarta Barbarians CC fought back really well to successfully defend their low score. After choosing to bat first, Jakarta Barbarians were in early trouble after losing both their openers & their in-form batsmen without scoring. The middle order, led by Mohib Hussaini (27), fought back well to take their team to 117/6 in 35 overs. Jaguar CC, fresh off an upset win last week, would have fancied their chances to chase it down. The Barbarians opening bowlers Vivek Nair (2/21) & Desandri Saputra (2/16) rocked the Jaguars early on, to set the stage for a brilliant spell by Lindsay Wood (5/15) who in the space of 4 superb overs, dismantled the Jaguar CC batting to bowl them out for a paltry 62.
Emerio CC extended their unbeaten streak by fighting hard at key moments to claw their back to a hard-fought win over Yadavas Chairos Tigers. The experienced duo of Yeri Rosongna (38) & Frengky Shony (23) put on a big 59 run opening stand, but then, Anji Katta (5/19) took the season's second 5 wicket haul to bowl out the Tigers for 115 runs. In reply, the Tigers bowlers through Fernandes Nando (2/24) & Agi Saptiazi (1/11) started very well to have Emerio CC at only 38/4 in the first 10 overs. But as has now become quite common, Karthikai Deepan (40no) & Nitin Gupta (27) fought back with an unbeaten 67 run partnership to take their side home with 5 wickets to spare.
Challengers CC continued their strong winning run with another easy win over Fez Rebels CC in a Division 2 T20 clash at GMIS grounds. The Rebels never got going after their nemesis Vimal Nair (3/15) accounted for the top-order. Irwan Siregar (21) put up some resistance, but Jaganathan Krishnan (3/12) came back with 3 wickets in 3 balls (season's 3rd hat-trick) to close out Rebels just 109 runs. Corbon Loughnan's (3/20) & Irfan Raza (2/19) helped the Rebels put up a little fight, but the in-form Ranjan Shankar (63no) helped close it out for his team with 5 wickets & 5 overs to spare.
The previous Saturday's game between TKCC Royals & Menara CC saw the first use of Duckworth-Lewis in the league, and the result was a Tie, sending a lot of people diving for the rule-books & frantic google searches. Chasing 239 to win, TKCC Royals, were at 153/4 after 24 overs when rain prevented further play. The loss of their 4th wicket of the last ball of the 24th over had meant they were at exactly the par score value leading to a rare & historic tie.