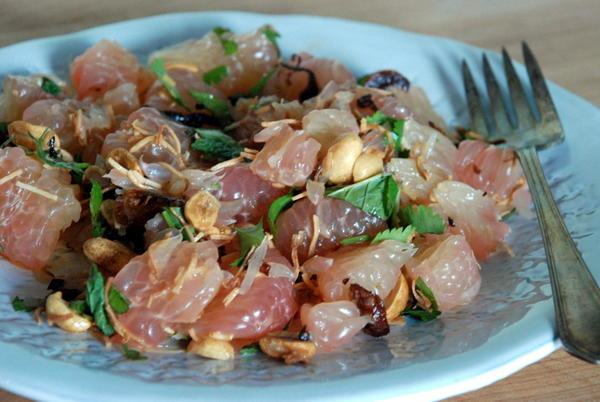 YAM SOM – O
(Thai Pomelo-Chicken Salad)
Ingredients:
1 Pomelo or ruby red – grapefruit
1 small whole cooked chicken breast
1 cup cooked shrimp
1 teaspoon chopped red chile
1 1/2 tablespoon
1 1/2 teaspoon sugar
Juice from 1 large lime
1 1/2 tablespoon chopped fresh coriander leaves
1 small head red leaf lettuce for garnish
1/4 cup roasted peanuts
Chopped fresh red chile, julienned for garnish
Directions:
Peel and separate pomelo or grapefruit into segments.
Remove the membranes. Seed. Gently flake the flesh apart into a bowl. Chill.
Hand shred the chicken. Add chicken and shrimp to pomelo.
In a small bowl mix together the chopped red chile with fish sauce, sugar, lime juice and coriander; toss with pomelo chicken mixture.
Arrange the lettuce on a serving platter.
Put the fruit mixture over the lettuce.
Top with peanuts and 2 tablespoons of Crisp Fried Shallot Flakes, and garnish with red chile slivers.
Serves 4 to 6 as a salad entree.