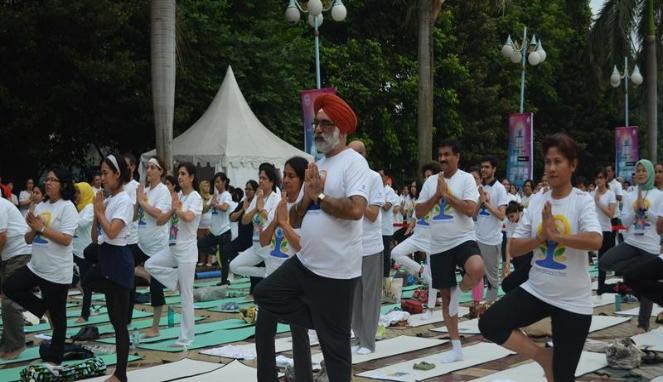 Yoga is an ancient science and discipline, which originated thousands of years ago in India. It is perhaps the oldest system of personal development in the world involving body, mind and soul.
The discipline was codified by Sage Patanjali in the second century B.C. in his yoga sutras. According to him, Yogaschitta Virutti Nirodhah or yoga is the restraint of thought waves.
While the common perception of yoga is people positioning themselves into convoluted poses to gain health benefits, it is perhaps the smallest "Anga" or limb of the "Asht" or eight-limbed "Asht-anga" yoga. Physical poses or Asanas are a necessary prelude to develop mastery over mind but equally important are pranayamas or breathing exercises and meditation through special techniques, discipline and mindfulness.
Medical science has slowly started uncovering the benefits of yoga for a healthy and long life. Initial revelations were in discovering the benefits of yoga – principally yogic poses for improving physical conditioning, stamina, cardiac health and mental wellbeing, etc. More recently, investigations into pranayamas and meditation techniques have uncovered the tremendous benefits of yoga against autoimmune disorders, memory loss, alertness, immunity against diseases and yes, reduction of obesity. Who would have thought that weight can be lost by just breathing or focusing inwards!
Yoga is a perfectly sensible option for anyone, irrespective of age, having a strong desire for a healthier and more fulfilled life. You do not have to become a contortionist to enjoy the benefits of this wonderful mind/body science. Asanas can be performed according to your current state of health, age and physical condition. Gentle asanas exercise each part of the body, toning muscles and joints, spine, internal organs, glands and nerves, keeping all of them in radiant health. pranayamas can be performed by anyone to revitalize the body, to help control the mind and leave us calm, thus multiplying the benefits of asanas.
In the past several years, yoga in its many variants has become popular in Indonesia, especially Jakarta. Yoga retreats of one week or longer durations are regularly held for beginners and adepts and are a good way to initiate your practice or learn advanced techniques.
For busy people, "biweekly courses" or "walk-in" classes are being held in all parts of Jakarta. Whether your interest is in the gentle Sri Sri yoga, athletic Hatha yoga, dynamic Ashtanga yoga, physically challenging Bikrama yoga, yoga for couples, pre-natal yoga or any of the other exotic flavors of this esoteric science, you are sure to find it in one of the yoga centers or fitness centers in Jakarta.
Nonprofit foundation Art of Living has been running a center at Sunter Podomoro, North Jakarta for the past 15 years. Set up by Nobel Peace Prize nominee, Sri Sri Ravi Shankar, it has taught thousands of Indonesians a combination course of asanas, pranayamas, meditation and "Art of Living techniques". More recently, it started courses in Sri Sri Yoga (SSY) at several centers. SSY is a gentle yoga with emphasis on pranayamas.
Anahata Wellness Center in fX Lifestyle mall on Jl. Sudirman, Jakarta, offers perhaps one of the widest choices in yoga styles for a beginner. It has courses in Ashtanaga, SSY, Hatha style, pre-natal yoga, special yoga for kids as well as yoga for couples
Anahata has well-appointed yoga and meditation rooms with all necessary props to make yoga easy for its clients. Onnie Djatmiko, the graceful owner of the Wellness Center, is herself an avid yoga practitioner, thus ensuring the exceptional quality of teachers at her center. It also does corporate yoga courses by special arrangement.
The Jakarta International Community Center, based in Kemang, is popular with expatriates. It has almost 900 members of 15 different nationalities. Its yoga courses run several times a year. Courses are usually divided into batches of six to eight classes run over a period of three to four weeks. Classes are for beginners as well as more advanced practitioners.
A recent Dutch participant there mentioned that the beginner course "has changed her life" after just six sessions. Even experienced practitioners after joining there have sometimes been surprised to know that yoga is more than just asanas and have realized the importance of pranayamas and breathing techniques during asanas.
These days, all fitness centers also have yoga classes running practically every day. Celebrity Fitness, Gold's Gym, Fitness First are popular destinations. Top hotels like Four Seasons have special yoga sessions at their spa not only for their guests but also for city residents.
It is no surprise that the huge demand created by interest in this ancient science is creating its own supply and centers have mushroomed for teaching it. Learners need to be cautious in their choice so that they may learn yoga in an injury free fashion and derive all the magnificent advantages of health and happiness that yoga has to offer.
The writer is accredited with Yoga Alliance USA and is a certified yoga teacher. She can be reached at ritu.baveja@gmail.com.
By,
Ritu Baveja
About the author: Ritu is a disciple of world renowned Guru Sri Sri Ravishankar (AOL) as well as Guru Sanjeev Bhanot (Yoga life- See him with Julia Roberts in Eat, Pray, Love!).
Source: The Jakarta Post -Nov 11 2009
http://www.thejakartapost.com/news/2009/12/11/yoga-complete-science-life.html