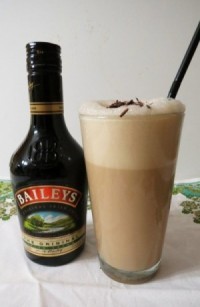 Baileys Irish Cream is an Irish whiskey and cream-based liqueur. With a sweet and creamy taste, it is a popular after dinner drink. Once the bottle is opened it has a relatively short shelf life in the refrigerator. An easy and delicious use of the liqueur is to add to ice cream shakes.
Remember that this contains alcohol and is suitable only for adults.
Ingredients:
Serves 1
1 glass cold chocolate milk
2 scoops of chocolate ice cream
3 tbsp Bailey's Irish Cream
Directions:
Blend ice cream and milk to get a frothy shake.
Have Bailey's Irish Cream ready in a glass.
Pour milk shake over it.
Serve at once.
You replace chocolate milk with a glass of cold brewed coffee as well.