Jakarta, the bustling and vibrant capital of Indonesia, is a food lover's paradise. This sprawling metropolis is home to a diverse array of culinary experiences, offering everything from traditional Indonesian cuisine to international flavors.
Here are 10 best restaurants in Jakarta, where you can savor the rich and diverse gastronomic offerings of the city:
1. Plataran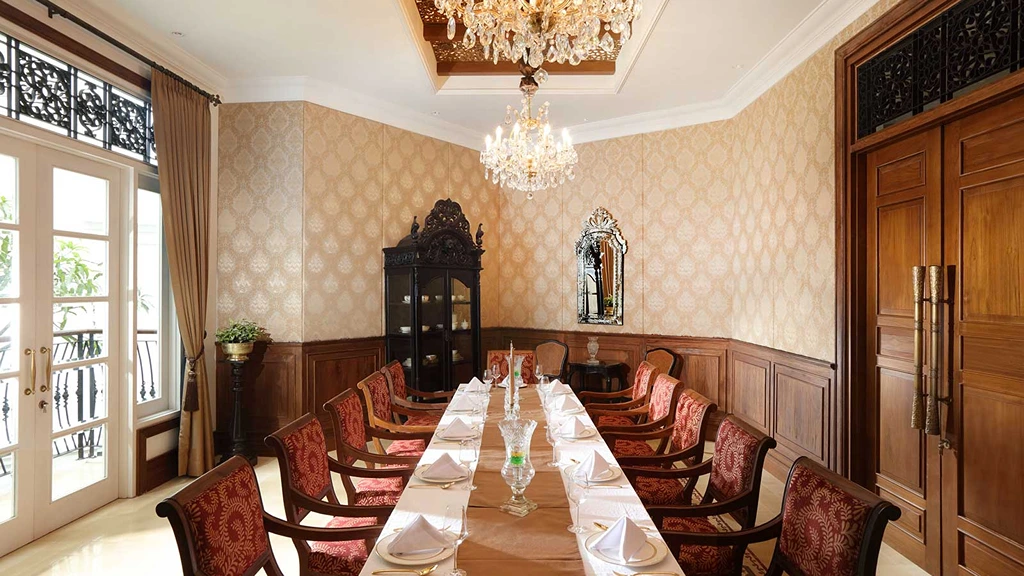 Plataran Dharmawangsa offers an authentic Indonesian culinary experience in an ambiance reminiscent of Javanese royalty. With a variety of distinctive settings and the capacity to accommodate up to 200 guests, Plataran Dharmawangsa provides an elegant backdrop for special events, including private gatherings, wedding receptions, and corporate functions.
As for Plataran Menteng, it's a favored destination for Jakarta's most discerning diners and a must-visit for tourists staying in the numerous surrounding five-star hotels. Housed in a three-story Dutch colonial building, each floor boasts a distinct theme of Indonesian-Dutch colonial architecture.
Addresss:
Jl. Dharmawangsa Raya No. 6, Kebayoran Baru, South Jakarta
Phone:
+62 21 2904 4167
Jl. H.O.S. Cokroaminoto No. 42, Menteng, Central Jakarta
Phone:
+21 2962 7771
Opening Hours:
Everyday 11.00 AM–22.00 PM
2. Agneya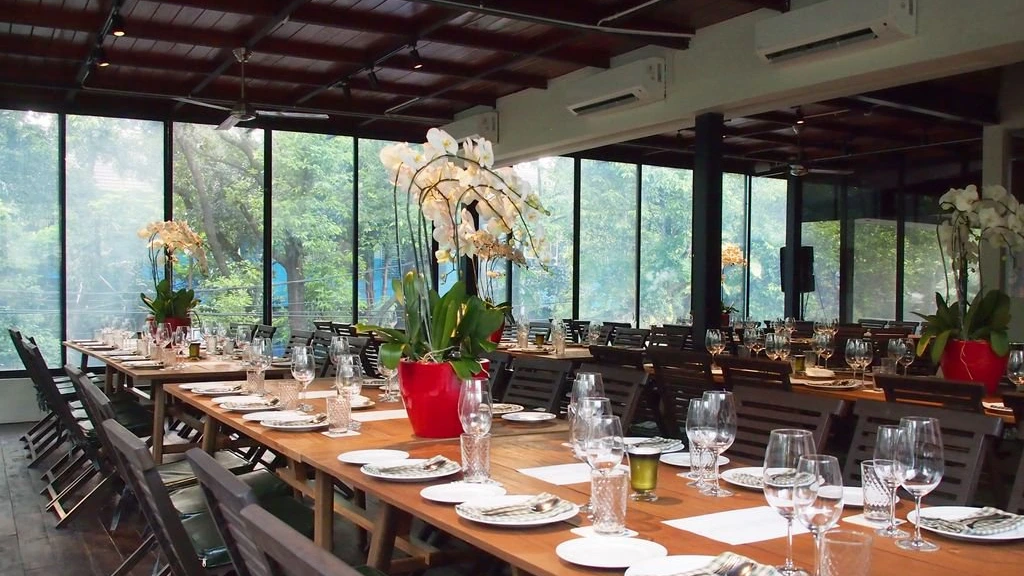 The essence of Agneya's cuisine lies in its authentic cooking methods on the open fire "stove," which serves as the central stage in the kitchen. Here, lamb, chicken, duck, fish, and vegetables are carefully grilled and slow-cooked over charcoal. These delectable offerings are served complete with sambal, crackers, and pungent pickles. The restaurant also features an iconic bar that serves a variety of handcrafted beverages.
Address:
Jl. Wijaya IX No.23, RT.1/RW.5, Melawai, Kec. Kby. Baru, Kota Jakarta Selatan, Daerah Khusus Ibukota Jakarta 12160
Opening Hours:
Everyday 11.00 AM–22.00 PM
Phone:
0823-1066-3640
Reservasi:
agneya.co.id
3. KAUM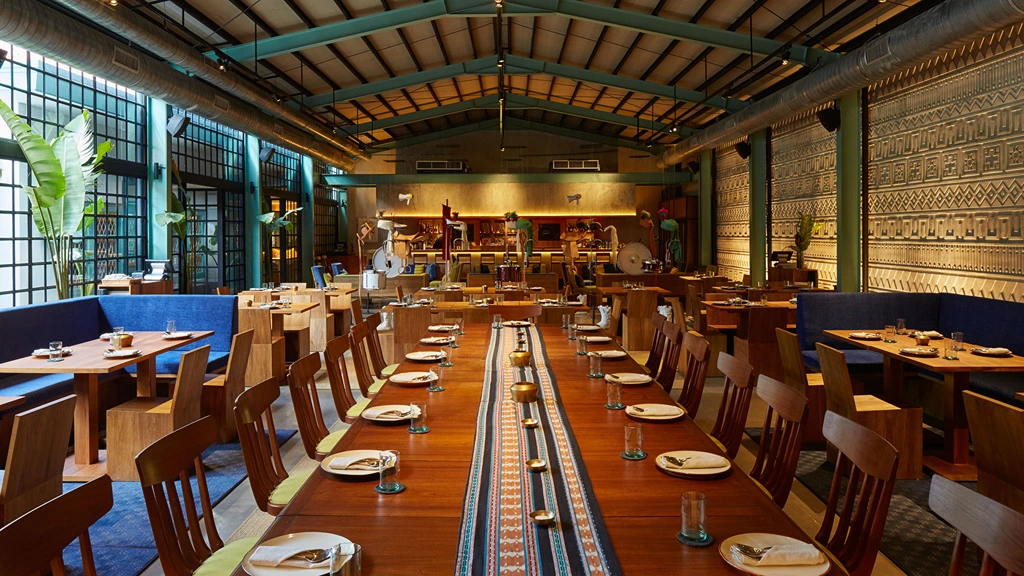 With authentic flavors from all across Indonesia, KAUM offers a wide range of locally inspired dishes that are of high quality. Situated in the Menteng area of Jakarta, KAUM features a colonial-style exterior and a spacious interior with an open kitchen. You can discover beloved dishes, ranging from Smoky Chili Fried Rice and Betutu Duck to various Indonesian desserts.
Address:
Jl. Dr. Kusuma Atmaja
No. 77 – 79, Menteng,
Jakarta Pusat
Opening Hours:
MONDAY – THURSDAY, 11 AM – 12 PM
FRIDAY – SATURDAY, 11 AM – 2 AM
SUNDAY, 11 AM – 10 PM
Phone:
+62 21 22393256
Website:
https://www.kaum.com/
Instagram:
@kaumrestaurant
4. NUSA Indonesian Gastronomy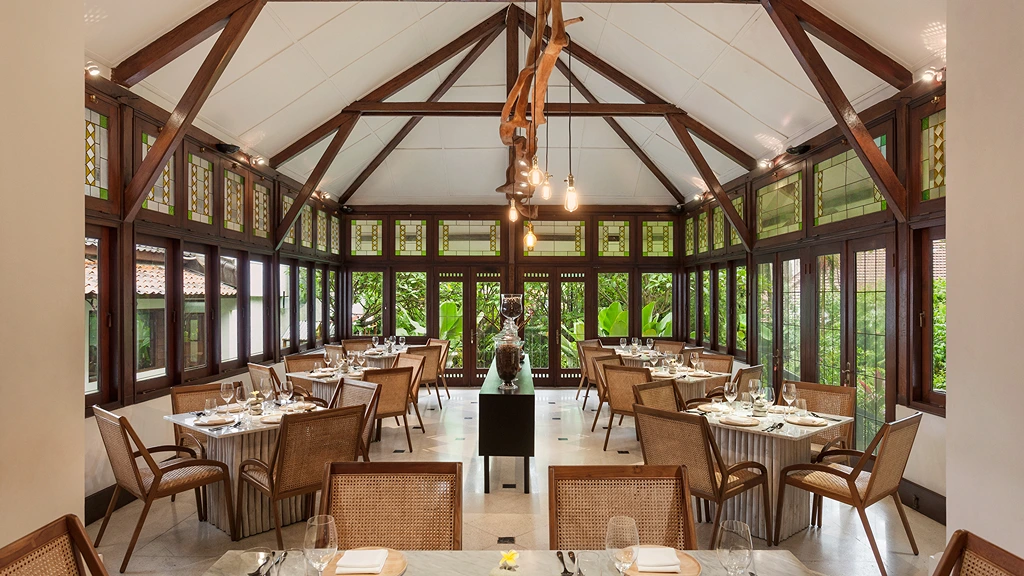 This restaurant utilizes the finest produce from Indonesia's top plantations, employing authentic cooking techniques and processes combined with a modern touch. The ingredients employed by NUSA Indonesian Gastronomy are sourced exclusively from specific regions and bear the coveted Geographical Indication (GI) certification. The restaurant's menu is highly dynamic and can change on a daily basis, contingent upon the availability of ingredients.
Address:
Jl. Kemang Raya Kemang No.81, RT.2/RW.2, Bangka, Kemang, Kota Jakarta Selatan, Daerah Khusus Ibukota Jakarta 12730
Opening Hours:
Everyday 11.30 AM–21.00 PM
Phone:
(021) 7193954
5. Rumah Makan Pagi Sore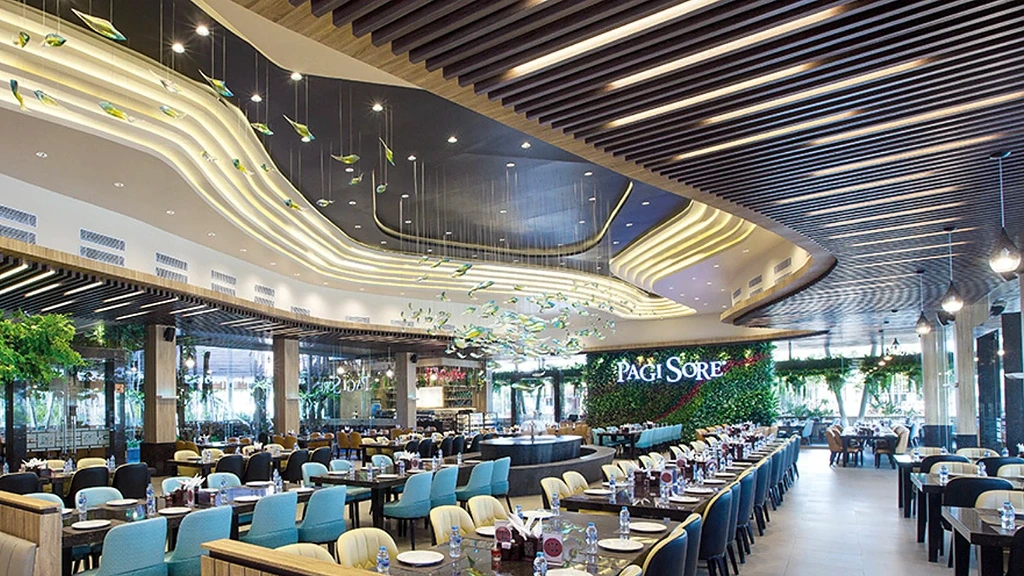 This Padang restaurant first opened in Palembang, and then opened a series of branches in many other cities in Indonesia. In fact, the owner of this restaurant has also opened branches abroad, such as Singapore and China. Rumah Makan Pagi Sore prepares a row of side dishes with premium ingredients, so the prices are different from restaurants in general. Rows of plates containing various side dishes will be prepared on the table, such as chicken pop, curry kikil, rendang, and dendeng balado, suitable for lunch.
Address:
Jl. Cipete Raya No.2, Cipete Sel., Kec. Cilandak, Kota Jakarta Selatan, Daerah Khusus Ibukota Jakarta 12410
Opening Hours:
Everyday 10.00 AM–22.00 PM
Phone:
(021) 7667000
Website:
http://www.pagisore.id/
6. Kembang Goela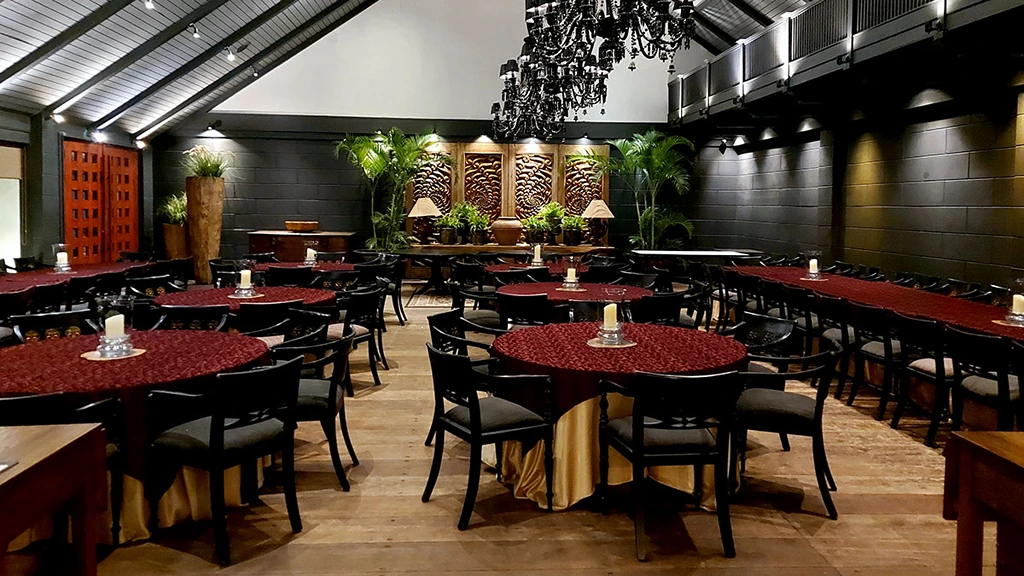 Kembang Goela restaurant offers a nostalgic journey back to the Dutch colonial era. Nestled in the heart of Jakarta's bustling business district, the restaurant offers a modern yet comfortable atmosphere. Colonial charm permeates the ambiance with an array of antique displays, including portraits of Javanese Sultans and Sunan. The menu boasts a selection of special dishes, including 'Sosis Oom Yance,' 'Dendeng Balado,' 'Oedang Kapiten Jongker,' and more.
Address:
Jl. Jend. Sudirman No.Kav. 47-48, RT.5/RW.4, Karet Semanggi, Kecamatan Setiabudi, Kota Jakarta Selatan, Daerah Khusus Ibukota Jakarta 12920
Opening Hours:
Monday-Thursday 11.00 AM–22.00PM
Friday-Sunday 11.00 AM–21.00PM
Phone:
Telepon: (021) 5205651
Instagram:
@kembanggoela_id
7. Beautika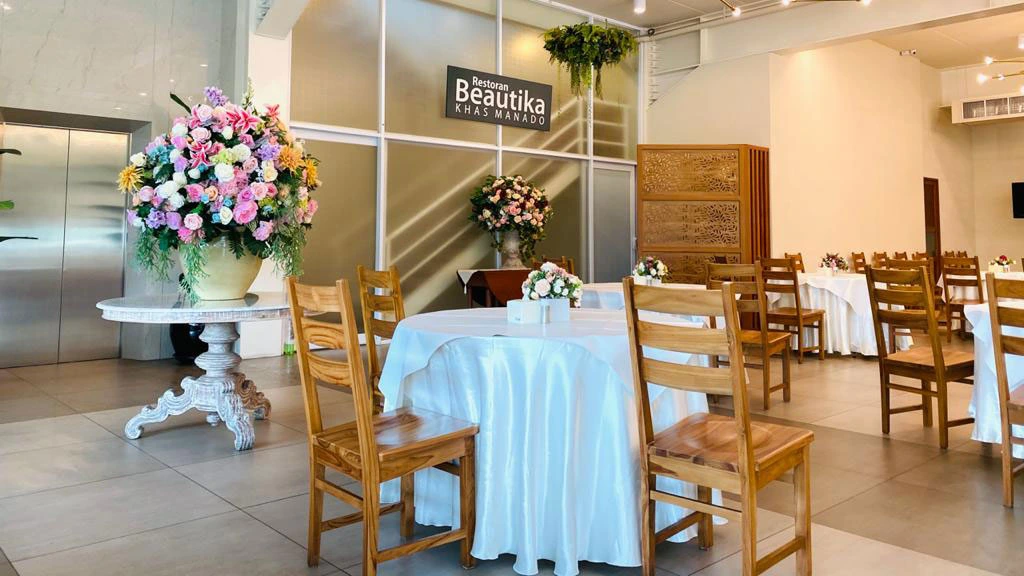 Beautika Restaurant was established in late 1997, offering ready-to-eat Manado-style light meals renowned for their spicy and flavorful character. The menu includes Manado Porridge, Yellow Rice, Cakalang Noodles, Fried Bananas, Gohu (a type of salad), and Shaved Ice with Beans. Beautika's recipes are authentic and passed down through generations in Manado, known for their exquisite taste.
Address
Jl. Hang Lekir No. 1, Kebayoran Baru
Jakarta Selatan
Phone
(021) 722 6683
Whatsapp
0821 1222 9163
0821 1222 9164
Opening Hours
08.00 – 21.00 WIB
8. Seribu Rasa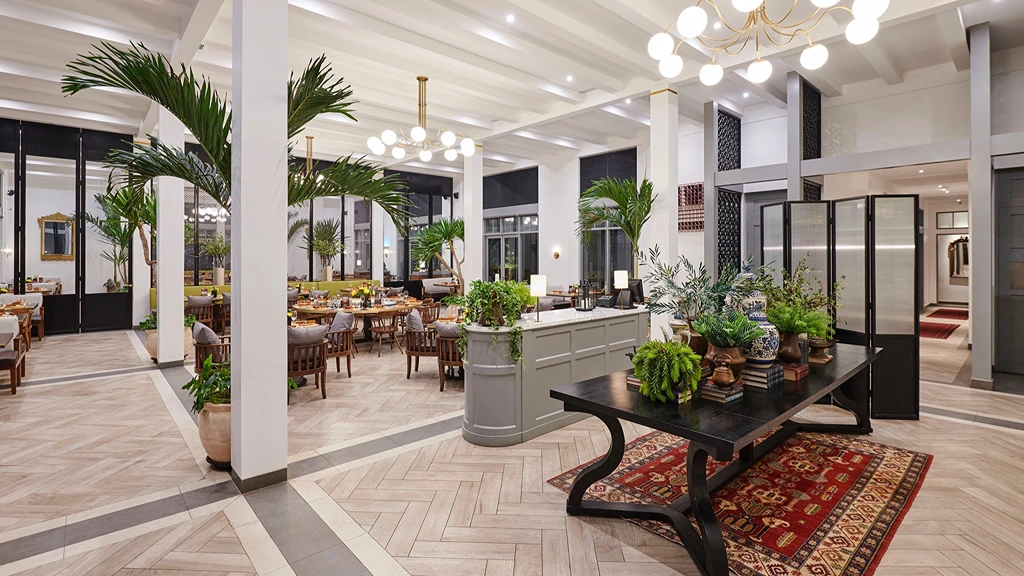 Seribu Rasa has been delighting its customers since its establishment in 2008 with the flavors of Southeast Asia and Indonesia. Some of Seribu Rasa's favorite dishes include the Tasik fish head curry, grilled lemongrass chicken, Minangkabau-style beef rendang, Langkawi dark soy prawns, and dried scallop string beans. The ambiance is cozy, characterized by wooden interiors with white accents.
Address – Kuningan:
Jl. Prof. DR. Satrio No.18, RT.18/RW.4, Kuningan, Karet Kuningan, Kecamatan Setiabudi, Kota Jakarta Selatan, Daerah Khusus Ibukota Jakarta 12940
Opening Hours:
Everyday 11.00 AM–21.00 PM
Telepon:
(021) 29889318
Address – Menteng:
Jl. H. Agus Salim No.128, RT.1/RW.5, Menteng, Kec. Menteng, Kota Jakarta Pusat, Daerah Khusus Ibukota Jakarta 10310
Opening Hours:
Everyday 11.00 AM–22.00 PM
Menu:
menu.arenacorp.com
Reservasi:
arenacorp.com
Phone:
(021) 3928892
9. Lara Djonggrang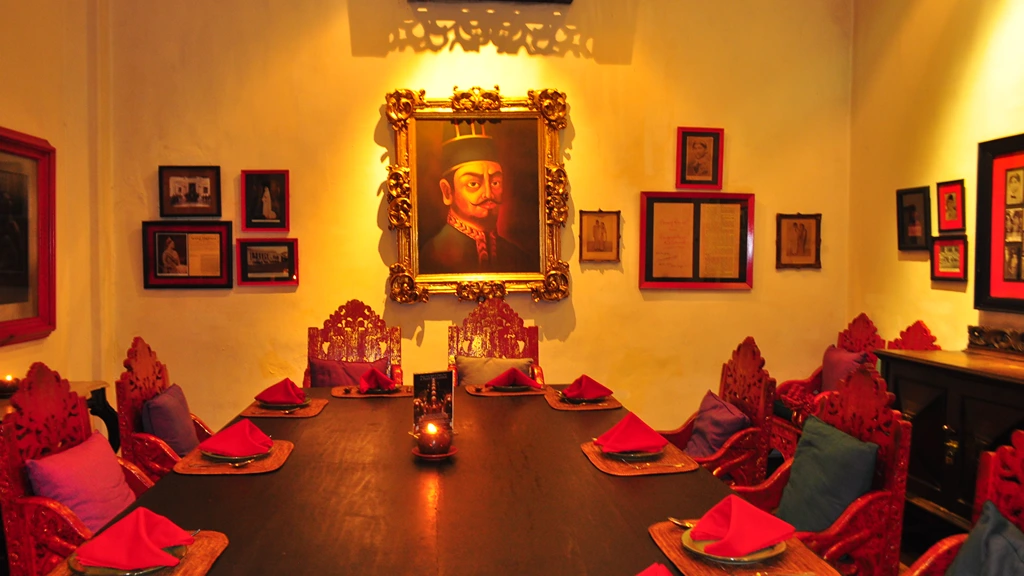 Lara Djonggrang, a restaurant under the Tugu Group, is an authentic dining establishment set within a Dutch colonial-era house with distinct antique characteristics and ambiance. The original Indonesian cuisine at Lara Djonggrang draws inspiration from the royal journeys during the reign of King Hayam Wuruk. Lara Djonggrang's menu revives the ancient history of Indonesia, featuring dishes like Oxtail Soup, Gado-gado Lara Djonggrang, Grilled Chicken Lara Djonggrang, and many more.
Address:
Gedung Jiwasraya/ IFG LIFE Gondangdia
Jl. Teuku Cik Ditiro No.4, RT.3/RW.2, Gondangdia, Kec. Menteng, Kota Jakarta Pusat, Daerah Khusus Ibukota Jakarta 10350
Opening Hours:
Everyday 11.00 AM–23.00 PM
Phone:
021-3160288 / 021-3153252 | WA +62 811-9108-966,
Menu:
tuguhotels.com
10. Tesate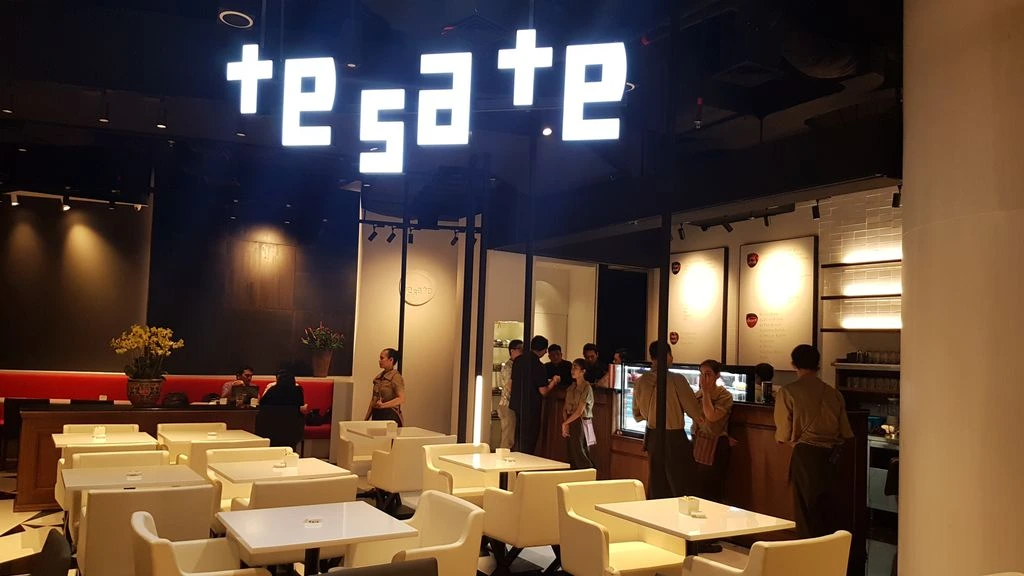 This restaurant offers a luxurious concept with a wide range of Indonesian Nusantara menu options. They skillfully blend various traditional dishes and beverages with a modern twist. From sweet, spicy, salty, and more, they craft an array of flavors. It's a comfortable dining place with a diverse selection of satay, such as Madura satay, Makassar beef satay, and lilit satay. In addition to satay, the restaurant also serves seafood, live seafood, meat, soup, vegetables, rice combinations, rice and noodles, and a variety of sambal.
Address:
Jl. Dr. GSSJ Ratulangi No.39, Gondangdia, Kec. Menteng, Kota Jakarta Pusat, Daerah Khusus Ibukota Jakarta 10350
Opening Hours:
Everyday 10.00–22.00
Menu:
connects.sarirasa.co.id
Phone:
(021) 31931250
Reservasi:
sarirasa.co.id
Instagram:
@tesaterestaurant
Website:
tesate.sarirasa.co.id