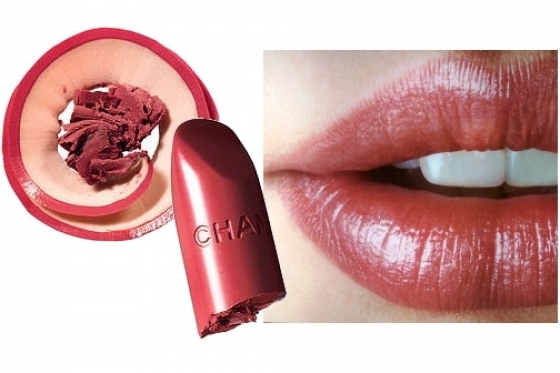 Whether you want a pout or a bow, there is a lipstick and a lip liner to achieve the look. Follow these simple steps to match the two.
START by creating an even skin tone around your mouth, stroking on some concealer or lip base with its own applicator or a brush.
Gently blend the concealer into the edges of your lips using your fingertip. Make sure it is well blended to avoid leaving a pale line all around your mouth. Whether you are wearing foundation and face powder or not, the lightest dusting of translucent powder over this lip base will help hold it in place.
(Holding the pencil firmly) Outline the shape of your mouth. If you don't have the steadiest of hands, rest your fourth and little finger on your chin for support. To ensure that your lip line is even and balanced, draw the 'bow' on your upper lip first, then the centre of the bottom lip before moving to the outer corners to join up the line.
If your lipstick is paler than your lip liner, you can avoid a hard line between the two and achieve a softly graduated effect by 'fading' the inner edge into your lip with a clean lip brush. Don't worry if you make a mistake; all you have to do is erase it with a cotton bud or a clean fingertip, pulling inward from outside the edge of the lip. That way, the colour won't smudge on to your face and you can always make repairs by dabbing on the tiniest amount of concealer with a brush.
If you are defining the shape of the lips using a lipstick and lip brush, make sure that the head of the brush is shaped into a clean line. To do this, press it on to the back of your hand after loading it with lipstick.
Steady your hand as previously described, and begin by drawing from the centre of the bow outwards.
Shape your lower lip by outlining from the middle to the outer corners.
Now fill in with lip colour. If you are using a moulded lipstick or formula that goes on with its own applicator, apply it directly to your lips.
Regular lipstick and lip colour in pots can be applied with a lip brush, which is also a great way of mixing more than one colour or formula together. Now use the tip of your little finger to blend the colour into the mouth – this helps to 'push' the colour into the fine creases of your lips.
Finally, blot your lips with a separated facial tissue.
LEARNING YOUR LINES
More tricks for perfect lips:
Make sure you have the sharpest of points. Put your lip pencil in the fridge for a few minutes before sharpening it.

Try an old Hollywood trick. Using an emery board, gently file either side of your freshly sharpened pencil for a razor-sharp edge.

Create a base line by blending your lip liner all over your mouth to give a matte base for your lipstick or gloss.

Customise your colour by drawing one line on top of another to create the precise shade you want.

Soften a too-bright lipstick with an under or overcoat of a muted shade of lip liner.

For a matte all-over look, place a single layer of clean tissue over your lips and dust over with a little translucent powder.

After blotting your lipstick, smile with your lips together, and with a clean brush, dab on the lightest layer of loose face powder around the edges of your mouth.

To re-introduce a sheen to your lips, smooth on either another thin coat of lip colour or some lip gloss, but don't take it right to the edges of your mouth – this will only encourage the colour to bleed.

Keep as close to your natural lip line as you can, so that if your lip colour fades, you don't look as if you've been sucking a lollipop.
By Shubhra Krishan