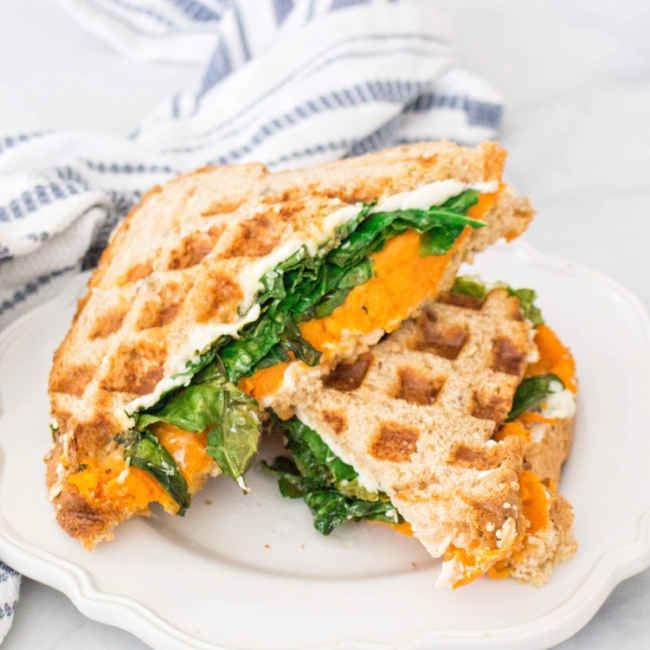 For many, eating vegetables (particularly greens) is not an easy thing to do. Many of the vegetables do not taste great and therefore hard to swallow. Regardless, eating vegetables is something non-negotiable as it gives you the required nutrition for a healthier body. No matter how healthy the ingredients of the kale salad is, it will all be useless if it is tasteless and flavorless. Which is why you need to try out different kale recipes to see which ones suit your palate.
What Is Kale?
Kale is a dark, leafy green you can eat raw or cooked.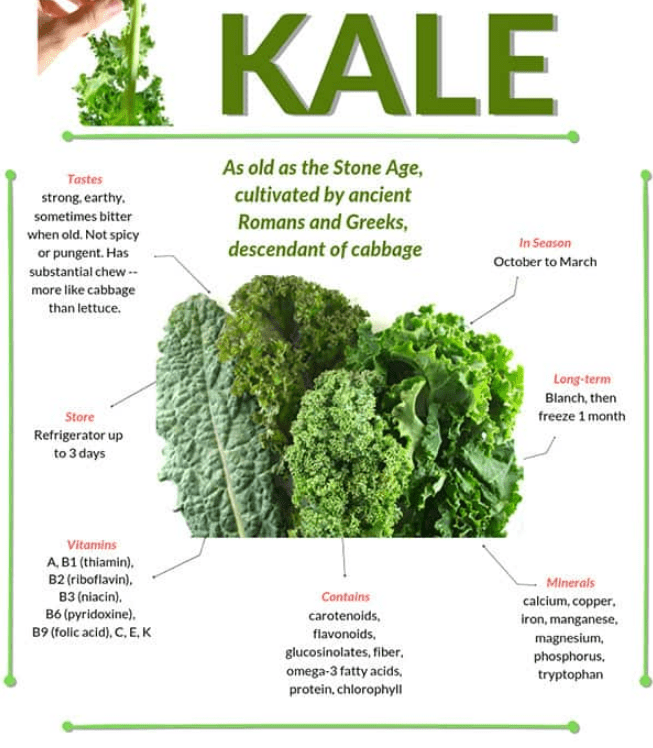 This superfood has been on dinner plates since Roman times and has long been common across much of Europe. The vegetable hails from the cabbage family, which also includes broccoli, cauliflower, and collards.
Kale is more popular than ever, and it's packed with vitamins and minerals.
Here are kale recipes for you to try:
Vegan butternut squash mac and cheese with kale
Ingredients:
2 cups uncooked fusilli
1 cup kale
For sauce:
3 cups butternut squash
1 garlic clove
1/2 cup nutritional yeast
1 tablespoon olive oil
1 1/2 tablespoons coconut milk
2 tablespoons vegetable broth
Salt and pepper
Method:
Preheat oven to 400 degrees Fahrenheit. Cube squash and cook for 30 minutes or until soft.
While squash is cooking, prepare pasta according to package. In a small pan, heat up about 1/2 tablespoon olive oil on medium heat. Add kale and sauté until wilted.
Once squash is done, blend with garlic, nutritional yeast, olive oil, coconut milk, and vegetable broth. Mix with pasta and kale, and add a dash of salt and pepper. Serve warm.
Kale, tomato, and basil frittata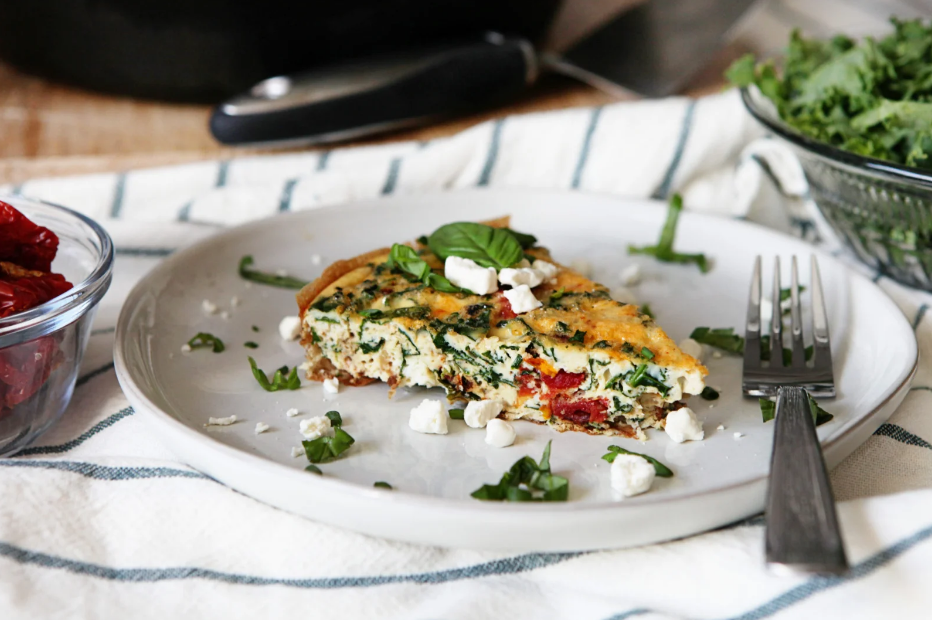 Ingredients (makes 1 little frittata/serves 1):
1 teaspoon ghee butter
1 large clove garlic, chopped
1/2 cup chopped kale leaves
2 pasture-raised eggs
Handful of cherry tomatoes, halved
A dash of salt and pepper
2 tablespoons vegan mozzarella cheese (I used Parmela Creamery from Whole Foods)
1 teaspoon chopped fresh basil
Method:
In a small cast-iron skillet or non-stick pan, heat up ghee butter on medium-low heat. Add garlic, and cook for 1 minute, stirring so garlic doesn't burn. Add kale, and sauté for about 2 minutes until kale has wilted.
While kale is cooking, crack the eggs into a small bowl and whip with a whisk or fork until scrambled and bubbly. Make sure the kale is evenly distributed in the pan, and then pour the egg mixture over the kale evenly.
Top with cherry tomato halves, and salt and pepper, and mozzarella cheese. Cover, and cook for 5 or so minutes until eggs have set. If the eggs feel too runny on top, turn up the heat a bit. If you feel like the bottom is burning, lower the heat. Once eggs are cooked, top with fresh basil, and serve warm.
Kale pesto flatbread with arugula and prosciutto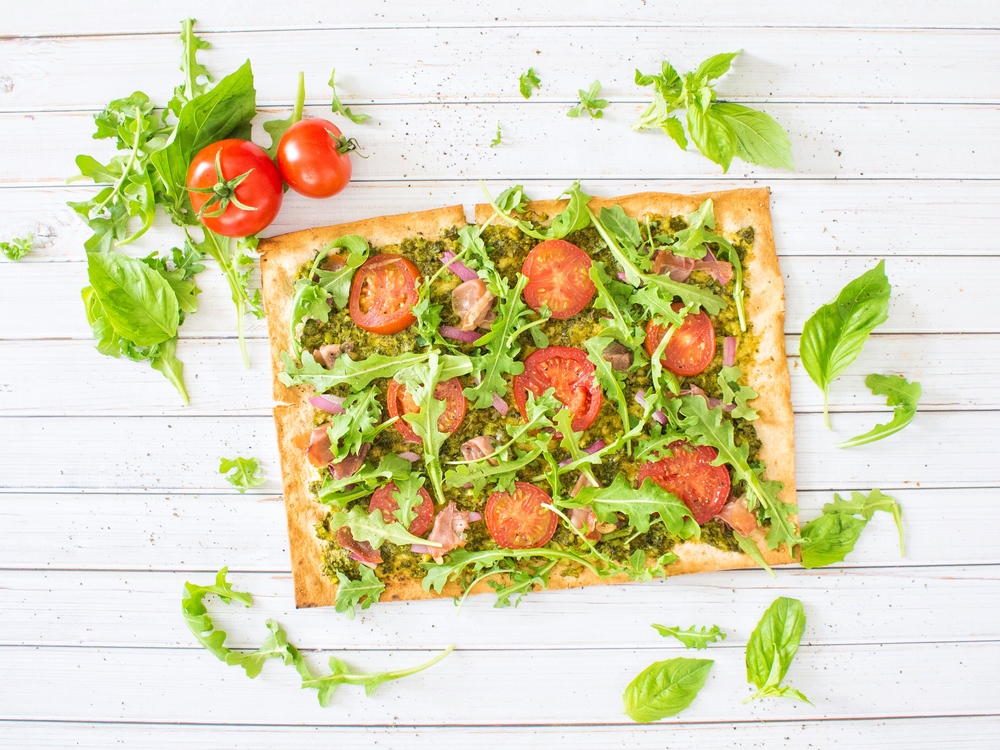 Ingredients (serves 1-2):
1 whole wheat lavash
1 medium/large vine-ripened tomato, sliced thinly crosswise
2 slices prosciutto (look for an option free of nitrites or nitrates)
2 tablespoons chopped red onion
Handful of arugula
Ingredients for Kale Walnut Pesto
1 large clove of garlic
2 tablespoons raw walnuts
1/2 cup fresh basil
1/2 cup kale
2 tablespoons extra virgin olive oil
Juice of 1 lemon
Method:
Preheat oven to 450 degrees Fahrenheit. Place the lavash bread on an aluminum foil-lined baking sheet.
Prepare pesto. Blend all ingredients together until almost smooth. Spread on the lavash, leaving about an inch border for the crust on all sides.
Add sliced tomato, onion, and prosciutto. Bake for 6-7 minutes or until edges of lavash begin to get crispy.
Remove from oven and add arugula. Serve warm.
Salmon with zoodles and kale pistachio pesto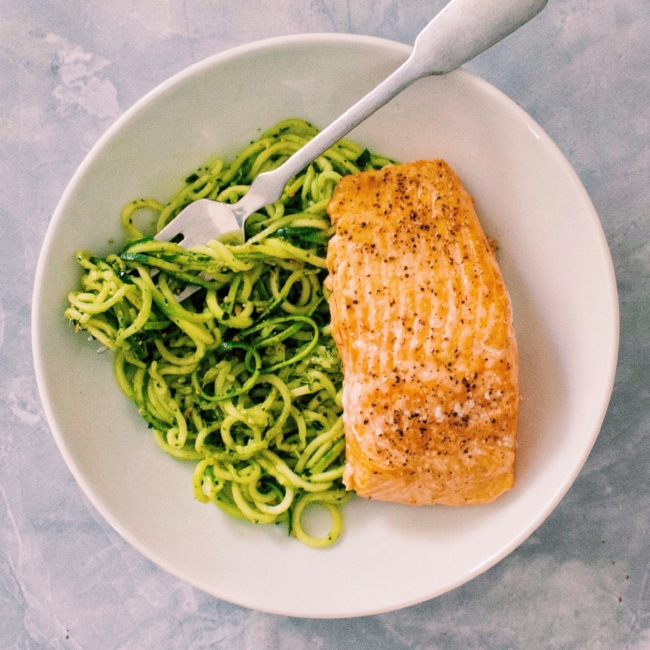 Ingredients (serves 1):
1 pasture-raised egg
3 cups kale leaves (massaged in olive oil and salt)
2 tablespoons pistachio meats
1 tablespoon feta cheese
1/4 avocado, sliced
1 teaspoon sesame seeds
Lemon Miso Dressing:
1/2 teaspoon red miso paste
Juice of 1 small lemon
1/2 tablespoon extra-virgin olive oil
1/4 teaspoon honey
Method:
First, soft-boil the egg. Add egg to a small pot and cover with water. Bring to a boil, and then turn off the heat. Let the egg sit in the hot water for 5 minutes, then remove and place into a bowl of cold water to cool (with the shell still on).
Add kale leaves to a bowl (massage with a dash of salt and olive oil). Add pistachios and feta cheese.
Make the miso dressing by combining ingredients together in a small bowl and mixing until smooth. Toss the kale, pistachios, and feta in the dressing.
Remove the shell from the egg, and cut in half. Add to the salad along with the avocado. Top with sesame seeds.
Vegan waffled grilled cheese with kale and sweet potatoes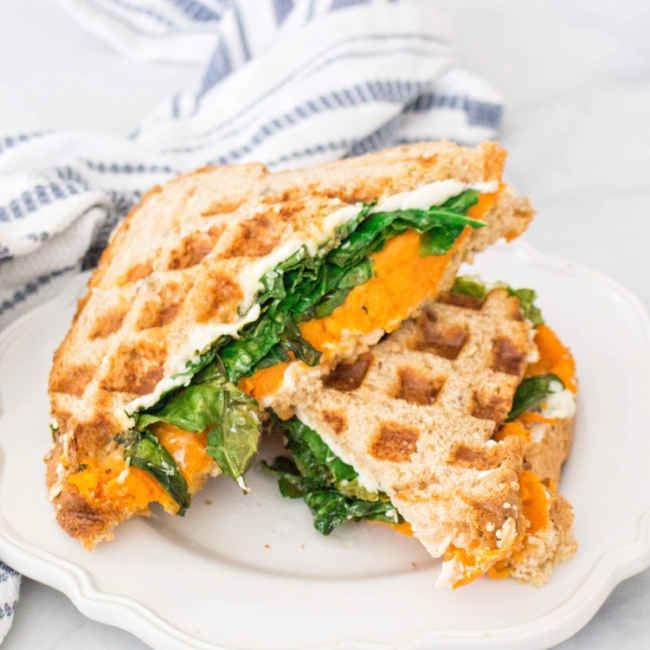 Ingredients (serves 1):
1 medium sweet potato
2 slices of whole grain bread
4 tablespoons Kite Hill cream cheese spread
1 cup kale
1/2 tablespoon extra-virgin olive oil
Coconut oil spray/olive oil spray
Method:
Prepare sweet potato either baking at 400 degrees for 45 minutes to an hour or by microwaving for 6-8 minutes.
Preheat your waffle iron to medium heat. While waffle iron is heating up, spread cream cheese on one slice of bread. Scoop out sweet potato and place on top of bread slice, mashing down with a fork.
Heat up olive oil in a small pan on medium-low heat. Add kale, and sauté for 2 to 3 minutes until kale is wilted. Add on top of sweet potato, and cover with other piece of bread. Slice sandwich in half.
Spray waffle iron with a little bit of olive oil or coconut oil. Add sandwich halves to waffle iron, and close. Cook for 1-2 minute until bread becomes crisp and golden. Serve warm.
Have you tried any of these recipes? Share your experience with us in the comments section below!