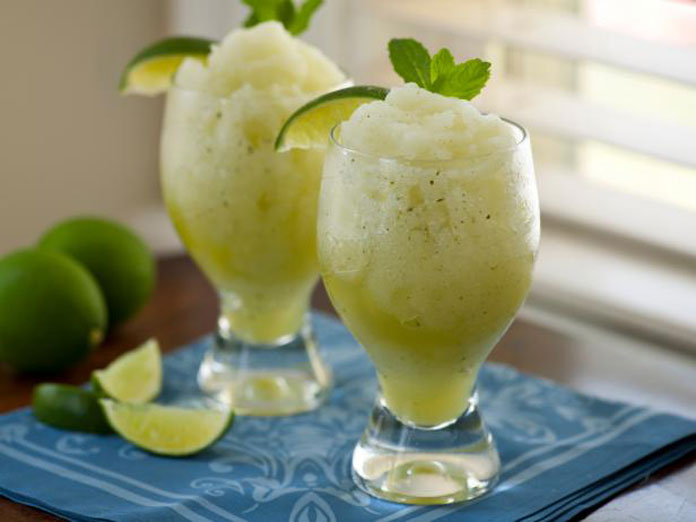 To begin with, Mojito is a Cuban-originated drink made with white rum, sugar, lime juice, sparkling water and mint leaves. Since rum is also an easy drink to pair with various fruits, try out various mojito recipes as a party trick! You'll be sure to impress your guests, we guarantee.
Blueberry Mojito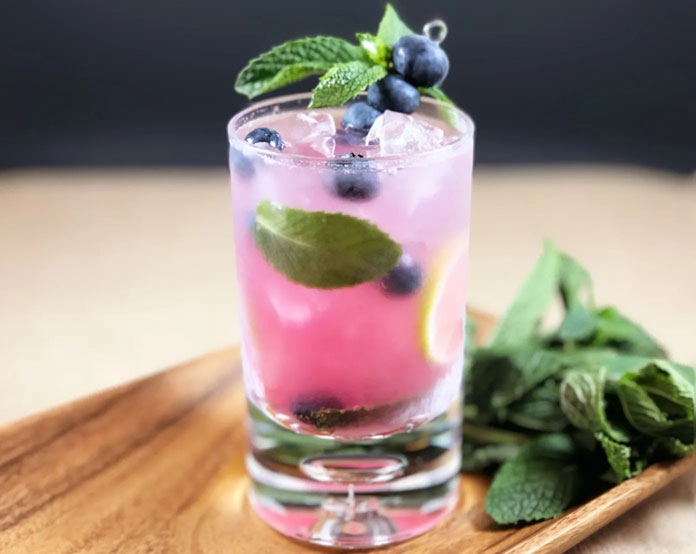 Ingredients:
For the Mint Simple Syrup:
1/2 C (120g) Cane Sugar
1/2 C (116g) Water
2 Large Sprigs of Mint
For the Mojito:
1/2 Lime Cut into small wedges + more for garnish
4-8 Mint Leaves + sprigs for garnish (the amount of leaves will depend on taste – I use 8)
1/3 C (40g) Fresh Blueberries heaped cup + more for garnish
1 – 1 1/2 oz (28g) Mint Simple Syrup cooled, add more or less to taste
Ice to top off glass
2 oz (57g) White Rum
Club Soda to top off glass
Method:
For the Mint Simple Syrup:
Pour 1/2 C (120g) sugar and 1/2 C (116g) water into small saucepan and bring to a boil. Stir. Boil until all the sugar is dissolved, just a few minutes. Add the mint sprigs and cover to steep for 10 minutes. Strain into a lidded container for storage in the refrigerator until ready to use.
For the Mojito:
In a 16 oz (454g) highball glass, layer the cut lime wedges, mint leaves, and blueberries.
Pour in the simple syrup, 1 – 1 1/2 oz or to taste, and use a muddler to muddle the mixture for about 30 seconds. The goal is to squeeze out the lime juice, mash the berries and to allow the mint to release its oils. There should be bits of blueberries left when muddling is complete.
Add the light rum to the muddled mixture, then add crushed ice (I fill mine almost to the top). Top off with Club Soda. Stir well. Garnish with a lime wedge, more blueberries, and mint stem. When finishing the mojito, have a spoon on hand to dig out the delicious blueberry bits!
Strawberry Mojito Cocktail Recipe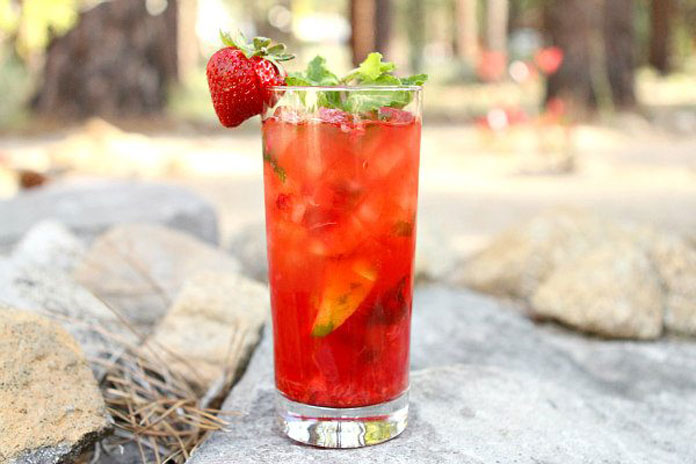 Ingredients:
1 ounce (30 ml) simple syrup , or to taste
3 (3 ) fresh strawberries (approximately)
2-3 (4 ) fresh spearmint sprigs (chopped if you prefer smaller mint pieces in your cocktail)
1 ounce (30 ml) fresh lime juice
2 ounces (60 ml) light rum
3-4 ounces (90-120 ml) soda water
Method:
In a chilled highball glass (about 10-12 ounces), muddle the simple syrup, strawberries and mint leaves together with the back of a spoon or muddler. Crush the strawberries and mint leaves well.
Stir in the lime juice and rum. Fill the glass with ice and top off with soda water. Gently stir.
Garnish with mint sprigs or strawberry slices.
Notes:
A basic simple syrup is a 1:1 ratio of sugar dissolved in water. Example- One cup sugar dissolved in one cup of water.
For time efficiently, it's better to make larger batches and keep on hand in the refrigerator.
If possible, make ahead of time and use cooled or preferably chilled when making the cocktails.
Ginger Mojitos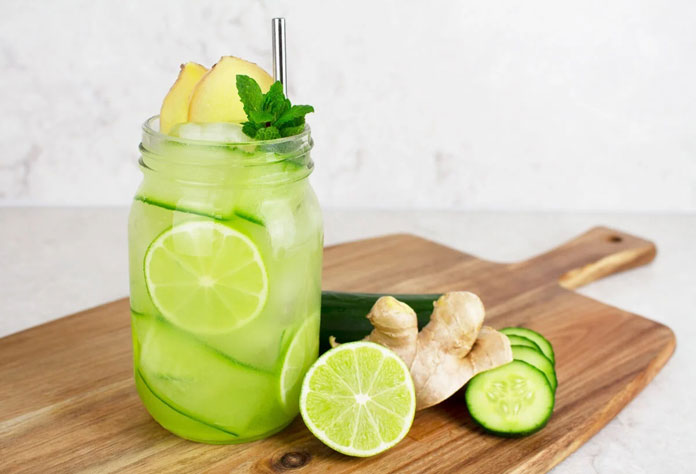 Ingredients:
For the base:
1 cup granulated sugar
1 cup water
1 (4-inch) piece fresh ginger, peeled and grated on the large holes of a box grater (about 1/3 cup packed)
2 cups tightly packed fresh mint leaves (from about 2 bunches)
1 (750-milliliter) bottle white rum
1 1/2 cups freshly squeezed lime juice (from about 18 medium limes)
To serve:
Ice
2 1/4 cups} club soda, chilled
12 fresh mint sprigs
Method:
For the base:
In a small saucepan, bring the sugar, water, and ginger to a boil over high heat, stirring to dissolve the sugar, about 5 minutes. Remove from the heat, add the mint leaves, stir to combine, and let cool to room temperature, about 1 hour.
Place a fine-mesh strainer over a 1-1/2- to 2-quart container and strain the syrup, discarding the solids. Add the rum and lime juice and stir to combine. Cover and refrigerate until well chilled.
To serve:
For 1 drink, fill a 10-ounce glass with ice. Add 1/2 cup of the Mojito base, top with 3 tablespoons of the club soda, and stir to combine. Garnish with a mint sprig.
Slushy Mojito Cocktail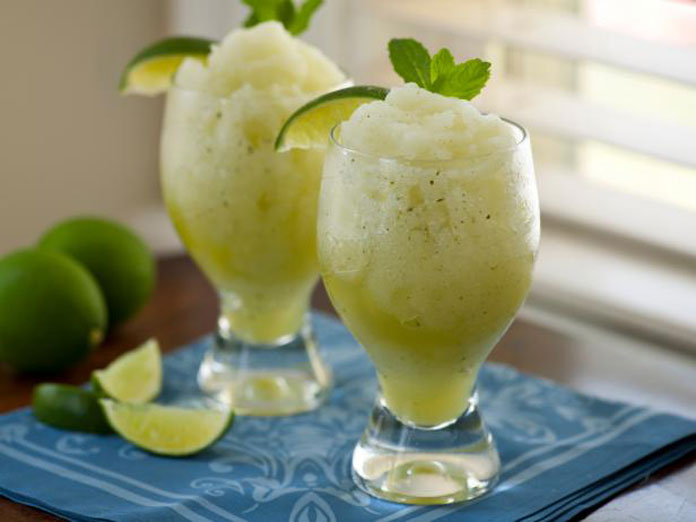 Ingredients:
1/4 cup mint leaves (about 3 sprigs, picked, reserving some for garnish)
3 ounces white rum
1 1/2 ounces Simple Syrup
1/2 ounce freshly squeezed lime juice
2 cups ice cubes
Method:
In a blender, combine the mint leaves, white rum, simple syrup, lime juice, and ice cubes. Blend on high for 15 to 20 seconds.
Pour into glasses and garnish with mint sprigs.
Mojito Margarita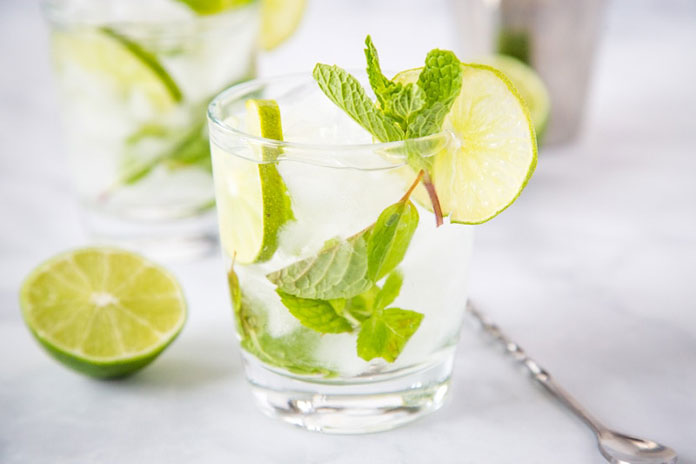 Ingredients:
Ice
2 ounces añejo tequila
1 ounce freshly squeezed lime juice (from about 1 medium lime)
1/2 ounce John D. Taylor's Velvet Falernum
3 fresh mint sprigs
1 1/2 ounces sparkling water, chilled
Method:
Fill a Collins glass with ice and place it in the freezer to chill.
Place the tequila, lime juice, and falernum in a cocktail shaker. Remove the leaves from 2 of the mint sprigs and discard the stems. Place the mint leaves in the palm of one hand and smack them with the other hand to release the oils. Add them to the shaker.
Fill the shaker halfway with ice and shake it vigorously until the outside is frosty, about 30 seconds. Strain the mixture into the chilled Collins glass over the ice. Top with the sparkling water and stir gently to combine. Garnish with the remaining mint sprig.
Which recipe seems the most interesting for you to try? Tell us what you think in the comments section below!