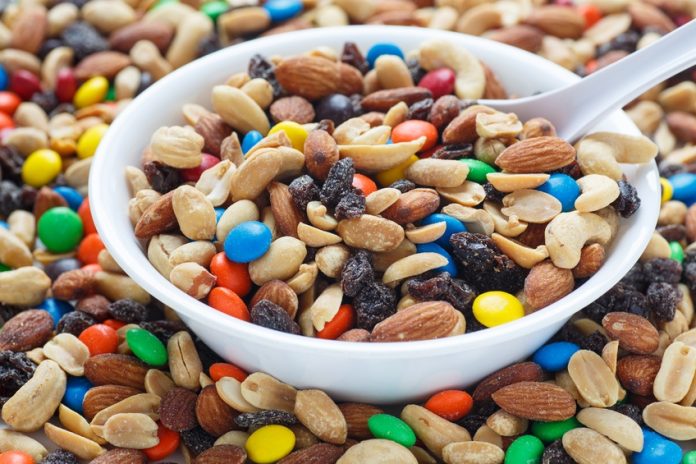 Trail Mix is a snack that is typically eaten during hikes as a source of nutrition that could give a quick energy boost. However, the popularity of trail mixes have increased that there are now numerous variety of recipes for trail mixes from salty to sweet flavors. It is even fun to be eaten during a lockdown or home quarantine and not just for hikes.
Here are 5 savoury and sweet trail mix recipes:
Tamarind Trail Mix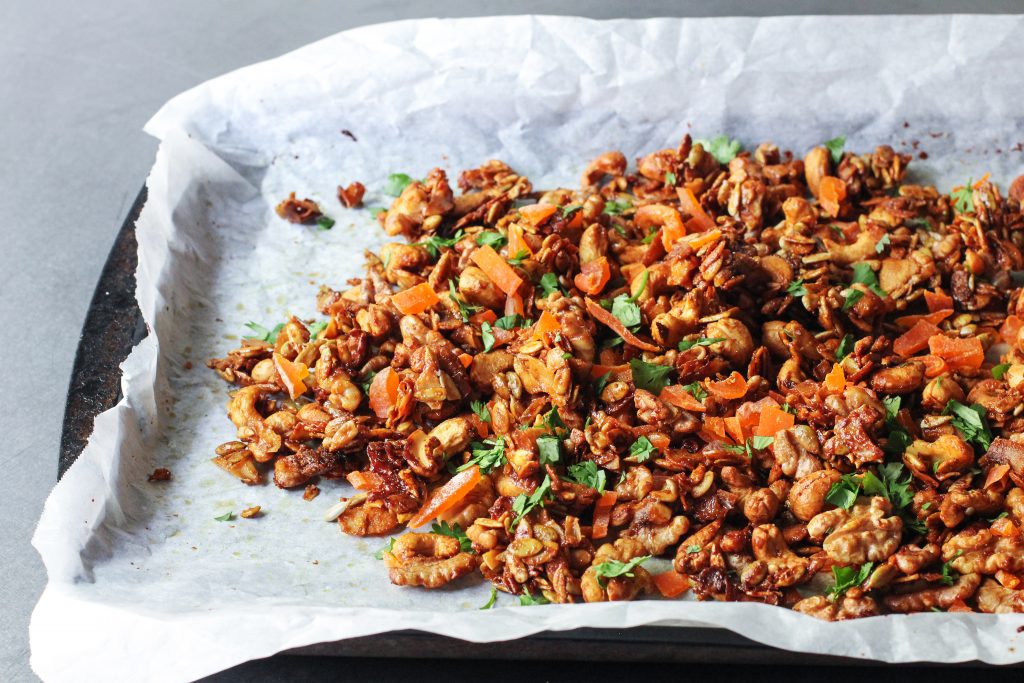 Ingredients:
500 gram

mixed nuts and seeds (you can use walnut halves, cashews, pepitas and sunflower seeds)

1

 

cup

 

unsweetened coconut flakes

Large pinch ground cayenne pepper

1

 

teaspoon

 

ground cumin

1

 

teaspoon

 

ground coriander

1 1/4

 

teaspoons

 

kosher salt, plus more for sprinkling

4

 

tablespoons

 

unsalted butter

3

 

tablespoons

 

honey

2

 

tablespoons

 

light brown sugar

1

 

teaspoon

 

tomato paste

1 1/2

 

teaspoons

 

tamarind paste*

1/2

 

cup

 

coarsely chopped dried mango
Instructions
Preheat oven to 300 °F. Line a baking sheet with parchment paper. Place nuts, coconut, cayenne, cumin, coriander and kosher salt in a large bowl.

Prepare a medium-mesh strainer.

Warm butter, honey, brown sugar, tomato paste and tamarind paste over medium heat, stirring until smooth. Don't worry about any seed particles from the tamarind. It will be strained out.

Pour the butter-tamarind mixture through the medium-mesh strainer into the bowl with the nuts. Toss until everything is evenly coated.

Spread nuts on the prepared baking sheet and bake the nuts for 25 – 27 minutes, stirring occasionally. The nuts will gradually get darker in color as the sugars caramelize.

Take the nuts from the oven and sprinkle with a pinch of kosher salt. Let cool completely then toss with dried mango and add sprinkling of chopped fresh cilantro.
Recipe Notes
*If your tamarind paste still has seed particles in it, be sure to strain them out before adding to the nut mixture. Otherwise, you can also use tamarind concentrate. Swap out the tamarind paste with 1 1/2 teaspoons of tamarind concentrate.
Indian Snack Mix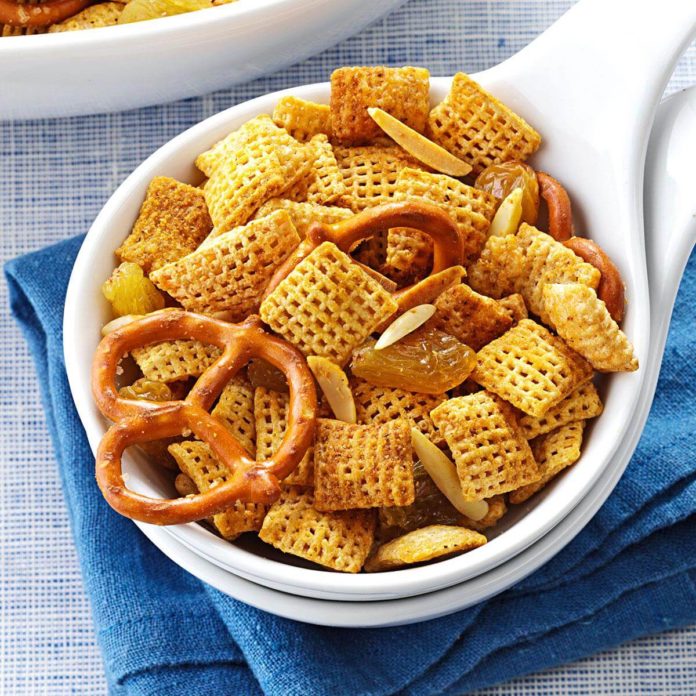 Ingredients:
4 cups Corn Chex
4 cups Rice Chex
3 cups miniature pretzels
1 cup slivered almonds
1/3 cup butter, melted
3 tablespoons Louisiana-style hot sauce
4-1/2 teaspoons Worcestershire sauce
2-1/2 teaspoons curry powder
1 teaspoon onion powder
1 teaspoon seasoned salt
1/4 teaspoon ground chipotle pepper
1 cup golden raisins
Directions:
Combine the cereals, pretzels and almonds in a large bowl.
Grab a small bowl and combine the butter, hot sauce, Worcestershire sauce and seasonings.
Drizzle over cereal mixture; toss to coat the mixture evenly.
Transfer to two 15x10x1-in. baking pans coated with cooking spray. Bake at 250° for 45 minutes or until golden brown, stirring every 15 minutes.
Stir in raisins.
Cool completely on wire racks. Store in airtight containers.
1-2-3 Snack Mix Recipe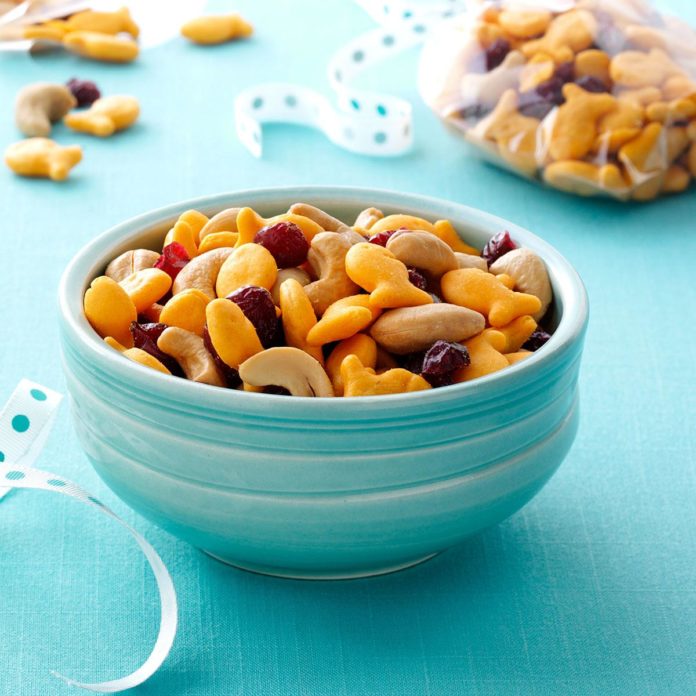 Ingredients:
1 package (6.6 ounces) miniature cheddar cheese fish-shaped crackers
1 package (5 ounces) dried cranberries
1-1/4 cups salted cashews
Directions:
In a large bowl, combine the crackers, cranberries and cashews. Store in an airtight container.
Kiddie Crunch Mix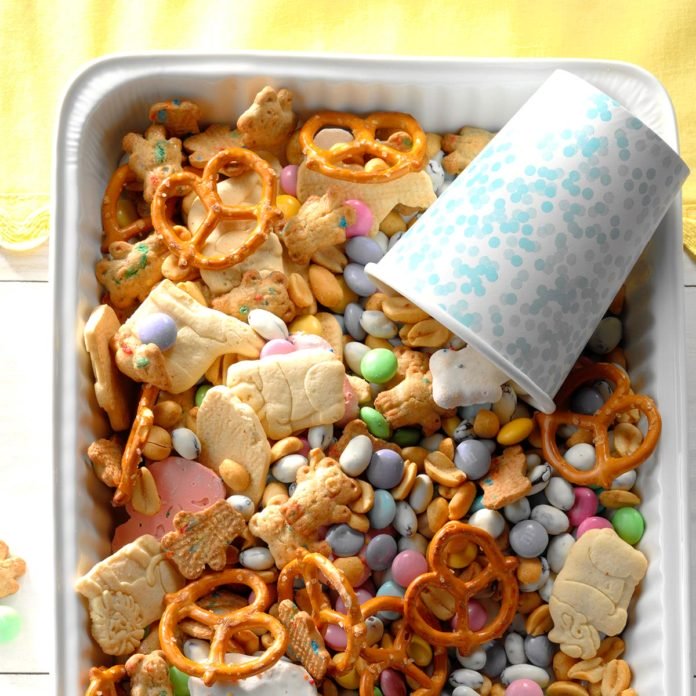 Ingredients:
1 cup plain or frosted animal crackers
1 cup bear-shaped crackers
1 cup miniature pretzels
1 cup salted peanuts
1 cup M&M's
1 cup yogurt- or chocolate-covered raisins
Directions:
In a bowl, combine all ingredients. Store in an airtight container.
Granola Trail Mix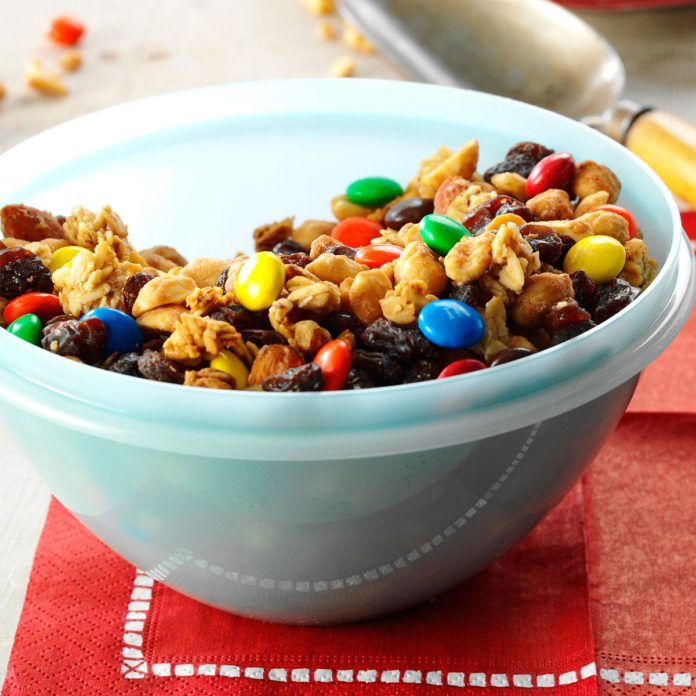 Ingredients
1 package (16 ounces) banana-nut granola
1 package (15 ounces) raisins
1 package (12.6 ounces) milk chocolate M&M's
1 can (12 ounces) honey-roasted peanuts
Directions:
Place all ingredients in a large bowl; toss to combine. Store in airtight containers.
What do you think about these trail mixes? Share us your opinion in the comment section below!