The list of tourist attractions in Indonesia is never ending! This country has many beautiful beaches, exciting man-made amusement parks, lots of shopping centers, and a very rich with culinary heritage and not miss are the mountains.
As an archipelago, most of the larger islands are mountainous, with peaks ranging between 3,000 and 3,800 meters above sea level in Sumatra, Java, Bali, Lombok, Sulawesi, Papua and more. These natural conditions have created beautiful and challenging landscapes, calling you to hike, reach the summit, and admire the beautiful scenery.
Hiking in the mountains of Indonesia is the only way to take in Indonesia's beautiful surroundings. Here's our list of some of the best Indonesia mountains to climb for a breathtaking experience.
Mount Rinjani is one of the Indonesia's most popular hikes. Rinjani is also the second highest volcano in Indonesia, rising to a height of 3,276 meters. People love to hike this mountain not only for its surreal views, but also its eerie isolation. During your way to the top, you can admire the view of green forests, gurgling waterfalls, and the Segara Anak—a crescent-shaped lake within the mountain. However, the hike is not easy and as there are several different routes up the volcano. A guide is recommended.
Address: Mountain Rinjani, Sembalun Lawang, East Lombok regency
Getting there: The closest airport to Rinjani is Lombok International Airport in Mataram. From Mataram, you can access Mount Rinjani through Senaru, Sembalun, and Torean by car or public transport.
Contact: For inquiries about hiking in Rinjani, you can contact 0370-6608874 (Taman Nasional Gunung Rinjani)
Gunung Api, Banda Islands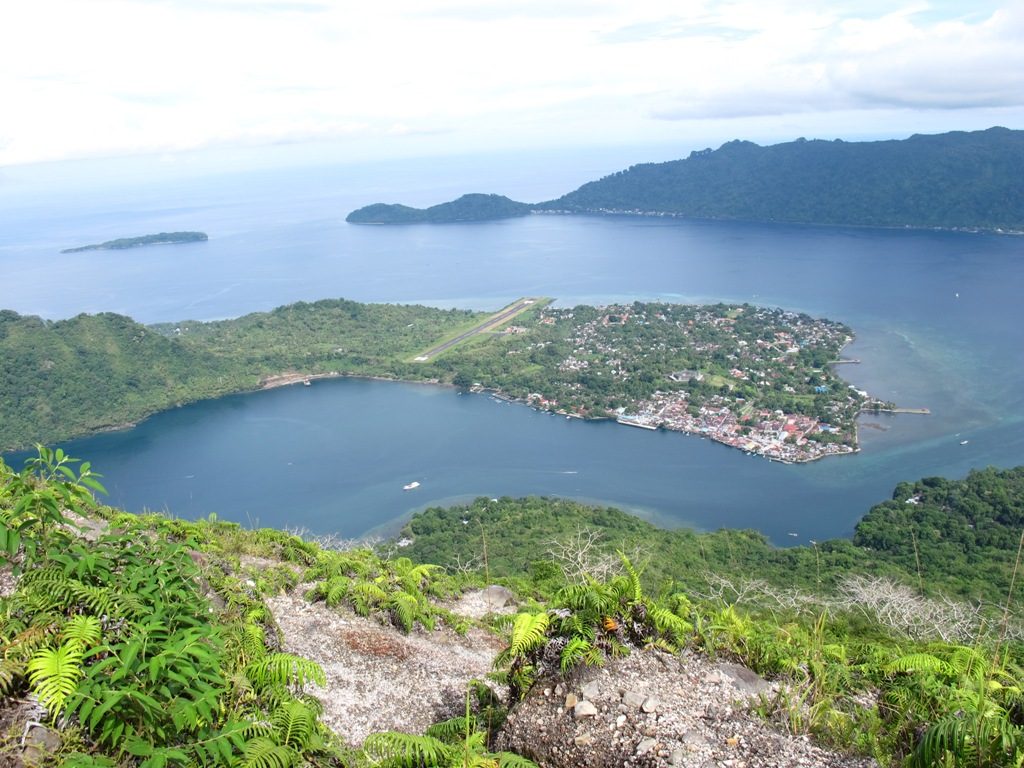 If you love the view of the sea from up above the mountain, you must add Gunung Api to your to-go list. Gunung Api is actually an island with a volcano that erupted last in 1988 and left a black trail on one side of the island. The now coral reef started to grow soon after the eruption, and even science couldn't explain why.
The climb to this mountain is quite tough. There are two trails toward the top: one ascends straight up the mountain, and the other one is a longer but easier path around the back side of the island. Just make sure that you bring a local guide, so he or she can find the easiest trail for you to climb.
Address: Banda Api, Nusantara, Banda, Central Maluku Agency, Maluku
Getting there: Susi Air flies from Ambon on Monday to Bandaneira, the capital city of Banda Islands. Otherwise you can also opt for choosing Tidar or Kelimutu ships calling at the Bandaneira port. Once you get to Bandaneira, you can go to the mountain by boat or paddling with a canoe.
Hiking: contact a local guide near the port if you want to hike Gunung Api. The mountain is not too high but you would want to take a guide with you  for easier hike.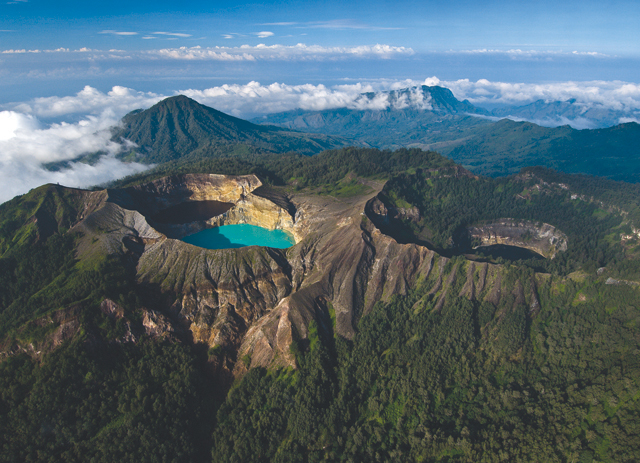 Mount Kelimutu is home to the famous three-colored lakes. The lakes are in hues of blue, green and red due to its volcanic substances. Depending on the season the colors will change, making it somewhat magical to see. Many people go through tortuous roads just to get to see the magnificent scenery of Mount Kelimutu. The highest peak of the mountain is Mount Kelibara at 1,713 meters above the sea level.
Address: Moni, Flores, East Nusa Tenggara, Indonesia
Getting there: the nearest airport to Kelimutu National Park is Frans Seda Airport in Maumere. From Maumere, you can take the Maumere – Ende bus and get off in Moni. You can also take a taxi to Moni. From Moni, you can walk 20km to the lakes or catch public transportation or taxi to the Kelimutu National Park parking lot.
Tips: find a travel package that includes Kelimutu and Komodo Island, so you can make most of your time to enjoy the beauty of Flores.
The eastern part of Indonesia really has hidden paradises. One of them is Puncak Jaya (Cartensz Pyramid), which is one of the world's seven ultimate summits and the only mountain in Indonesia which has a glacier top. The climb up this mountain is highly technical and tough, therefore it is strongly recommended if you get a guide and prepare yourself thoroughly before climbing it.
Address: Puncak Jaya, Tembagapura, Mimika Regency, Papua
Getting there: the nearest airport to Puncak Jaya is Mulu Airstrip in Tsinga, Timika. Flights to this airstrip usually depart from Wamena or Sentani—however the flights are infrequent and expensive. From the airstrip, climbers need to have arranged for guides and porters that will take you through the jungle to the base camp.
Tips: you will need a travel permit to explore all places in Papua, except for Sentani/Jayapura. For more information about travel permit and Puncak Jaya expedition providers, click here.
Ijen Crater, Banyuwangi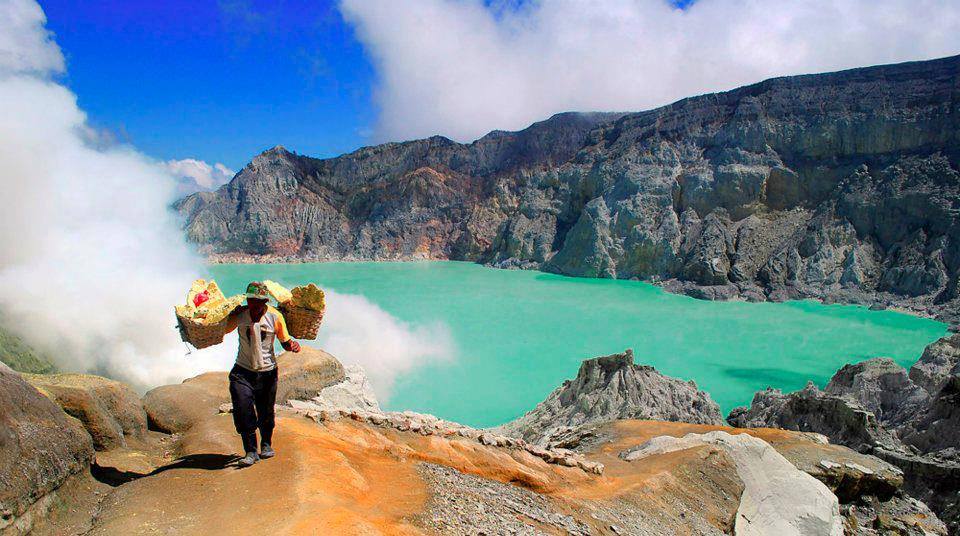 If hiking on the eastern part of Indonesia seems too difficult for you, you can always opt for mountains around Java. One of the popular mountains of Java after Bromo is Kawah Ijen or Ijen Crater. Inside the crater you will see a magnificent turquoise sulfur lake that exudes flames, blue fire at night and smoky white in the day. Many people also risk the night hike to see the clue fire phenomenon on the crater.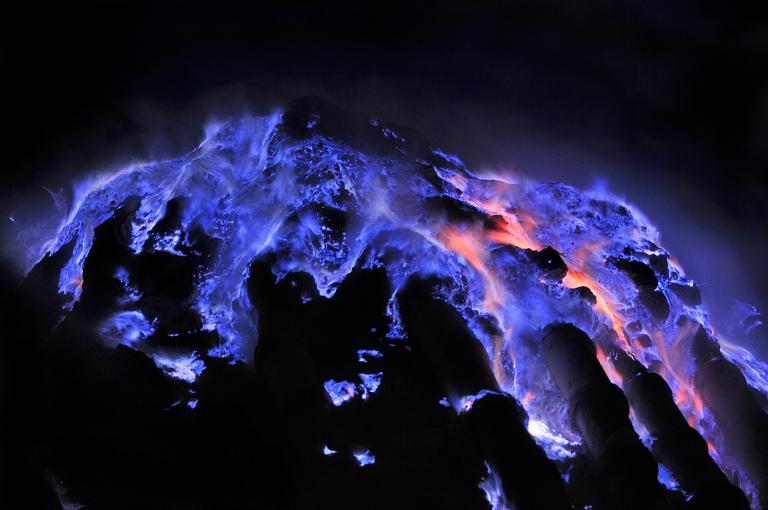 Address: Tamansari, Licin, Banyuwangi Regency, East Java
Getting there: the closest airport to Ijen Crater is Juanda International Airport in Sidoarjo. From there, take a public bus to Bondowoso and then transfer to other public transportation to go to Paltuding. The 3km walk to the crater begins in Paltuding.
Tips: Contact https://ijenexpedition.com/ if you are planning to explore this hiking trail. They provide English-speaking tour guides and have served for many foreign tourists.
Mount Batur, Bali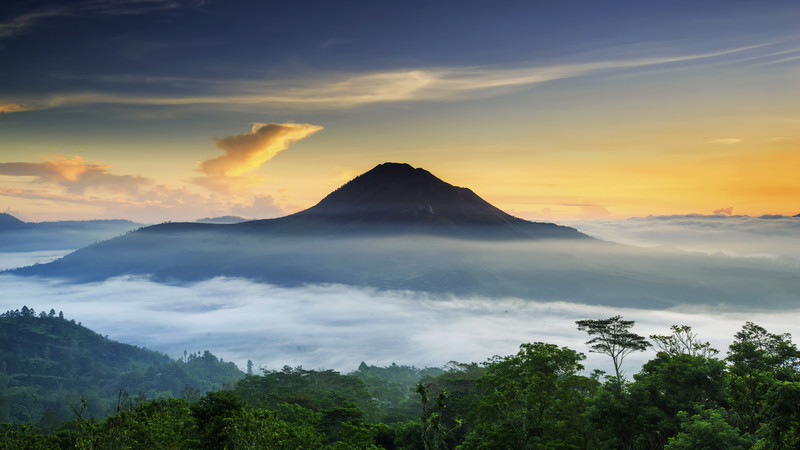 Bali visitors will most likely hear about Mount Batur, an active volcano close to Ubud, Bali. In just two hours, visitors will be able to enjoy the breathtaking landscape of Mount Abang and Mount Agung, the view of hot springs along with the spectacular view of Lake Batur. Moreover, monkeys are also said to live at the peak of Mount Batur. Hikers who enjoy challenges will usually hike the more difficult route, which is from by crossing jagged lava fields from Pura Jati.
Address: South Batur, Kintamani, Bangli Regency, Bali
Getting There: Starting from Ngurah Rai airport, use a taxi or any form of transportation to get to the central Batubulan bemo/minibus terminal through the Gianyar route. If you start from Singaraja, you can head to Mount Batur through Kubutambahan village.
Tips: The fee to get to Mount Batur also includes a registered guide, although it is not required by law to hike it with a guide. If you do book a trip with a tour agency in advance, they will usually register a permit for you. If not, you can also pay at the Gunung Batur car park.
Mount Agung, Bali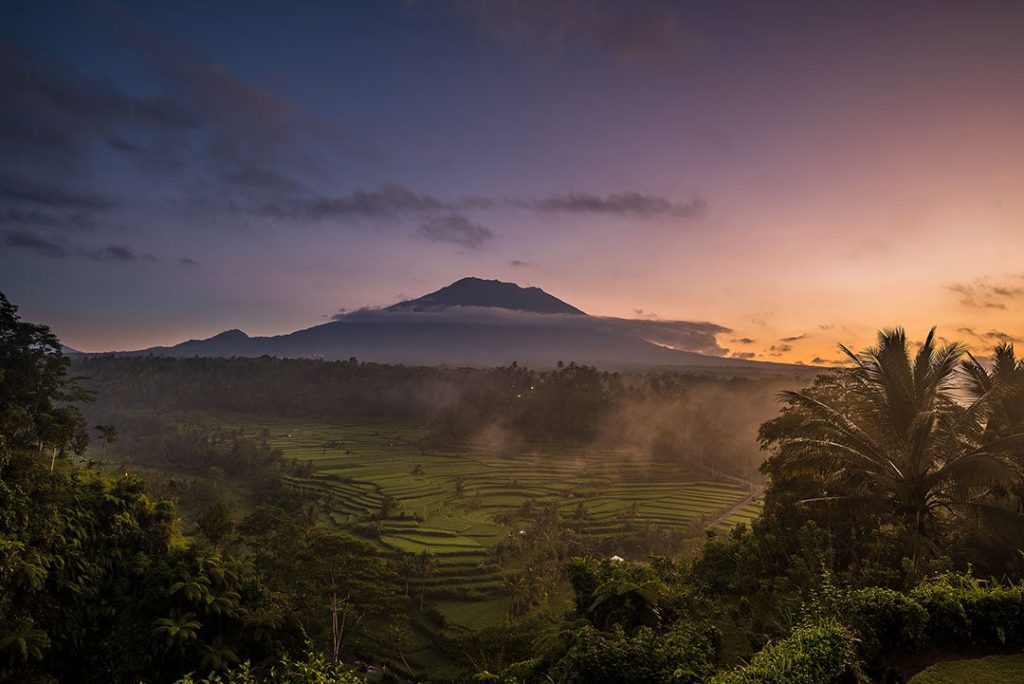 Other than Mount Batur, Bali visitors can also visit Mount Agung. The difference is, Mount Agung is the tallest peak on Bali Island, so it's a much more challenging hike. This mountain is a sacred site of the Mother Temple of Besakih, which is the most sacred Hindu temple in Bali. Legend has it that this mountain is specifically made to honor the Balinese. Depending on your level of experience, hikers can choose two routes to can climb Mount Agung. The first, the route to Pura Besakih. The second, the route that begins from Pura Pasar Agung on the southern slope. The routes are told to be steep, hazardous and goes in the direction of crisscross up the volcano to the summit.
Address: Mount Agung, Jungutan, Karangasem Regency, Bali, Indonesia
Getting There: After arriving in Ngurah Rai airport, use the trans sarbagita bus and head to Ida Bagus Mantra street. Use the 'Nusa Dua-Batubulan' route and use a minibus that heads to Karangasem.
Tips: Hiring a local guide is not a must for experienced hikers going to Mount Agung, however that may not be the case of beginners. For beginners going to Mount Agung, it's advisable to hire a local guide because of the challenges and sacredness of the location.
Mount Bromo, Pasuruan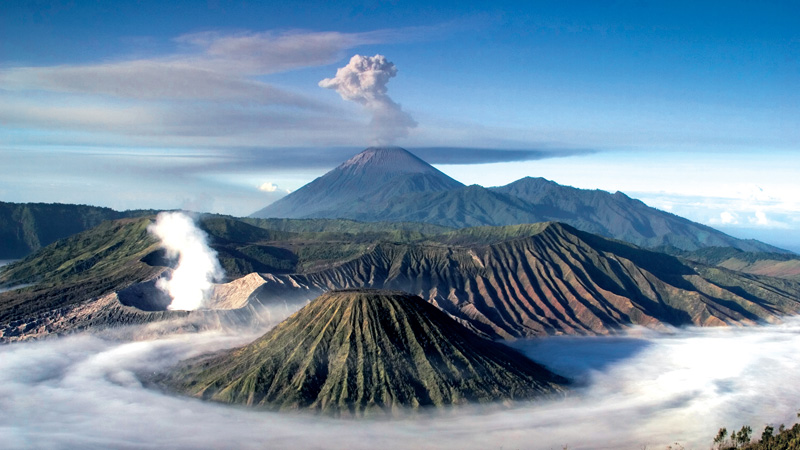 Mount Bromo is especially known for its sunrise, the view of various mountains, Tengger caldera sea of sand and the view of white sulphurous smoke blowing from the peak of the mountain. There are many ways to reach the peak of mount Bromo, and tourists can choose a variety of methods between hiking. Some of the methods include booking jeep tours or using a horse. It's 2329 m tall, which takes 1-2 hours of hiking duration. Hikers of all levels of experience can visit this mountain, as it's a much easier climb.
Address: Mount Bromo, Podokoyo, Pasuruan, East Java, Indonesia
Getting There: From Juanda International Airport, use a damri or taxi and head to the Surabaya Bungurasih Bus Station in Waru. There will be a train route straight from Waru to Pasuruan, where Mount Bromo is.
Tips: Climbers will require a climbing permit. Contact the Office of the Bromo-Tengger-Semeru National Park at +62-341491828.
Mount Krakatau, South Lampung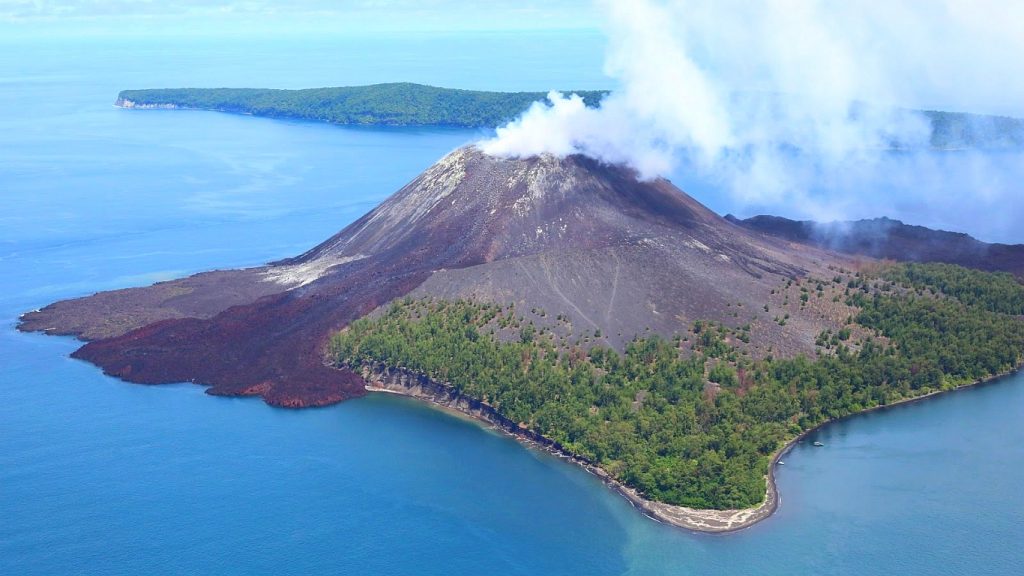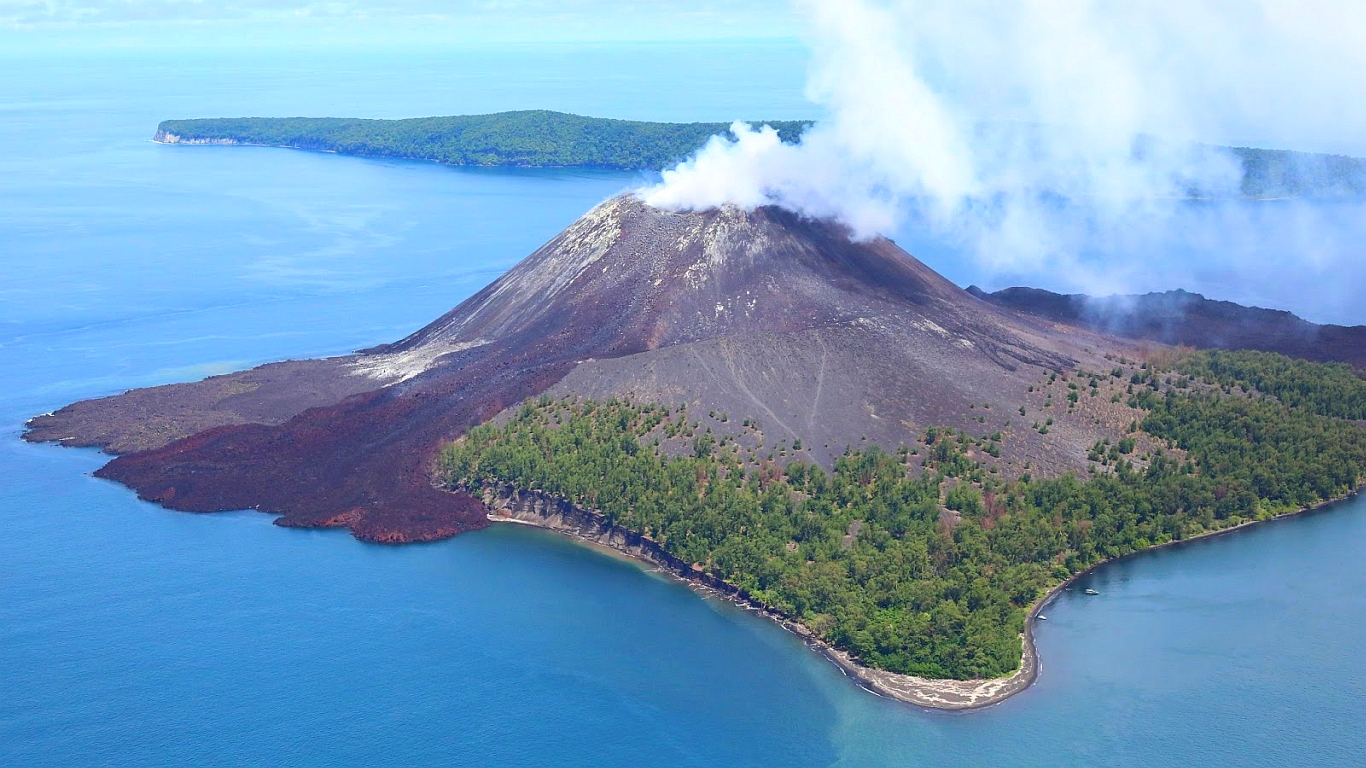 Krakatau is most known for having one of the most violent volcanic eruptions, which is why people come to see its eruption site. To see it at its most beautiful state, visitors will have to come and see it at night. For that reason, hikers will usually prepare an overnight stay at Rakata Island. There are also beautiful marine life that can be seen on the boat ride towards the mountain. The hike is easy, with a 30 minute journey to the top.
Address: Anak Krakatau Island, Pulau, South Lampung Regency, Lampung
Getting There: After arriving in Raden Inten II International Airport, take a taxi and head straight to Bakauheni Harbor. Next, go to Canti dock where they will take you straight to Mount Krakatau.
Tips: No permit is required. People will also need to be more careful while visiting, as it is still minorly active.
Mount Semeru, Lumajang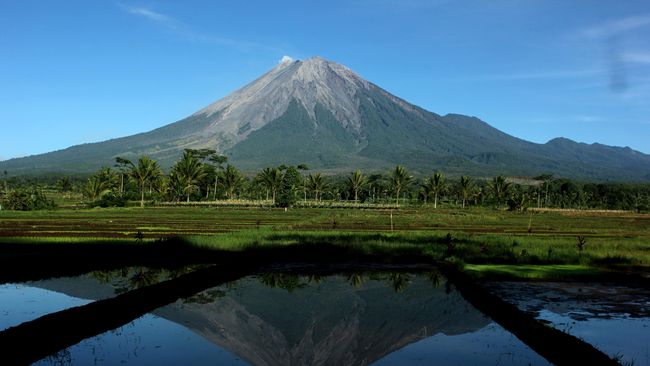 Hikers visit Mount Semeru for the view of a vast savannah, stunning slopes, view of Lake Ranukumbolo and Brazilian verbena field. Semeru can be translated as 'The Great Mountain', inspired by the mystical Hindu-Buddhist mountain of Meru and Sumeru. It takes two hiking days to reach the top, as it's the tallest mountain in Java. Despite that, this mountain is relatively easy for experienced hikers.
Address: Gunung Semeru, Pasrujambe, Lumajang Regency, East Java, Indonesia
Getting There: The closest airport is Abdul Rachman Saleh Airport in Malang, where you can use the Tumpang Arjosari minibus. Use it to get to Pasar Tumpang where jeeps and motorcycles are available to get to Ranupane village.
Tips: Bring a copy of your passport as it's required by park rangers. Climbers will need to book a trip in advance through https://booking.bromotenggersemeru.org/. Especially for Mount Semeru, be careful and check for its volcanic activity before hiking, as Mount Semeru is an active volcano with constant cloud of black volcanic ash and sand that is released near the peak.
Mount Kerinci, South Solok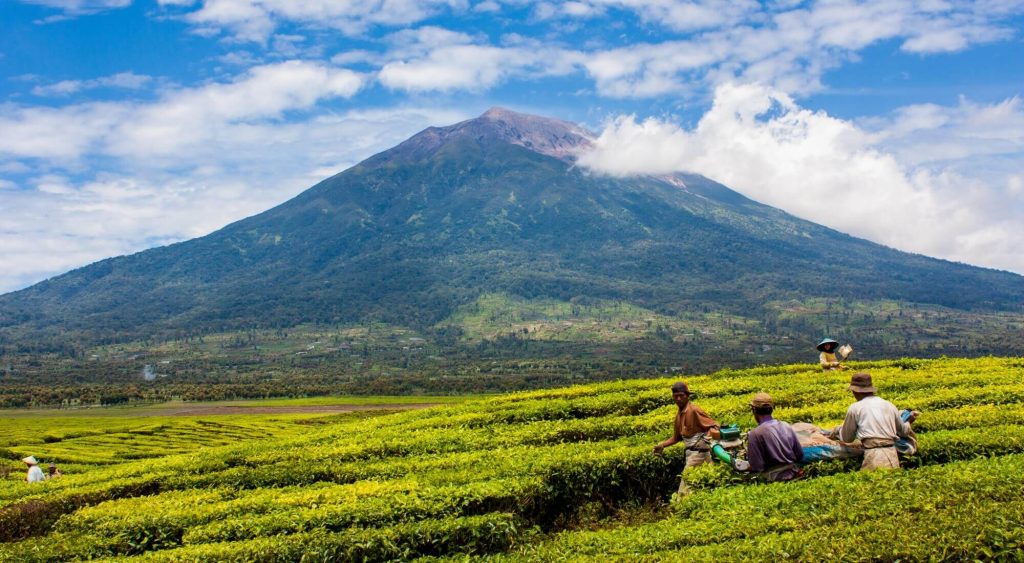 Mount Kerinci is famous for its view of the surrounding cities, the Indian Ocean, the view of its large crater with brilliant green waters and the view of a clear swamp lake called Bento. In order to reach the peak, hikers will also need to hike for 3 days and stay for 2 nights. Mount Kerinci poses as a challenge to hikers, as it's the tallest volcano in Java and the highest peak in Sumatra, with a height of 3805 m. It is also the highest active volcano in Southeast Indonesia.
Address: Gunung Kerinci, South Lubuk Gadang, South Solok Regency, West Sumatra, Indonesia
Getting There: Most visitors would arrive at Minangkabau International Airport in Padang and travel towards Kersit Tua tea plantations to reach Mount Kerinci. Using a car, it would take 8-10 hours from Padang to the tea plantations.
Tips: A permit is not needed when climbing Mount Kerinci, but a permit it needed to enter its National Park. Bring your passport and visa, which you can photocopy at the village of Tersik Tuo at the foot of the mountain. Your permit will be processed immediately as you arrive at Kerinci Seblat National Park.
Mount Merapi, Boyolali
In Javanese, Merapi means 'mountain of fire'. With its height of 2968 m, it is most known for its view from the Merapi crater area, which was reported to be as beautiful as Mount Kerinci. Visitors will be able to see a total of 5 volcanoes from the summit including Mount Merapi, Mount Merbabu, Mount Sumbing, Mount Sindoro and Mount Telomoyo. Its most recent eruption in 2010 also made the eruption site one of the most popular tourist destinations. Hikers are recommended to climb at night so they would reach the crater area by sunrise and enjoy the beautiful view. It takes 4-6 hours to reach the summit, with several challenging routes.
Address: Mount Merapi, Suroteleng, Boyolali Regency, Central Java, Indonesia
Getting there: The journey to Mount Merapi is quite easy, as it just takes 45 minutes from Yogyakarta to Selo village.
Tips: Hikers can enter their profile and register for a permit at the 'Pos Pendakian Merapi' located at the entrance of Mount Merapi.
Indonesia is a land that is filled with many wonders, whether modern such as amusement parks or natural wonders like the mountains and volcanoes. When going on a vacation, you will be able to choose between many places according to your preference. You can even choose according to the difficulty of the hike and unique aspects of the mountain.
Which mountain hike seems the most interesting for you to hike? Let us know in the comments below!