It is almost impossible to talk about what to do in Bali without discussing about the live shows. Bali offers many live shows and theatre, ranging from traditional dance performances to modern theatrical shows. Seeing these live shows is also probably the most fun way to understand Balinese culture, as local folktales and ancient Hindu epics are often the dominant part of the performances.
Here are some of the theaters and live shows that you cannot miss while in Bali:
Kecak Dance at Uluwatu Temple Amphitheatre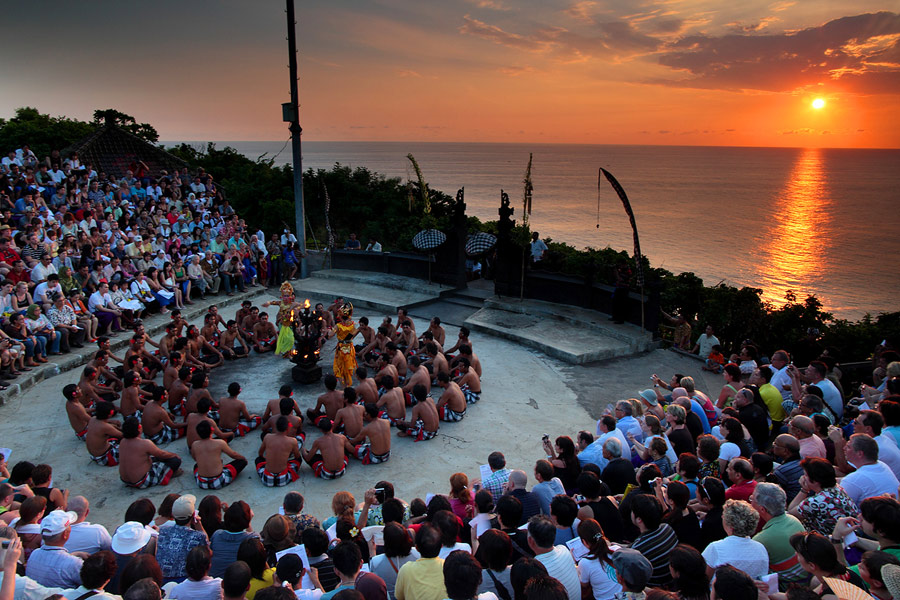 Uluwatu Temple remains among the best places on the island to watch Bali's Kecak dance, a legendary singing and dancing ritual. It has main open amphitheatre where the local Pecatu villagers' cooperative perform. Usually, the Kecak dance here is included as part of the package if you booked a common tour to the temple, and the performance serves as a closing highlight to your day out. But if you don't book the tour, you can go just for the show and purchase tickets at the amphitheatre's ticket booth. The performance commonly starts at around sunset or 6pm.
Address:
Pecatu, South Kuta, Bali
Devdan Show at Bali Nusa Dua Theatre

Devdan is a 90-minute high-energy visual tour of Indonesia's culture and diversity. This show features a fusion of traditional Indonesian dance activities with modern contemporary dance, world-class aerial acrobat attractions, dazzling costumes and hi-tech special effects. This 90-minutes performance is unique because of its focus on the diversity of culture across Indonesia, from Sabang to Merauke.
The show performs 4 days a week at Bali Nusa Dua Theatre. Tickets can be booked up to 3 months in advance here.
Address:
Komplek ITDC, Nusa Dua, Badung, Bali
Legong dance at ARMA Open Stage
Open stage performances at the ARMA Museum in Ubud range from Balinese trance dances, Legong, Balinese masks, and various old traditional dance and drama. Legong dance, a classical royal Balinese court dance is a must-see here. It is performed every Sunday at 7.30 pm except during full moon and new moon. Cultural dinner packages are also available here.
For more info, click http://www.armabali.com/arma-culture/performances/
Address: Arma Museum & Resort, Jalan Raya Pengosekan Ubud, Bali
Phone 0361-976659
Barong dance at Garuda Wisnu Kencana (GWK) Cultural Park
Not only viewing the breathtaking monument, you cannot miss the classic attractions at Garuda Wisnu Kencana (GWK). GWK offers live cultural performances every day, highlighting regular Barong and Kecak dance. The complete daily schedule can be viewed here. http://www.gwkbali.com/event/daily-event
Address:
GWK Cultural Park, Jalan Raya Uluwatu, Ungasan, Kuta, Bali
Phone 0361-700808
Bali Agung Show at Bali Theatre
Bali Agung is a theatrical art performance combining a Balinese legend, lively dance choreography, vibrant costumes, dramatic music compositions, and state-of-the-art lighting and sound systems. The show tells an epic Balinese love tale of King Sri Jayapangus and Chinese pricess Kang Ching Wie. The show is narrated in English.
Address: Jalan Prof Dr Ida Bagus Mantra KM 19,8, Gianyar, Bali
Phone 0361-751300
Kecak dance at Surya Mandala Cultural Park
If you come to the Tanah Lot at sunset, do not miss the Kecak dance performance. That will be a nice closing to your overall tour at the temple. The dance performance is held at the Surya Mandala Cultural Park, which is located on the west of Batu Bolong temple or adjacent to the Melasti restaurant. The ticket can be purchased on the spot.
Address: Jalan Raya Tanah Lot, Beraban, Tabanan, Bali