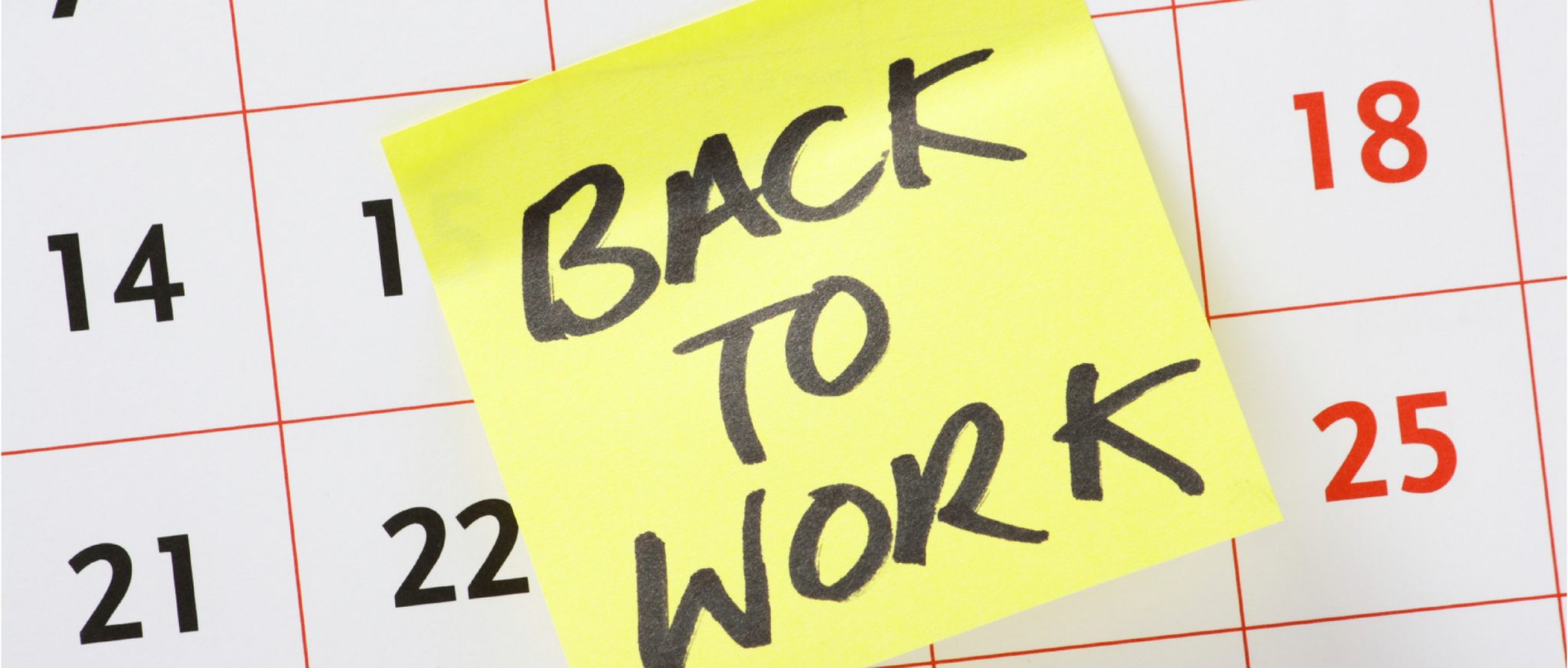 There are many reasons to take a long break from work. The problem is – a long break can slow down your pace when you return to work and might even leave you feeling 'left behind'. Professionals having this problem should take several steps to adjust and quicken your pace. It will also need mental preparation  focus and achieve more at work.
Here are 6 steps to return to work after a long break:
Keep up with the Recent Trends 
While on break, it is natural to forget some things about work as your mind is on more interesting and engaging pursuits. This is a problem back at the workplace, as you might end up feeling a little clueless. Solve this problem by keeping up with the trends online and through trade publications before you return to work. From reading press releases, publication to setting up google alerts. Keep up with developments within the company by contacting your fellow colleagues.
Learn from your past experiences
Getting back to work after a break means that you might face the same troubles that plagued you before you went on a break. So think carefully about your decision and ask yourself critical questions:
Is this what you truly like to do?
What makes you want to come back to the same work after what happened last time?
If you decide to enter a new industry, do proper research to get a clearer picture.
Gear up with more skills and more knowledge
Updating your skills could be the key to come up on top. Before going back to work, analyze the skills required to the job that you want and make an honest evaluation of the skills. There are now so many ways to upskill online or by going to school.
If your social media accounts are outdated, this would be the perfect time to learn to manage these platforms to profile yourself. Recruiters never seemed to look at online accounts of potential employees in the past, however that is not the case right now. A job site survey in 2015 revealed that about 92 percent use social media to scan potential employees. Being active will also allow you to reach out to old connections and let them know that you are looking for new opportunities.
Your resume is the most important document when looking for a job, especially after taking a long break from work. It is important to tweak your CV to make it more presentable for employers. As uncomfortable as it maybe, list down the reason for your break. Show your potential by also writing down your list of skills that are relevant for the job. Gaps in your CV can be solved by using a more skills-based CV that focuses on skills and experience rather than dates of employment.
Show Enthusiasm in the Cover Letter
In your cover letters, mention why you had your career break. Explain why you took it and that you want to come back. Showing enthusiasm is especially important if you are embarking on an entirely new career, so they would sense how excited you are about going to work and tackling the challenges. Make sure that you state it clearly that this is exactly what you want to do and that you have fully considered it.
Be More Open About Your Condition
Being away from work is a huge disadvantage with HR Managers. Our tip is to become more flexible towards the pay you receive. After accepting the job, it will be much more easier to make a second comeback in your career life. Try to look at the ongoing trends, change your mindset according to the trends, work hard and keep your goal in mind.
For many people, work could easily take control of their lives, while other areas of life might suffer, whether it's taking care of their health, eating right, meditating, personal pursuits or relationships. While taking a break, this is easily one of the things that would improve drastically.
Don't forget to continue your self-care routine that you have taken up during your break when entering the workplace. Self-care is crucial for busy professionals as it allows them to maintain their body. Therefore,  workers could maintain their productivity longer without getting sick or having a breakdown.
Returning to work is not an easy thing and there are many things to consider. Besides looking for and learning about the job itself, you will also have to think carefully about many aspects such as your passions, why you want to return or the things that made you have a break at the first place. It maybe a long process, but it can give you back your confidence and give you focus when returning to work.