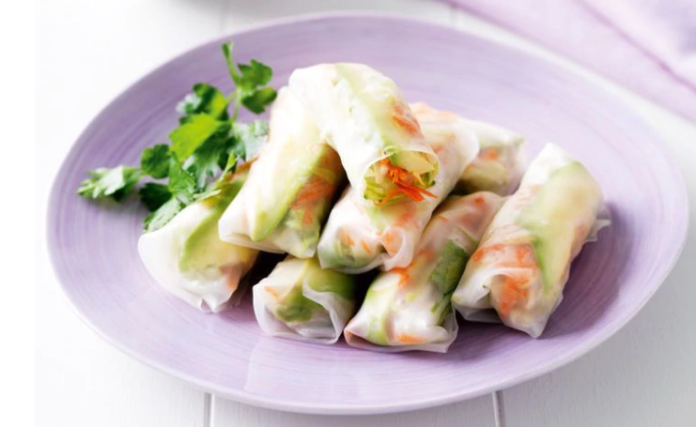 Nutritious, low calorie and delicious. These light rice paper rolls are packed with the goodness of fresh avocado and vegetables.
7 Ingredients
8 small rice-paper wrappers
1/2 cup shredded iceberg lettuce
3/4 cup beansprouts, trimmed
1 small carrot, peeled, grated
1 medium Lebanese cucumber, peeled, cut into ribbons (use a vegetable peeler)
1 medium avocado, peeled, cut into strips
Sweet chilli sauce, to serve
2 Method Steps
Step 1
Pour warm water into a heatproof bowl until half full. Dip 1 rice paper wrapper in water. Place on a flat surface. Stand for 20 to 30 seconds or until soft enough to roll without splitting.
Step 2
Place one-eighth of lettuce along 1 edge of 1 wrapper. Top with one-eighth each of beansprouts, carrot, cucumber and avocado. Fold in ends. Roll up firmly to enclose filling. Cover with a damp tea towel to prevent roll drying out. Repeat with remaining wrappers, lettuce, beansprouts, carrot, cucumber and avocado. Serve with sweet chilli sauce.