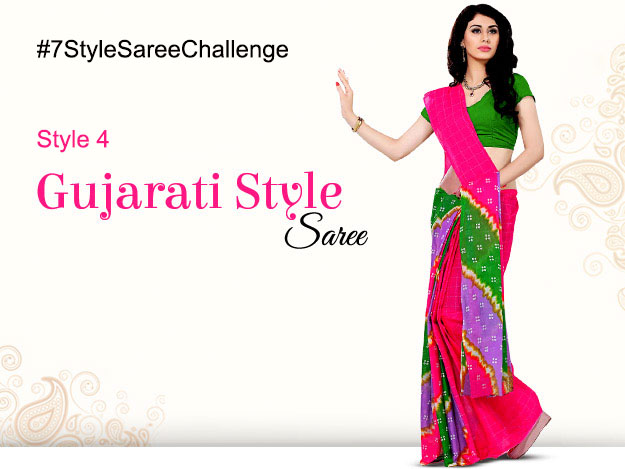 The Gujarati style saree is a very traditional and elegant drape.
The traditional Gujarati Sarees include Bandhej/Bandhani/Leheriya, made by a technique of Tie & Dye. This produces distinctive patterns making each piece unique. They are made mainly of Silk, Satin, Cotton & Georgette.These sarees are best suited for Indian Festivals.
Show off the intricately bordered pallus in full. Well suited for any occasion, the Gujarati style saree wearing adds a touch of Western India to your style.
Your Challenge
We invite you to participate in our #7SareeStyleChallenge with Indoindians. Add your photograph or video or facebook live wearing the Gujarati style saree drape and post it on your facebook wall or the Indoindians Facebook with hashtags #indoindians #7SareeStyleChallenge #indoindiansSareeStory. Remember to tag @indoindians in your post 🙂 Invite your friends to participate too.
You Need
Patola or any  embellished saree
Petticoat
Glass bangles
A pair of footwear
Jewelry in gold
Few safety pins
And around 3 Minutes
5 Easy Steps to Drape in Gujarati Style
Tuck the Saree in the petticoat starting from the right to the left and bring it around to the front.
Now, let's make the pleats & tuck it neatly with the pleats facing right side.
Hold the pallu end and make pallu pleats.
Then, take the pallu around from the back over to the right shoulder and pin it up neatly leaving pleats hanging in the front.
Pin the hanging pleats on the left side of your waist.
Tips & Tricks
Wear a matching petticoat.
You can also arrange pallu beforehand and pin it to hold it in place, even when you store the Saree.
Settle in your footwear beforehand to get the right length of Saree at the foot.
Keep safety pins handy for easy tucks & pin-ups.
Be ready with basic make-up, to save on time.
Keep traditional Jewelry