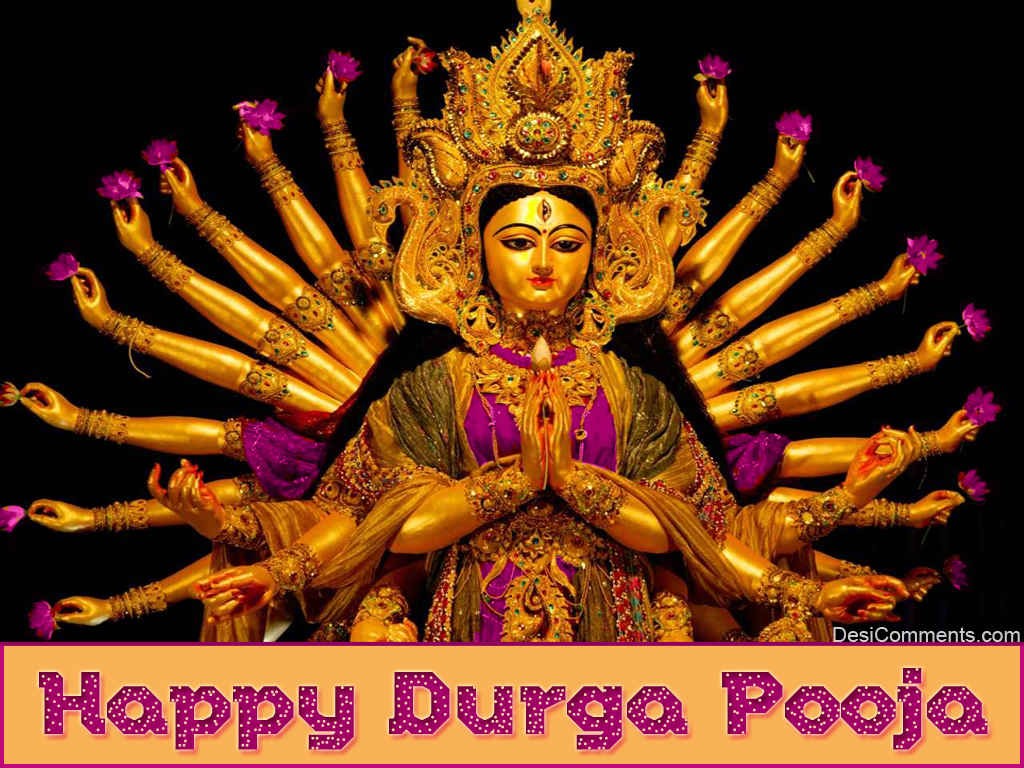 Goddess Durga's mode of journey to the earth is detailed in scriptures. The modes, an elephant, a horse, palanquin, boat all signify luck or omen which influence the life on earth.
Goddess Durga visits the earth for only four days but seven days prior to puja starts the Mahalaya. From this day starts 'Devipaksha' when people pray for their demised relatives and take holy dip in the Ganges. This ritual is known as 'Tarpan'.
Puja Rule According to Bengali calendar.
Days are counted based on sunrise and sunset while 'Tithi' depends on the rising and setting of the moon. Sandhi Puja is performed counting 'Tithi'. Sasthi, Saptami, Nabami and Dashami pujas are performed after sunrise even if they fall in the previous evenings.
Every year the goddess arrives on a boat and departs on an elephant. Goddess Durga's arrival on a boat signifies good harvest, growth and prosperity while her departure on an elephant indicates greenery and prosperity through out the year.
Dates: Festivities commence on the first night in the month of Ashwin (September / October). Nine nights are spent in worship and the tenth day is devoted to goddess Durga, who occupies a special position in the Hindu pantheon of gods and goddesses.
Legend/s: Durga is Shakti, the cosmic energy that animates all beings. According to a Puranic legend attached to this day, demon Mahishasur vanquished the gods and their king, Indra, who approached the Holy Trinity, Brahma, Vishnu and Shiva. They in turn sought the help of the divine mother Durga who, equipped with lethal weapons, riding a ferocious lion, in all her awesome majesty, killed Mahishasur. This day, thus, also celebrates the magnificence and omnipotence of Goddess Durga.
Practice: Durga pooja is celebrated extensively in North India where beautiful idols of the Mother Goddess are worshipped in elaborate pandals for nine days, and on the tenth day, these are carried out in procession for visarjan (immersion) in a river or pond. The face of the goddess remains covered until the bodhon (unveiling) ritual is performed on Sasthi – the sixth day of the moon. It is Sarat, or autumn, and Nature adorns herself to welcome the advent of the Mother Goddess, Durga. Rabindra Sangeet, dances and various programmes form a part of the celebrations.
The Goddess is worshipped as a kumari or young girl, and reveals herself in her true form Mahasaptami (the seventh day of the moon). On Mahastami (eighth day) and Mahanavami (ninth day) the celebrations reach a fever pitch. On Dashami (tenth day) the idol of Durga is immersed in water. The ten-armed goddess dazzles the devotees with her splendour and appearance of fiery valour during her short stay every year.
In the older days of zamindars (landed aristocracy) there used to be a Barwari pooja (community pooja) financed by the local zamindar who usually had a huge Nat Mandir or Mandap (out-hall) for pooja purposes, where the entire village congregated. All found employment of some kind – from the Brahmins performing the rites to various artisans of lower castes. Even women had their share of work in the preparations.
The time of immersion is a sad occasion and the Devi is repeatedly requested to return to shower bliss on devotees whenever invoked. The festival sees a boom in pre-pooja sales. All trade and commerce gears up to meet the challenge of coping with the frenetic shopping spree. Whole communities of artisans spend their busiest time to ensure the netting of a sizeable income that will sustain them for several months to come. It is a time of activity and employment for all. Artisans build the mammoth pandal (a pandal constructed in 1994 as a replica of the Belur Math, was almost 90 ft high, required 3500 bamboo poles, 5000 planks of wood and over 2000 metres of cloth and cost Rs 5 lakh.). Weavers are kept busy, as are the craftsmen who model the exquisitely chiseled features and limbs of each figure in the pooja tableau from clay; electricians who ingeniously devise the decorative illuminations (everything of topical interest from the dinosaurs of Jurassic Park to World Cup football, to nuclear testing is portrayed); the dhaakis whose unsurpassed virtuosity finds expression in frenzied pounding on huge barrel-shaped drums, invoking an almost hypnotic rapture. Everybody is involved, and there is profit and fun for all.
It is a time of prosperity also for publishing houses – the pooja Editions capitalize on the festive mood of the reading public. From big established dailies to little magazines, all thrive this season. Today pooja pandals seem to sprout like mushrooms – practically one every 100 yards. Apart from loudspeakers blaring forth pop and Hindi film music and other forms of entertainment (there are also cultural programmes), there is a fierce competition among organizers to compete with and outdo each other in the extravagant and lavish show they put up. Pooja committees are known to spend huge amounts on attractive pandal decor. Galaxies of twinkling lights make Technicolor pageants out of the dingiest lanes.
The para poojas become grander still each year, as the poojas are an occasion people look forward to.
Money is not a constraint, as people donate generously. poojas are a convenient occasion for fun-loving denizens to forget their cares and let their hair down. Multitudes throng the streets – people from all communities are agog – shopping, gorging themselves or gazing on Durga who is a shimmering vision – power personified – tresses streaming, a flickering tongue of flame. Durga Pooja is celebrated with more fervour by Bengalis than any other community in India. With the Bengali, Bijoya evokes sentiment. It is a time of renewal of ties of kinship with friends and relatives. Thus Kolakuli echoes the Id embrace among Muslims. Durga Pooja is a festival Bengalis celebrate without religious inhibition. The nine days of pooja are synonymous with the Navratras and the tenth day is celebrated as Vijayadashmi in some parts of India.