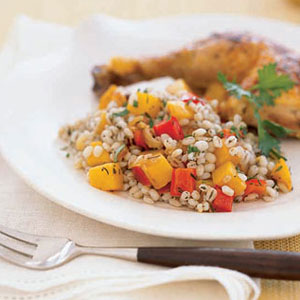 Nutty pearl barley is lightly toasted and then simmered until just tender in a mix of chicken broth and chopped butternut squash, onion and red pepper that's seasoned with sage, thyme, and grated lemon zest.
Ingredients:
1 tbsp olive oil
12 oz peeled butternut squash
1 cup chopped onion
1 small red pepper
1 cup barley (pearl not quick-cooking)
1 can chicken broth
1/2 tsp each dried sage and thyme
1/4 tsp each salt and pepper
1 tsp grated lemon zest
Instructions:
Heat oil in large nonstick skillet over medium-high heat. Add squash, onion and red pepper; saute 3 minutes. Add barley; cook 3 minutes to toast slightly.
Add broth, 1/2 cup water, the sage, thyme, salt and pepper. Cover and bring to a boil. Then reduce the heat and simmer, covered, for 20 to 25 minutes until the barley is tender.
Remove the heat, stir in lemon zest.
Serve as main dish with a salad, as a side dish or, for a more hearty meal, stir in cooked whole-grain pasta.