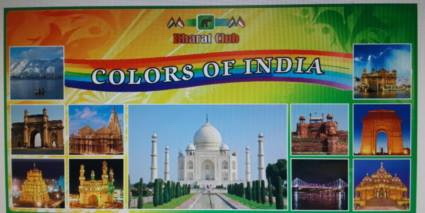 EVENTS IN BANDUNG
In early 1980s some of the Indian expatriates in Bandung namely Mr. Y L Bhat, Dr. Prakash Shastri, Mr. Vinod Laroya and others assembled with a desire to bring together all fellow Indians under a association which was named as Bharat Club. Dr Shastri and Mr Bhat were the founding president and Secretary respectively. Since then it has grown in its strength & activities & is today one of the erstwhile organisation of Indian community in Indonesia, a country where Indian history, cultures & traditions has a deep influence & adoration & has gained recognition from Indian embassy & the industry as well.
The objectives of the club are to organise various socio-cultural functions, family entertainment programmes including sports, celebrating major Indian festivals & also generating funds for helping victims of calamities & donations to orphanage. It also keeps the Members informed of useful information, events, news etc received from various sources & from Indian Embassy. The club is of the members, by the members & for the members & best exemplifies unity amongst diversity.
Membership of the club is by annual subscription. An Executive Committee, which consists of President, Secretary, Treasurer and other members, manage the affairs of the club. The term of Committee is one year & is replaced by another team during the AGM by mutual understanding for the next session. The committee meets at least once a month or so, to plan the various activities. All decisions are taken by common consensus & efforts are made to have at least 1 programme in a month with maximum participation.
Bharat club today has shaped into an open forum taking care of members social needs & expectations , host to visiting star performers from India & to entrepreneurs visiting in trade fairs.
This Directory is rich with information of essentials of daily life useful to all members, especially in settling new members arriving Bandung for the first time & also provides interesting reading about Bandung and its culture. It gives an instant access to ALL Indians residing in city while the advertisements assist in sourcing products & facilities & has benefited the advertisers largely, making it highly interactive. Indian community comprises of professionals from various fields actively involved in local & international dealings with multinational organizations
A lot of hard work is put in designing & compilation of this information & any error in data is regretted.
Bharat club activities.
Picnic  To familiarise new & old club members after the A.G.M a day outing is arranged at a recreation place in & around Bandung .
Sports day  To usher field sports competitive games are arranged for all age groups & best performers are given prizes.
Badminton Tournament  This national game of Indonesia is also played regularly by Indians & to develop competitiveness a tournament is arranged for both Mens & Ladies.
Dandia / Dassera  This festival is of special significance which symbolises victory of good over evil.It is celebrated in its cultural theme with traditional dance & music.
Diwali  Members gather to exchange greetings of good wishes & prosperity, with some cultural performances followed by a Grand Lucky draw of more than 30 prizes at stake. The prizes range from Air-tickets to valuable appliances which is made possible due to sponsorships received from individuals, industries located in Indonesia & India as well.
Christmas / New year  To welcome Christmas & New Year, a party is organised for members & with special invitation to directory advertisers & all well wishers who have supported the cause of Bharat club generously.
Fun fete  This is a rare occasion of food festival of Indian delicacies, with a variety of snacks & sweets, open for all communities.
Children competition  Efforts are made to organise whenever possible talent-search competitions for young students to support their extra curricular activities.
Holi  This festival brings all member families together once again to play & dance with colours. The festival has a special significance which reunites all individuals to live in spirit of brotherhood.
To share information & experiences an E-Magazine by way of E-talk is published Quarterly from the contributions received from members.
TOGETHER WE CAN CHANGE THE WORLD!
MAIN COMMITTEE MEMBERS:
JOIN PRESIDENT : MR.M.R.KRISHNAMURTHY
JOIN PRESIDENT: MR. SUNIT SRIVASTAV
SECRETARY : VIJAY GULABANI
 JOINT SECRETARY: PRAVIN SONAWANE
TREASURER : NAREN SHANDILY
JOIN TREASURER : UNNIKRISHNAN
OTHER COMMITTEE MEMBERS:
MRS.V KRSIHANAMURTHY
MRS. PRAVADA SHANDILYA
MRS. POONAM GULABANI
MRS. SMITA SRIVASTAV
MRS. RESHMA UNNIKRISHNAN
MR. & MRS.B.M.JINDAL
MR. & MRS. DARSHAN SINGH
MR. & MRS RAGHU SHETTY
MR. & MRS. V. PRABHU
Contact Person mobile number
Naren Shandilya : +62818219005
Vijay Gulabani : +62811249261