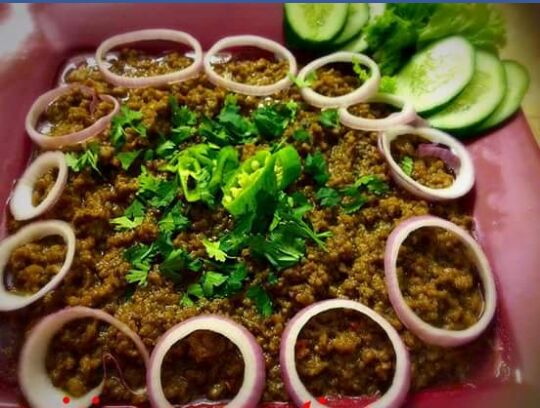 Bihari Keema is a delicious family meal cooked with spices, coconut and yogurt. Serve it with paratha. It has a delicious taste and sure to be a hit with the whole family.
Ingredients:
Mutton Mince ½ kg double machined
Yogurt 1 cup
Poppy seeds 1 tbsp heaped
Desiccated coconut 1 tbsp heaped
Button red chilies 12
Cloves 3
Green cardamom 3
Cinnamon sticks 2
Ginger garlic paste 1 tbsp heaped
Salt 1 tsp
Nutmeg grinded ¼ tsp
Mace grinded ¼ tsp
Brown onion grinded 3 tsp
Allspice (pissa garam masala) 1 tsp
Raw papaya 1 tbsp heaped grinded
Ghee / oil ½ cup
Method:
Roast and grind together poppy seeds, desiccated coconut, button red chilies, cloves, cinnamon and green cardamom finely.
Marinate mince with raw papaya, ginger garlic paste and keep for 2 hours.
Heat ghee add roasted and ground masala with ¼ cup water, salt and fry for few minutes.
Add marinated mince, mix well add yogurt, cover and cook on slow flame till water dries.
Add brown onion, allspice, give dum of coal.
Serve garnished with coriander and green chilies.
Best accompanied with paratha.
Bihari keema is a variation of bihari kebabs or boti. It goes well with khameeri paratha, green chutney and onion rings.
by Shabana Akbany