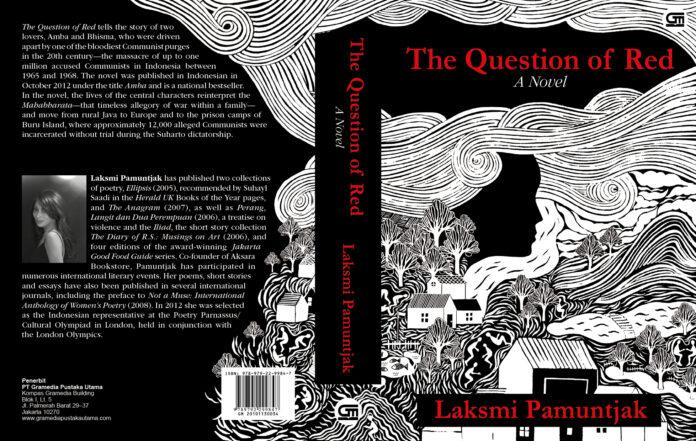 Sharon Singh shares her book review for The Question of Red by Laksmi Pamuntjak.
I embarked excitedly on my literary journey to devour "The Question of Red " which was selected by my Jakarta Book Club.
It is set somewhere in the 1940's to 2006, and reminds me of Pramoedya's Buru Quartet which was also set in roughly the same historical period.
We had the added privilege , of hearing the author's own views as to why she challenged herself with this highly complex, multilayered novel, as one of the ladies in the book club had personally met Laksmi in Indonesia just after her book was launched.
She eloquently quoted Novalis as an epitaph : novels arise out of the shortcomings of history" and that  "there is nothing greater than love, yet History has always been one that tries to stand between love and everything else.
I have to say that right off the bat, it was not an easy read, considering the numerous metaphors and parallels drawn from epics such as Mahabharata (the timeless allegory of war within the family) and Tales of Centini (the Javanese journey of life by Soewito Santoso)
I found myself frequently having to google many references that were made throughout the book, yet relishing every morsel of new information I unearthed.
It is a deep somewhat tragic tale about the yet beautiful love story between Amba and Bhisma, the main protagonist, who is portrayed as a great warrior and doctor of noble character .
These two desperate lovers are named after two ill-fated characters from ancient Indonesian legend, burdens that they try to free themselves from.
The reader is made to embrace the various form of love that Amba experiences…first love, unrequited love, passionate love ,jealous love and selfless unconditional love.
Mysticism, animism, politics, religion and romance are seamlessly woven as the story unfurls into a rich tapestry of interconnected lives, past, present and future.
It reveals Indonesia's rich culture and mythology, influenced by its Hindu heritage, as well as it's dark periods in history with military coups , religious strife and mass killings of the communist purge that drove Amba and Bhisma apart.
The erudite authoress Laksmi, definitely deep dived into extensive research for this literary masterpiece, and I as the reader enjoyed it tremendously as I partook in Amba's fascinating quest to discover her past , and forge her own future path with resilience and pride.
It is definitely a book for the history buff who also has an appetite for phantasmagoria and the supernatural.
Book Synopsis:
The Question of Red tells the story of two lovers, Amba and Bhisma, who were driven apart by one of the bloodiest Communist purges in the 20th century—the massacre of up to one million accused Communists in Indonesia between 1965 and 1968. The novel was published in Indonesian in October 2012 under the title Amba and is a national bestseller. In the novel, the lives of the central characters reinterpret the Mahabharata—that timeless allegory of war within a family—and move from rural Java to Europe and to the prison camps of Buru Island, where approximately 12,000 alleged Communists were incarcerated without trial during the Suharto dictatorship.