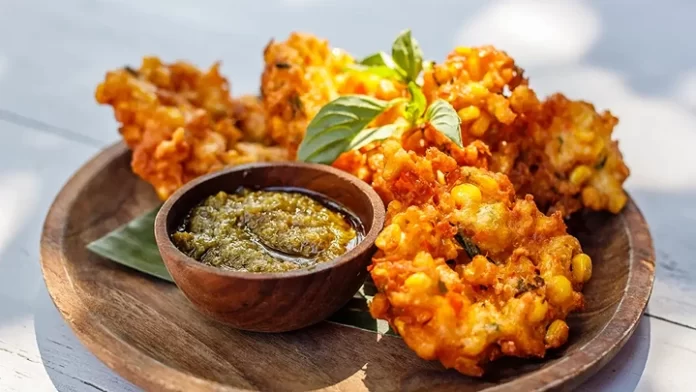 Bakwan Jagung is one of the loved side dishes in Indonesia. Not only is it delicious as a side dish, it is also delicious as a snack. The crunchiness, combined with the sweetness of the corn creates a marvellous food combination that can leave people wanting for more.
Ingredients:
3 leek stalks, finely chopped
1 celery leaf stalk, finely chopped
350 grams wheat flour
100 grams rice flour
2 tsp garlic powder
2 tsp chicken seasoning powder
2 tsp onion powder
Some salt
Some pepper
1 tsp baking powder
300 ml water
How to make it:
Add the corn, leeks and celery stalk into a bowl.
Mix in all of the powders, starting from wheat flour, rice flour, garlic powder, chicken seasoning powder, onion powder, baking powder, salt and pepper.
Add in water, corn, leeks, celery and corn to the powder mixture.
Heat the pan and wait until the oil has heated. Fill cooking oil until half the pan, so it would not overflow.
Put in the batter into the pan one by one using a spoon. Fry until the bakwan is golden brown in colour.