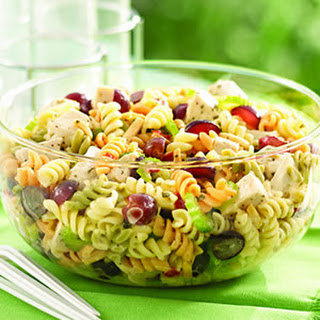 CURRIED PASTA WITH CHICKEN AND GRAPES
Ingredients:
1 16 oz package elbow macaroni, uncooked
12 ounces cooked chicken
3 cups seedless red grapes
1 20 ounce can chunk pineapple in natural juice
1/2 cup fat-free mayonnaise
2 tbsp lemon juice
1/4 cup frozen concentrate orange juice
1 tbsp curry powder
1 bunch scallion
Directions:
Prepare pasta according to package directions.
While pasta is cooking, toss chicken, grapes and pineapple together in a large bowl.
In a medium bowl, stir together mayonnaise, lemon juice, orange juice concentrate and curry powder.
When pasta is cooked, drain well and stir into fruit mixture.
Stir dressing into pasta and fruit and mix well.
Sprinkle scallions over salad and serve.