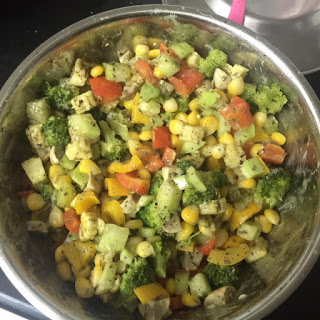 Welcome to day 3 of our healthy #7DaySimplySalads recipes for weight loss. The printable shopping list is here>>
Craving for Italian foods? Well, instead of ordering pizza or high-calorie pastas, you can curb your craving with this green vegetable salad. This salad is very low in calories, rich in fiber, and the basil and thyme in it make this salad tastes so "Italian". It will make you feel full fast and you can have a healthy dinner instead of going for the nearest deli.
Try this Healthy Italian Weight Loss Salad from our #7DaySimplySalads for your dinner tonight!
Ingredients:
1 cucumber, cut into small cubes
Half bowl corn
1 packet mushroom, cut into small cubes
Small size broccoli, cut into small florets
9-10 baby corn, cut into small cubes
Half red capsicum, chopped
Half yellow capsicum, chopped
1 tablespoon mustard sauce
Salt
2 tablespoon vinegar
½ tablespoon black pepper
1 teaspoon vegetarian mayonnaise
Basil
Thyme
Directions:
Boil water in a pan.
Add chopped mushrooms, baby corn, and corn to the boiling water. Boil for 5 minutes.
Add broccoli and capsicum into the boiling water. Boil for 2 more minutes.
Strain the vegetables in the strainer. Move them to a bowl, mix with cucumber.
Mix mustard, salt, vinegar, black pepper, mayonnaise, basil and thyme to the salad bowl. Mix thoroughly.