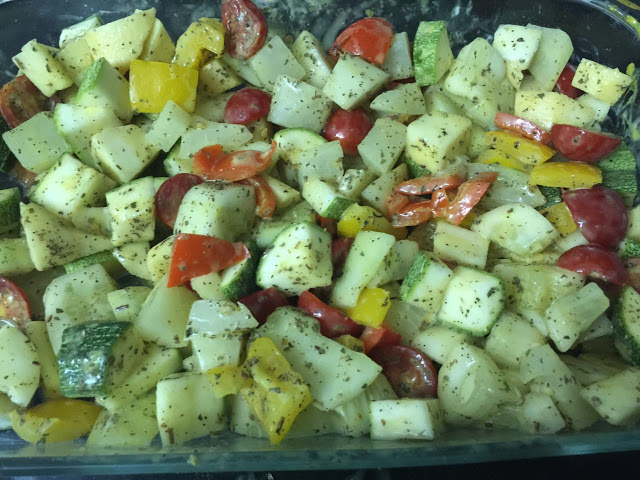 The printable shopping list is here>>
For day 5 of this #7DaySimplySalads, let's try this fresh and delicious tangy salad. The main ingredient of this salad is zucchini, which is rich in omega-3 fatty acid, calcium, fiber, magnesium, and vitamin B-2 and vitamin B-6. Zucchini is one of the most eaten vegetables for weight loss.
Below is the ingredient list and direction to make this yummy salad:
Ingredients:
1 zucchini, cut into cubes
1 cucumber, cut into cubes
1 apple, peel, cut into cubes
1 small or half medium red pepper, cut into cubes
1 small or half medium yellow pepper, cut into cubes
Half of small raw papaya, cut into cubes
Baby tomatoes, cut in halves
Lemon juice
Salt
Pepper
Oregano
Basil
1 teaspoon mayonnaise
1 teaspoon mustard sauce
Direction:
Boil water in a small pan. Boil the peppers and raw papaya for 3-4 minutes. Take them out in a strainer.
Put all the vegetables in a serving plate/bowl.
Add mustard, mayonnaise, oregano, basil, salt, and black pepper into salad. Mix thoroughly.
Sprinkle with a dash of lemon juice. Mix well, then cool in the refrigerator for 1 hour.
Please share your questions, comments and feedback below: