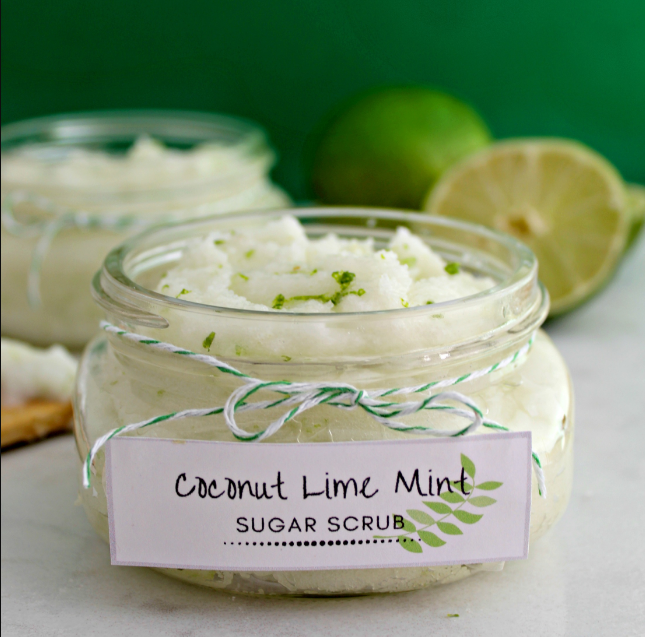 Transform your shower into a a mini vacation with this Coconut Lime & Mint Sugar Scrub. This scrub says "summer" no matter what time of year you make it. When you open a jar of Coconut Lime Sugar Scrub the aroma takes you right to the tropics. Scrub away dead skin as you dream of swaying palm trees and frozen drinks with little umbrellas.
Coconut oil may be linked to many potential benefits for skin, including reducing inflammation, keeping skin moisturized and happy!
Lime essential oil is one of our favorite EOs for skin care. It is a natural antioxidant, giving it the ability to help to remove free radicals that damage cells, including those of the skin. It also helps reduce signs of aging such as fine lines, sun spots, and wrinkles. Along with its added benefit of being astringent, this essential oil helps keep the skin firm.
Peppermint essential oil is an excellent choice if you are trying to brighten your skin! Added to help give you that healthy radiant glow!
Here is what you will need…
-1 cup sugar
-1/2 cup solid unrefined Coconut oil
-1 tablespoon lime zest
-20 drops Lime essential oil
-5 drops Peppermint essential oil
-wide mouth mason jar
-hand mixer
-large mixing bowl
Mix all ingredients in large mixing bowl with a hand mixer till combined and spoon into the jar.
This scrub is a great exfoliator thanks to the sugar, but will leave your skin soft since it contains coconut oil. You will fall in love with the fragrance too.
Enjoy. Use anytime you need a little extra "vacation time" and be whisked away.