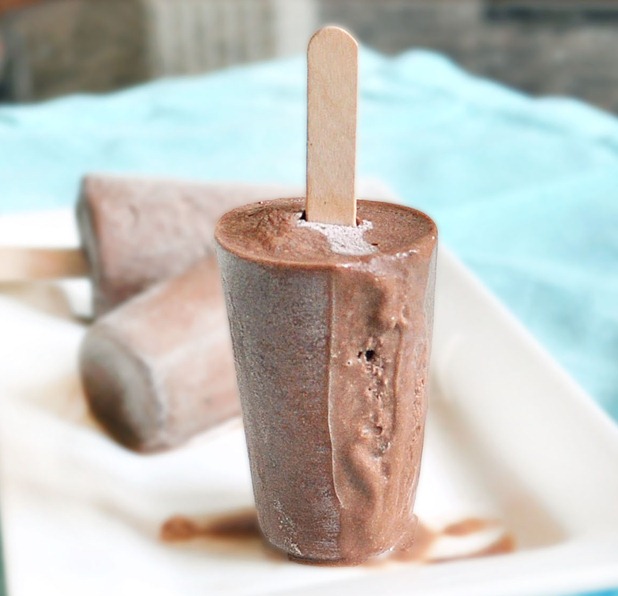 This is an incredibly rich version of "fudgesicle" chocolate ice-cream bars that many people say reminds them of the "good old days" – and younger people say are better than ones you buy in store freezers.  Old- fashioned taste with an odd new-fangled recipe 🙂 I just throw the whole thing together in one big size glass bowl with a pour spout, heat it in a microwave, and pour into the molds. It takes about 5 minutes total to prepare (plus freezing time). The directions are kind of weird because I never measured anything when making it — I actually had to finally measure everything just to write the recipe down because everyone kept asking for it
Ingredients :
| | |
| --- | --- |
| – | 1 12-oz. can evaporated (NOT condensed) milk |
| – | 2 cups whole milk (I just use the empty evaporated milk can and "measure" approx. |
| – | 1+ 1/3 cans of the whole milk) |
| – | 1/4 to 1/3 cup chocolate syrup such as Hershey's (or just hold the bottle upside down and count to 15 or 20 while you squeeze LOL!) |
| – | 3 level scoops (3/4 cup) Hot Chocolate mix powder WITHOUT marshmallows (I use Carnation, but others work too) |
| – | 2 level scoops (1/2 cup) full cream chocolate milk powder |
| – | Popsicle molds – 8 to 12, depending on mold size |
Directions :
1. Pour evaporated milk, whole milk, and chocolate syrup into a bowl and stir
until blended.
2. Heat until hot but not boiling (microwave for about 4 minutes).  Stir in Hot Chocolate mix powder and chocolate milk powder (a wire whisk works best).  Pour into Popsicle molds and freeze.
3. To remove from molds, run outside of mold under warm (not hot) water for a few seconds — just enough to loosen.
Do try and share your experience in the comments below.