Easy Green Chicken Biryani Recipe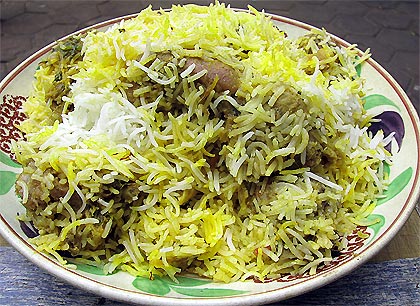 Ingredients
Chicken ½ kg
Salt to taste
Black pepper 1 tsp (crushed)
Ginger and garlic paste 1 tbsp
Lemon juice 2 tbsp
Plain yogurt 100 gm
Fresh mint leaves ½ bunch
Fresh green coriander 1 bunch
Green chili 5
Dry coriander 1 tsp
Dry cumin seeds 1 ¼ tsp
Nutmeg ¼ piece
Mace ¼ tsp
Whole black pepper ¼ tsp
Cinnamon 2 – 3 sticks
Cloves 3 – 5
Basmati Rice ½ kg
Cooking oil ½ liter
Onion 250 gm
Potato 200 gm
Tomato 2 medium
Yellow food coloring ¼ tsp
Cooking Directions
Soak basmati rice for half an hour.
Take a medium sized cooking pot, fill half of it with water and let it boil.
When water comes to a boil, add salt, cloves, cinnamon sticks, whole black pepper, cumin seeds and oil and cook for 2 – 3 minutes.
Now add soaked rice. Cook rice until 1/3 cooked, strain and keep aside.
In a dry add coriander seeds, cumin seeds, nutmeg and mace and grind finely.
In a blender, add fresh coriander, mint leaves green chilies, ginger garlic paste and yogurt and mix till it forms a smooth paste.
In a bowl, add chicken and green masala, mix well and marinate for 15 minutes.
Chop finely onion and fry till golden brown.
Cut potatoes into ¼ of size and soak in salty water.
In a medium cooking pot, add 100 ml oil and heat.
Add marinated chicken and cook for 2 – 3 minutes.
Now add ground spices and salt to taste and mix.
Make a layer of fried onion over chicken and then a layer of rice.
Sprinkle yellow color on top of it.
Enjoy your Green Chicken Biryani  and do let us know your feedback in the comment box below…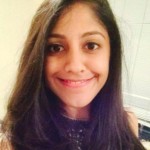 by Zareen Akbany