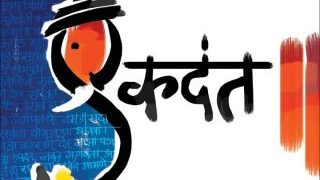 Ganesha is also called Ekdanta, Ek meaning one and danta meaning teeth. The story of this is attributed to Parashurama, one of Shiva's favorite disciples, came to visit him, he found Ganesha guarding Shiva's inner apartments. His father being asleep, Ganesha opposed Parshurama's entry. Parashurama nevertheless tried to urge his way, a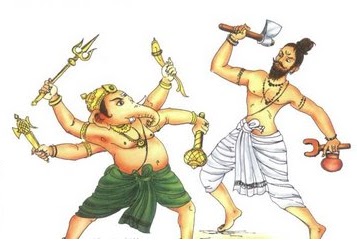 nd the parties came to blows. Ganesha had at first the advantage, seizing Parashurama in his trunk, and giving him a twirl that left him sick and senseless; on recovering, Rama threw his axe at Ganesha, who recognizing it as his father's weapon (Shiva having given it to Parashurama) received it with all humility upon one of his tusks, which it immediately severed, and hence Ganesha has but one tusk.
Another legend narrates that Ganesha was asked to scribe down the epic of Mahabharata, dictated to him by its author, sage Vyasa. Taking into note the enormity and significance of the task, Ganesha realized the inadequacy of any ordinary 'pen' to undertake the task. He thus broke one of his own tusks and made a pen out of it. The lesson offered here is that no sacrifice is big enough in the pursuit of knowledge.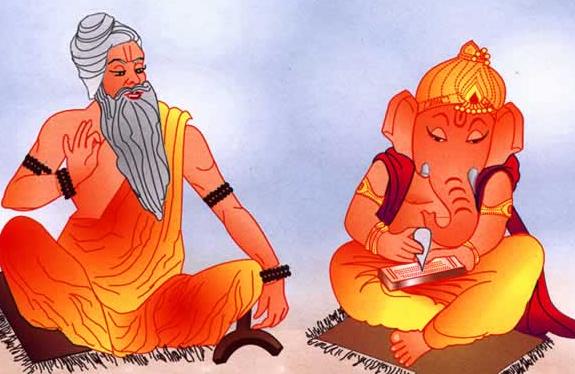 Yet another ancient Sanskrit drama titled "Shishupalvadha", presents a different version. Here it is mentioned that Ganesha was deprived of his tusk by the arrogant Ravana (the villain of Ramayana), who removed it forcefully in order to make ivory earrings for the beauties of Lanka!
Agajaanana Padmaarkam
Gajaananam Aharnisham
Anekadantham Bhaktaanaam
Ekadantam Upaasmahey
Meaning: I worship day and night that elephant faced Lord Ganesha who is like sun to the lotus face of Mother Parvati. Giver of many boons, the single tusked Ganesh, I salute Thee to give me a boon.