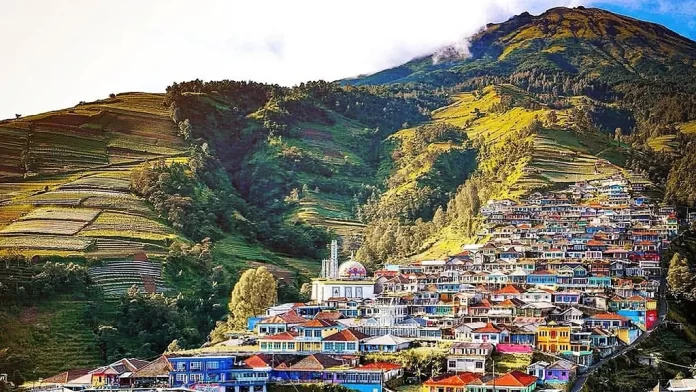 Idul Fitri holidays is the time to gather with family and relatives, as well as take vacations to interesting places. Some popular tourist destinations are natural attractions, cultural attractions, places of worship, or even international destinations. One of the unique destinations in Indonesia is Nepal van Java.
Nepal van Java is located in Magelang Regency, Central Java. From the center of Magelang City, the distance to Nepal van Java is around 24-kilometer (km) and takes approximately 1 hour.
The Uniqueness of Nepal Van Java
A village on the slopes of Mount Sumbing, Central Java, Indonesia has buildings stacked on the mountain slopes is very reminiscent of the traditional architectural style in Nepal, leading to the name Nepal van Java.
Before becoming popular as a tourist spot, Dusun Butuh was already well known among climbers, because it was the gateway for climbing Mount Sumbing via the Butuh route. In 2019, this hamlet was transformed into a famous tourist spot with colorfully painted residents' houses and stacked locations, similar to the rural Namche Bazaar in Nepal which is located in the Himalayas.
Awesome Things to Do in Nepal Van Java
Nepal van Java Magelang, or Dusun Butuh, offers a variety of exciting activities for tourists visiting this tourist destination. Some of the activities that visitors can enjoy in Nepal van Java Magelang include:
1. Enjoy the Stunning Views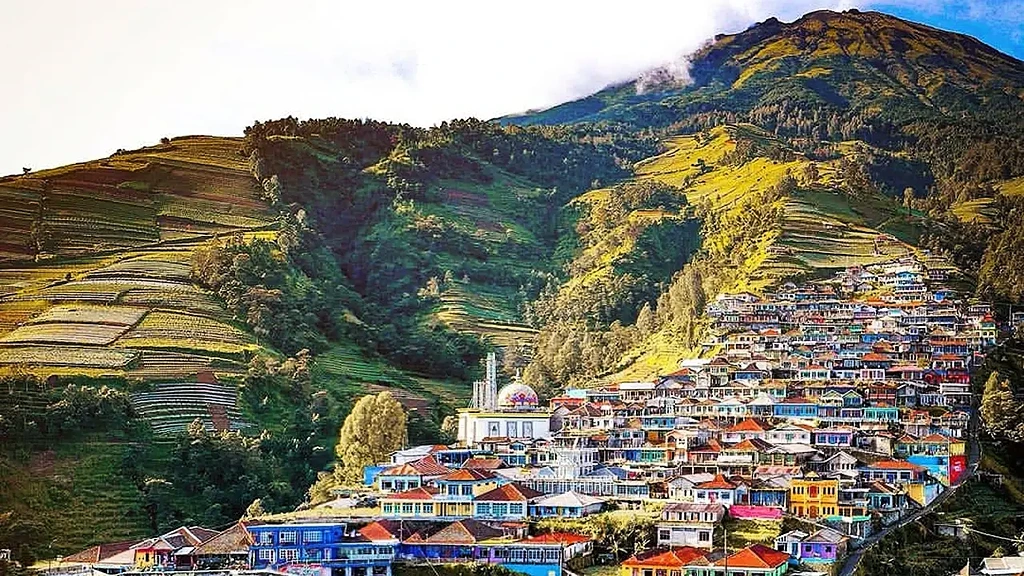 One of the main attractions of Nepal van Java Magelang is its beautiful natural scenery. Visitors can enjoy panoramic views of the unique settlement with its colorfully painted houses piled up on the hillside, as well as views of the surrounding mountains and rice fields. Watching the sunrise or sunset in Nepal van Java is also an unforgettable experience. Visitors can also feel the atmosphere of the country above the clouds if they come before sunrise.
2. Take a Walk and Take Pictures in a Unique Settlement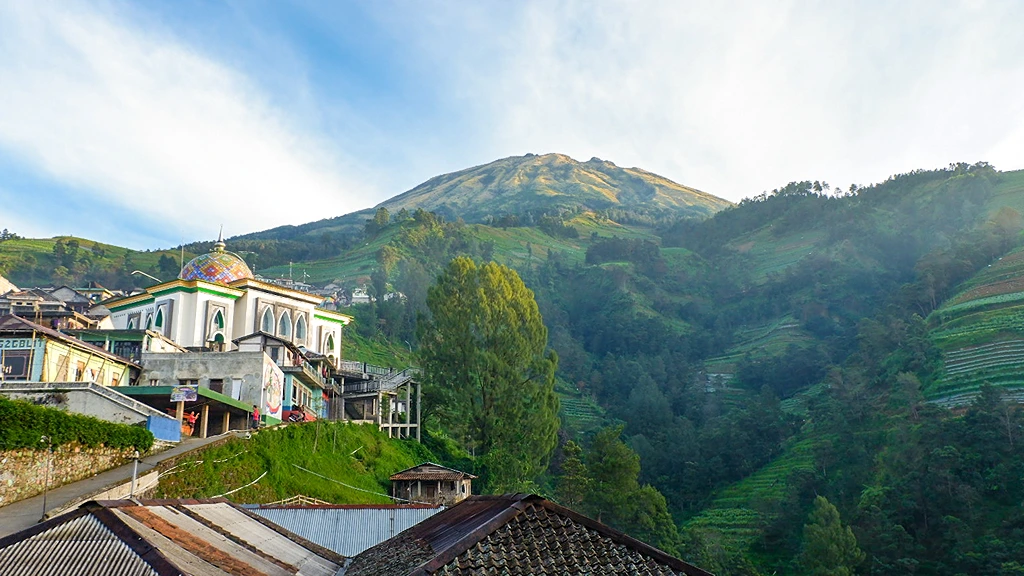 Visitors can take a walk between the houses located on the hillside, and capture photo moments at the interesting spots there. Some interesting photo spots to capture on Instagram include the Nepal Terrace, Baituttaqwa Mosque Terrace, Nepal Valley Viewpoint, Punthuk Nepal Viewpoint, Dragon Statue, and Depok Park. These photo spots have a beautiful scenic backdrop complete with Mount Sumbing standing majestically.
3. Interact with Local Residents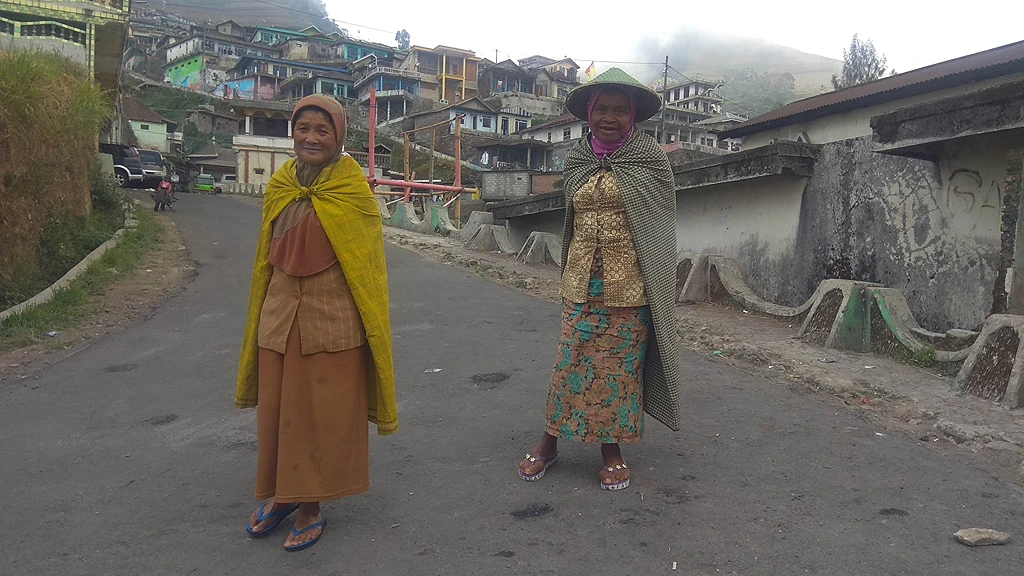 You can interact with friendly and welcoming locals in Nepal van Java Magelang. You can talk to them, learn about daily life and local culture, and share experiences with them. The experience of interacting with local residents can be a valuable experience on a trip to Nepal van Java.
4. Down the Trekking Path
Nepal van Java Magelang also offers interesting trekking routes for hiking enthusiasts. You can explore trekking routes around Dusun Butuh, such as climbing Mount Sumbing via the Butuh route, which offers spectacular natural views and adventurous challenges. For those who are not used to hiking, there are tourist taxi (ojek keliling) facilities there. The fare for a motorcycle taxi around the hamlet is IDR 35,000.
5. Tasting Local Cuisine
In Nepal van Java Magelang, visitors can try a variety of local culinary delights, such as Nasi Gudeg, Bakmie Jawa, Dan Sate Klathak which are regional specialties. Visitors can relax while tasting these delicious culinary delights at local stalls. Uniquely, these stalls also offer different views of Mount Sumbing. Visitors can also eat typical food and snacks such as Tempe Mendoan And Opak.
6. Shopping for Souvenirs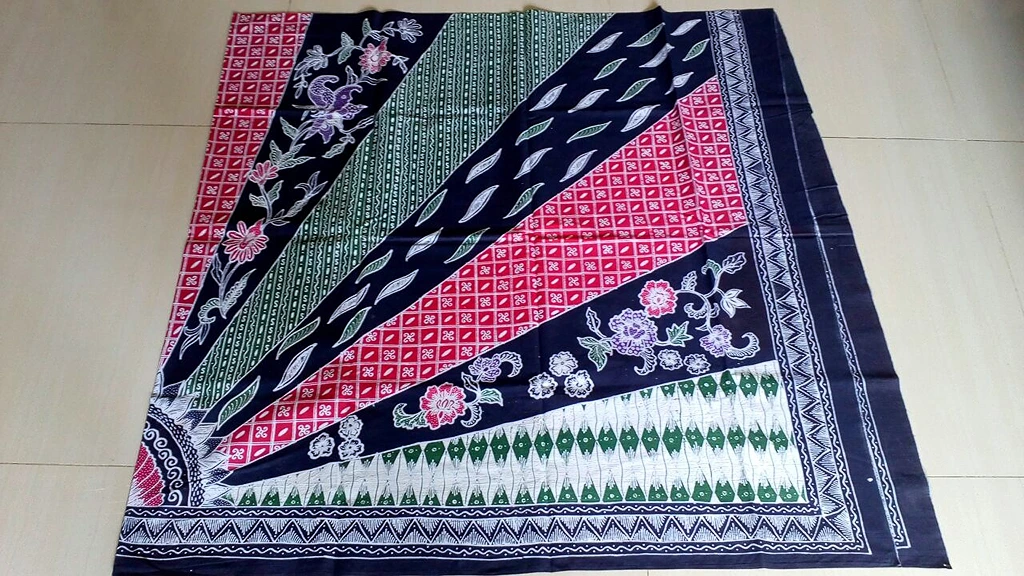 You can also buy souvenirs typical of Nepal van Java Magelang to be shared with friends and family. Some of the souvenirs that you can get there include local handicrafts, batik cloth, or regional specialties. Don't forget to buy agricultural products such as fatty chilies and garlic and onions, which are known as the hallmarks of Dusun Butuh.
Tips for Visiting Nepal Van Java Magelang
1. Recommended Visit Time for Nepal Van Java
It is highly recommended to visit Nepal Van Java Magelang during the dry season, namely May-September or July-August because the weather tends to be sunny, so visitors can enjoy the panorama of Mount Sumbing more clearly. It is also recommended to visit in the morning, as the weather in the afternoon tends to fog and rain.
2. Vehicles should be Decent Condition
Access to Nepal van Java Magelang is quite narrow and the contours of the road are steep because it is located in a mountainous area. Therefore, for tourists who use automatic vehicles, it is important to ensure that the vehicle is in proper condition and that the brakes are functioning properly. For visitors who use large buses, buses can be parked at the Bendongan and Sekar Pajang rest areas.
3. Wear Warm Clothes
Temperatures in Dusun Butuh can reach between 16-18 degrees Celsius at night and between 20-22 degrees Celsius during the day. Rainfall in the area is also quite high because it is a rain catchment area. Therefore, when visiting Nepal Van Java Magelang, you should prepare jacket, socks or other warm clothes to keep your body warm and comfortable.
Route to Nepal Van Java
There are two routes that you can choose to get to Nepal Van Java, namely via Yogyakarta and Semarang. For those who start from Yogyakarta, direct the vehicle to the city of Magelang, about 50 km to the north. The travel time required is about 45 minutes. Then when arriving in Magelang City, take another trip to Kaliangkrik Market with a distance of 12 kilometers. Then direct the vehicle about 6 kilometers to the Dusun Butuh. While going through Semarang and using the toll road, it takes approximately 2.5 hours of travel.
Ticket Prices and Opening Hours of Nepal van Java
This tourist spot is open and can be visited by tourists on the D-day of Eid 2023. Following are details of the Nepal Van Java Magelang entrance ticket price:
Entrance ticket: Starting from IDR 10,000
Ticket prices for motorcycle parking: Starting from IDR 3,000
Ticket prices for car parking: Starting from IDR 10,000
Ticket prices for motorcycle taxi (ojek keliling) around photo spots: IDR 35,000
Ticket prices for climbing Mount Sumbing via the Dusun Butuh route: IDR 15,000
Ticket prices for basecamp and parking facilities: IDR 10,000.
There are also a number of homestays there. Each homestay provides WiFi, water heater, and other facilities.
Opening Hours and Contacts
Opening Hours: 06.30 WIB – 17.30 WIB.
IG: @nepal_van_java
Phone: 081328152669