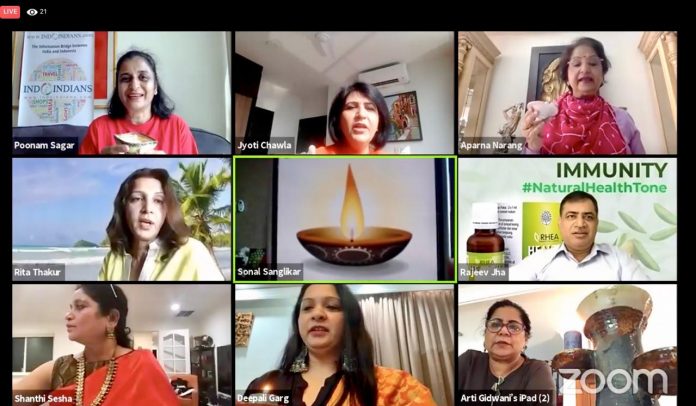 On the 1st November, Indoindians held its second annual Indoindians bazaar, but this time it's was online. The had many vendors showcasing their products. Each vendors had 15 minutes to showcase their products to prospective buyers, led by Indoindians hosts.
The Indoindians Diwali eBazaar started with the Diya lighting event by honored guests Aparna Narang, Shanthi Seshadri, Arti Gidwani and Jyoti Chawla.
Special thanks to Saraswati Suresh, Sonal Sanglikar and Deepali Garg for being co-hosts.
Schedule as below:
11.00 am eBazaar starts
11.15 am Chief guests light lamp
12 noon Sadhu Vaswani Center with Rita Thakur
12.15 pm Pravis
12.30 pm Dr. Rajesh Kalwani health tips
12.45 pm B'Jeweled Jewelry by Bindu Jagwani
1.00 pm Coconut Cupboard by Monica Manchanda Mohindra
1.15 pm Madhubani Paintings by Pooja Bhatnagar
1.30 pm Le Reine Diwali Gifts by Poonam Adnani
1.45 pm IndoindianShop by Poonam Sagar
2.00 pm Moksh Fashion & Home Accessories by Rashmi Gandhi
2.15 pm Wisma Cheshire handcrafted products
2.30 pm Organic Pure & Natural Manuka Honey by Kanchan Grover
2.45 pm Mystique Jewelry by Rekha Kalwani
3.00 pm Rhea Health Tone by Dr. Haig Babikian and Dr. Rajeev Jha
3.15 pm Health Coach Geeta Seth
3.30 pm Le Rosh Boutique by Roshny Mahbubani
3.45 pm Indoindians Artists Art Gallery by Jyoti Chawla
4.00 pm Meraki Lily by Sukhveen & Kanchan Narula
4.15 pm Tamarind Catering by Ravi Hazuria
4.30 pm Rudra Art & Well being with Raveena Chainani
4.45 pm Closing by Indoindians Team
Come join this 100% safe ebazaar and shop from the comfort of your home.
Meet the vendors LIVE on spotlight where they will showcase their products.
Thanking our sponsors
Bank of India Indonesia.
Sadhu Vaswani Center
Geeta Seth
More questions? Contact cs@indoindianshop.com or WA +6282210008272
About Indoindians eBazaar  
An opportunity to bring under one platform buyers and sellers for a day of shopping, friendship and fun while connecting the Indian Diaspora with the other expat and local communities in Jakarta.
Featuring
Deepavali specific products
Food products
Fashion & jewelry
Household products
Handicrafts
And much more
Also an opportunity for service providers to promote themselves at the event.