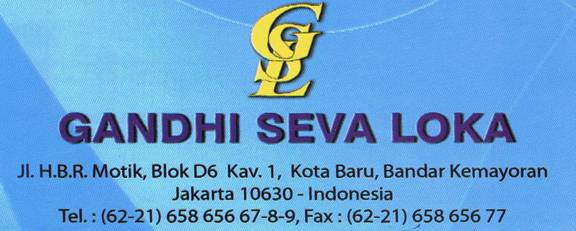 Gandhi Seva Loka (formely known as Bombay Merchant Association) was founded in 1947 by the elders of Sindhi community with the primary aim of fostering the spirit of love, understanding and brotherhood and providing the best possible education to the children of the community.
The Vision
GSL envisions to produce and nurture a young and dynamic learning community of children and youth who can take on the challenges of life in this age of rapid globalization.
Consistent efforts to raise the standard of education is made in the schools where about 6000 (six thousand) students receive quality education.
About GSL
Gandhi Seva Loka is a non profit charitable organization with headquarters in Jakarta, Indonesia.
| | |
| --- | --- |
| Address : | Jalan HBR Motik, Blok D6, Kav No. 1, Kota Baru Bandar, Kemayoran, Jakarta Pusat – 10630 |
| Telephone : | +62 21 4211902 / 65865685 / 86 |
| Fax : | +62 21 4212470 / 65865677 |
| E-Mail : | tirupati@cbn.net.id / headmaster@gandhijkt.org |
| Website : | www.gandhijkt.org |
| Year of establishment: | 1947 |
| | |
| | Name and contact details of Head of the association : |
| Name : | Mr. Shyam Roopchand Jethnani |
| Address : | P. T. Tirupati Jaya, P. D. Guru Kripa, JayaJalan Garuda No. 31 Q, Jakarta, Pusat. |
| Telephone : | +62 21 4211902 |
| Fax : | +62 21 4212470 |
| E-Mail : | tirupati@cbn.net.id |
Broad activities of the Association
Acts of charity
Provides education through schools and college
Yoga and service to senior citizens of community
Spread of Sindhi and Indian culture
Organizing Diwali Dinner and Programmes for all Indians
Doing Social work
Besides, the following activities are conducted on a regular basis :
1. Organizing a get-together of senior citizens every two months at Graha Sindhu
2. Inviting renowned speakers for discourses on religion and spirituality
3. Providing patronage to artists from India and overseas to create awareness
4. supporting social causes like the Tsunami Relief Operation and the Earthquake Relief in Jogjakarta
5. Providing funds for the education of orphans through "Gerakan Nasional Orang tua Asuh" (GNOTA) twice a year to catalyze the socio-economic change in Indonesia through the education of under privileged children on Gandhi Jayanti and Kartini Day
6. Conducting Yoga classes for the community.
GSL is committed in its programme of service to address whenever possible, issues affecting human life, such as health care, environment, socio-economic aspect and the timely needs fo the community and the country.
GSL supports charitable or cultural pursuits or causes which promote, advance or encourage education, science, literature, art, physical welfare or recreation or any other cause that is beneficial to the community or any section of it.
GSL in the past has given grants for the alleviation of poverty or welfare assistance through donations to recognised social service / welfare agencies.
GSL has provision for scholarships to the needy and deserving students, based on the recommendation of the school principals.
We at GSL believe that we are up to the challenges that the future holds for us.
Sindhis in Indonesia have proven their excellence in the area of Business since their inception. Their area of specialization are Garment and Textile Industries, Food and Agriculture, Cinema and Film Industry, Gems and Jewellerey etc.